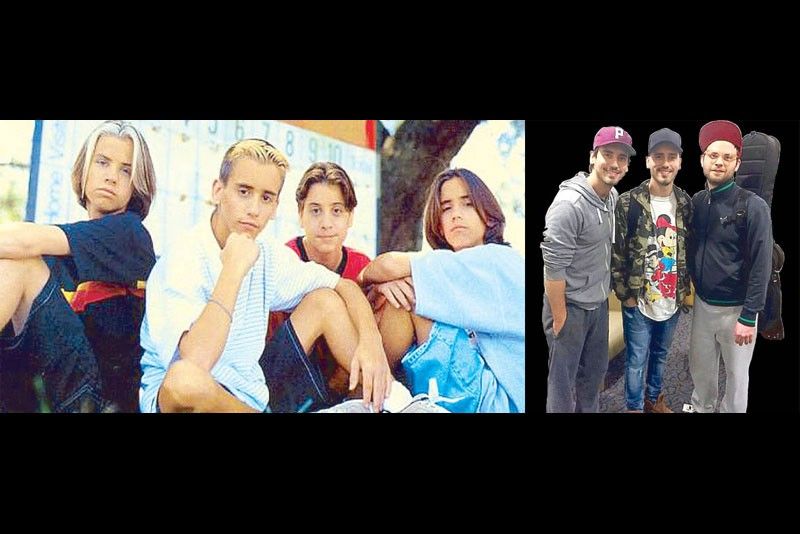 The Moffats then (left) and now (right), with only three members, are back: Bob, Clint and Scott
One more time with Moffats
MANILA, Philippines - It took them 16 years to get back here. But the long wait is over and it sounds as sweet as their harmonies with Bob, Clint and Scott Moffat officially back in the city that arguably loves them the most.
The Moffats, through Midas Promotions, will perform at the Smart Araneta Coliseum tomorrow, Feb. 18, 8 p.m. The show is part of an Asian Farewell Tour that actually means it might just be the last time fans here will see the Canadian band live and in flesh.
The group is counted as the "biggest-selling international band of all time in the Philippines."
"It's wonderful that you guys have reacted to our music the way you did and supported what we have done. I admire that and that's cool," said Scott, who does several of the lead vocals duties.
Some of the Moffat's major hits are Miss You Like Crazy, I'll Be There For You, Girl Of My Dreams and If Life Is So Short.
The last mentioned was promoted with a music video that features iconic figures who perished at relatively young age. To this, Scott noted, "We were all in the room when that song was being written and we weren't actually thinking that deep about life being short. It wrote itself."
The trio sampled singing Miss You Like Crazy in front of the Filipino press and to their delight. Their vocal harmonies were impeccably spot on, not missing one beat. It's as if the group has not taken a hiatus.
The Moffats released Chapter 1: A New Beginning in 1998 and Submodalities in 2000. They broke up a year after. In those two years, the group were on top of the charts in Southeast Asian countries like Thailand, Taiwan and Malaysia. But they were biggest in the eyes and ears of Filipino fans.
"We came here and performed at the Araneta Coliseum and the fans were kind of crazy for us and we felt like we were The Beatles. It's always amazing recalling that," mused Clint.
The girl fans certainly miss the boys like crazy as some of them even had selfies with the girls that came along The Moffats' entourage, apparently special ones in the eyes of the famous brothers.
Scott will release a solo album this summer and said he will shoot a music video here in the Philippines.
Asked if they have remained close through the years, Bob responded, "We've maintained a close relationship."
When queried about their supposed rivalry with Hansons, the boys mused, "We think about them everyday. They never wanted to meet us."
One of them admitted to having a wife who is a fan of the Hansons.
But, of course, there's really no rivalry. They quickly reiterated, "Kidding aside, they always stay true to what they were doing."
The Moffats are valued for their vocal harmonies and capacity to write easy melodies. Bob stated, "Music is performance and what's important is what's being recorded."
Scott added, "We might have become better as a group because we're older. We enjoy each other's company in a more mature way."
On being defined as a boy band by some quarters, The Moffats insisted they never considered themselves as one.
Scott explained, "We were country singers before we dealt on even writing pop rock. I'm not sure if it helped that some of us think we're a boy band but for us we're a band. It didn't matter if some say we're a boy group.
On the new musical landscape, the troika said, "We're adapting fine. If something new comes in, you gotta check it out."
Scott even uses pro tools in his recordings.