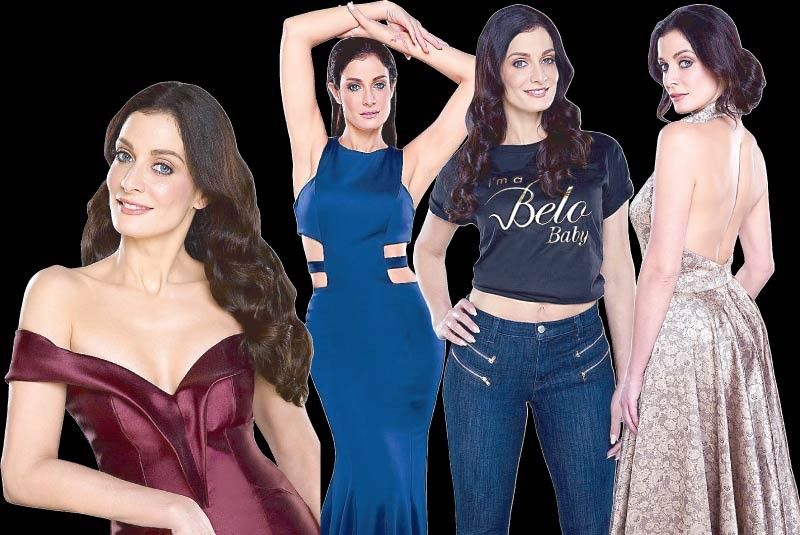 After relinquishing her crown to India's Sushmita Sen in 1994, the second time the Miss Universe Pageant was held here, Dayanara Torres stayed to embark on a showbiz career, left to pursue a career in Hollywood and her native Puerto Rico, returned briefly in 2007 and came back as judge for the third time in the recent Miss U pageant. Series of photos shows Dayanara after her Thermage treatment by Dr. Vicki Belo.
Photos courtesy of the Belo Medical Group
Why Dayanara loves Phl so much
FUNFARE
-
Ricky Lo
(The Philippine Star) - February 17, 2017 - 12:00am
You've been away from the Philippines for a decade. What are some of the fond memories that came back to you?
"Last time I was here in The Philippines was 2007. Ang tagal na! I can't believe that I waited this long. So many memories, so many wonderful experiences I've had when I lived here. This is a country that has loved me for so long. No matter how long it takes me to come back, your love, your embrace and your hugs are exactly the same.
"You have never forgotten me and I will always be forever grateful. You have loved me as your own and I thank God for the blessing of having the end of my pageant bring me to this beautiful country that opened the doors for me, and gave so many opportunities for my career, a country I will forever call my second home."
What are some of the changes that impressed you as you moved around Manila?
"Definitely, so many constructions, so many new buildings, newly developed areas, all so modernized. But what I am most happy to see are the beautiful landscapes in the midst of all these. It's a wonderful thing that you have kept a balance between nature, urbanization and tradition because I think that's how it's supposed to be."
Do you maintain regular contact/communication with the friends that you've made in Manila?
"After I left, I became a mother. Life changes but I always managed to be in touch with a few friends from time to time, mainly not from showbiz. I've always been in contact with Gary V and Angeli (Pangilinan) and also I've met Martin (Nievera) a few times in the States, Ruby Rodriguez, Winnie Mariano and Dr. Joan Albito. But now that I'm back, I've been able to reconnect with so many friends and can't wait to keep in touch and catch up with them. It truly feels like getting back to family."
How has life been since you left Manila? What have been the challenges that you have to hurdle?
"When I left Manila in 1999, I went back to Puerto Rico and continued with my singing career. I released an album (which topped Billboard Latin Music Charts and the Philippines) but then I met the father of my kids and decided to take a break, got married and had my two beautiful sons, Cristian Anthony, 16, and Ryan Anthony, 13. In 2004, I got divorced, left New York and we moved to Los Angeles. The boys are happy. I am happy that I am able to balance being a mom and a career woman. I choose the projects that don't take me away from my children. Those are the projects I agree to do."
Why did you decide to discontinue your Hollywood career?
"First, I worked in the soap opera The Young and the Restless with a recurring role, then I landed the lead role on a series from FOX My Network TV called Watch Over Me, a love triangle between my fiancé, a rich and powerful man, and my bodyguard. I also got the lead in a movie called The Nail with William Forsythe and Tony Danza, a heavy drama about a battered wife struggling to raise her son. Also 200 Letters (200 Cartas) with Lin Manuel Miranda (Broadway's Hamilton) shot in New York and Puerto Rico.
"I have never discontinued my career. I have chosen to be a part of my sons' life as a mom 24/7! I've been lucky enough to find projects that are truly important and that I believe in and that happen to fall on school breaks so I can take my kids with me so that I don't miss a minute of their childhood."
How are you as a mother? How's your love life?
"I like to think I'm a cool mom. Or at least that's what my kids call me. When you have kids, they are handed to you with no instructions or manuals, so I try to do my best, guide them through life the best I can, teach them what's important in life, make them understand how lucky they are, teach them to work hard for what they want and every night I go to sleep hoping I did a good job.
"I get the best rewards every time other parents tell me how wonderful my boys are, so sweet and loving and respectful they are, and when my own boys tell me I'm a great mom. I drive them to their schools where I pick them up after school. I attend their extra-curricular activities such as music lessons, soccer, basketball, football and volleyball practice.
"My love life? I'm single at the moment."
How do you keep your "Miss Universe" look?
"I try to eat healthy; I want my kids to be healthy, too. I drink lots of water and I take vitamins daily. I exercise and love to dance. I do Zumba class at least five to seven times a week, and I absolutely love it! It doesn't feel like working out when you're dancing and having fun."
How do you cope with stress? How much sleep do you get per night?
"Stress...I pray every night, I read books, I take 10-15 minutes to visualize or to meditate in the mornings."
You are the ideal/perfect endorser for The Belo Medical Clinic. What made you say "yes" to Dr. Vicki Belo?
"Salamat po. For quite some time, I have heard about The Belo Medical Group from my friends; always heard wonderful things about it and amazing things about Dr. Belo. I believe in her advocacy to make the Philippines the most beautiful country and I want to be part of that. I love to be part of something that helps people have more confident in themselves."
What kind of Belo treatment did you have?
"After Dr. Belo studied my face and my skin, she determined that the best treatment for me was Thermage, which is a skin rejuvenation procedure. It is non-surgical, painless, and took only 45 minutes! It increases collagen through the use of radio frequency. At first, I was nervous; I've always been scared of needles but the experience was so pleasant that I actually fell asleep during the procedure. The best part is the results are immediate, your skin feels refreshed, rejuvenated and rested, with no downtime."
How comfortable are you with Dr. Belo?
"The day I met Dr. Belo, the connection was just instant. I loved her from the moment we met; such a nice, lovely and warm person, really caring and so knowledgeable. We spoke for a while and I couldn't help liking her even more. She absolutely knows her craft and knows exactly what to do. She took the time to explain things to me. Each face is different, each skin is different.
"There are so many treatments out there, but not only is she on top of the latest techniques, but she knows exactly what suits me the best. I love her pure persona, her aura and the light that she exudes around her. I'm very glad I met her."
Any piece of advice to women on how to keep looking young (aside from getting a Belo treatment) and combining career with mothering?
"Keep moving forward no matter what. Do what you love, enjoy life! Take care of your body, eat healthy and exercise; you don't need fancy classes or gyms, you can exercise at home! But dedicate the time to take care of your body, because only you can do that. You need to take care of yourself first in order to take care of others. No one said that you can't do it all, just find the right balance to do what you love and take care of those who depend on you. Choose to be happy and, above all, wear your smile everywhere you go."
(E-mail reactions at entphilstar@yahoo.com. You may also send your questions to askrickylo@gmail.com. For more updates, photos and videos visit www.philstar.com/funfare or follow me on www.twitter/therealrickylo.)