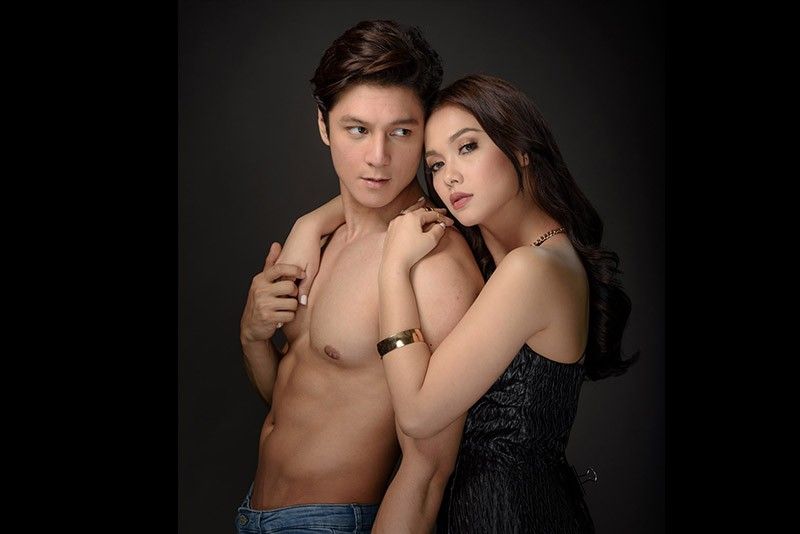 Maja Salvado and Joseph Marco in "Wildflower"
Photo release
(Philstar.com) - February 9, 2017 - 9:45am
MANILA, Philippines — Maja Salvador admits she is battle-worn in the love arena.
Her last relationship — with fellow actor Gerald Anderson — ended almost two years ago. Yet, she is biding her time when it comes to love.
Paulo Avelino's leading lady in the upcoming film, "I'm Drunk, I Love You," admits feeling burned out in matters of the heart.
"I've gone through so many experiences in my love life," she says. "I'm not the type who gets easily excited (about love). I'm more realistic about things this time."
This makes her extra careful in such things as dating.
Maja is in that stage where she is getting to know her suitors, so she would rather say she is "seeing someone," but not dating the guy exclusively.
It is a choice she is happy with, even if it means spending Valentine's Day guesting in her friend Vice Ganda's concert, and promoting "I'm Drunk, I Love You" in the days leading up to February 14 (the movie opens February 15 in cinemas nationwide).
"I'm already 28. I won't rush into a relationship. The next one should be with a guy who can be 'the one'."
"The one" should be mature enough to know that Maja lives and breathes in a complicated world. Problem is, she notes that some non-showbiz guys do not understand the demands of her job. But she is not closing her doors on them.
"Showbiz or non-showbiz, it doesn't matter, as long as God sent him to me," she points out.
What matters is that the guy accepts what Maja does for a living, and understands her completely.
In return, Maja is pours her heart and soul into a relationship. She takes the guy for who he is, warts and all.
"The biggest lesson I learned from my past relationships is that you love someone, not because he's your boyfriend. You love him when he's strong, when he's weak; when he's right and when he's wrong, when he hurts you and when he makes amends. You don't give up on him."
While this seems great, Maja is realistic enough to know when it is time to step on the brakes. Unlike Carson, her character in the movie, who pines for her dream boy for seven long years, Maja knows when it is time to brace herself for the big breakup. And she prepares herself emotionally, making sure there is no turning back.
"Once I'm done, I'm done. I'm not into reconciliations. Everything has a limit. Move on, if you can't see forever."
But she is not closing her doors on second chances. Maja saw how happy her mom was when she tied the knot with Roy Linklater, a Canadian, last December.
"My mother tied the knot at 50, and got another chance at forever. It's nice to know that love offers lots of surprises."
Maja is waiting for that big surprise that will sweep her off her feet and take her to the altar, straight to a life of sweetness and bliss.
Despite her failed relationships, it is nice to know Maja still believes in forever.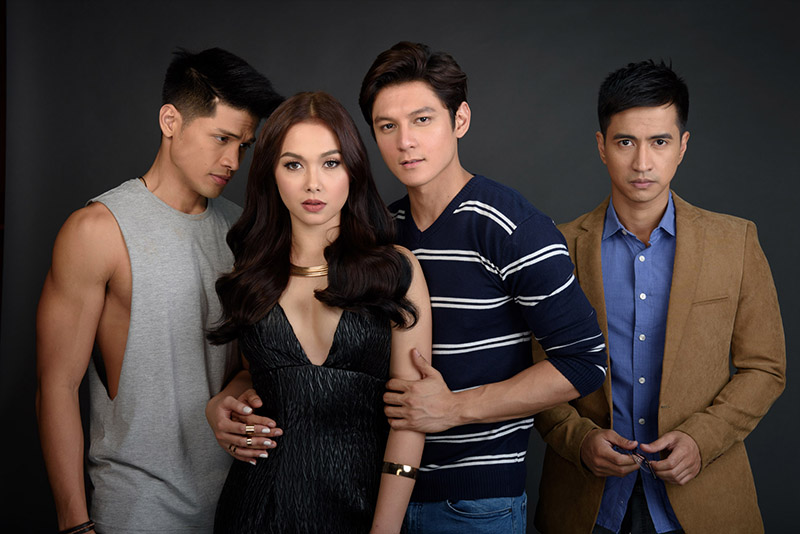 The cast of "Wildflower": Vin Abrenica, Maja Salvador, Joseph Marco, and RK Bagatsing Photo release
Wild flower
Revenge has never been this wild as Maja stages her much-awaited comeback on television as Ivy in "Wildflower" beginning this Monday (Feb 13) on ABS-CBN.
Before anger turns her into Ivy, get to know her first as Lily (Xyriel Manabat), a young girl who grew up in a loving family. Her father Dante (Christian Vasquez), who worked as a lawyer, unfortunately received death threats for a case he handled. This prompted him to leave town with his wife, Camia (Sunshine Cruz), and their daughter and relocate to Poblacion Ardiente.
The first week in Poblacion Ardiente went well for her family, especially Lily, who easily found a friend in Diego (Jesse James Ongteco).
However, misfortunes continued to haunt their family when Diego's father, Raul Torillo (Wendell Ramos), lusted over Camia and sexually harassed her. Without hesitation, Dante immediately filed a case against Raul, who happened to be the husband of town mayor Emilia Ardiente Torillo (Aiko Melendez). To protect their family's reputation, Emilia took matters into her own hands.
In just a snap, Lily's life suddenly crashed when his father suspiciously died of a heart attack. Lily was forced to leave her mother. Luckily, Lily escaped the wrath of the Ardientes and found herself in the home of Prianka Aguas (Priscilla Meirelles), who adopted her and raised her like her own.
A few years after, Lily finally returns to Poblacion Ardiente as the seductive and powerful Ivy, who vows to seek revenge against the Ardientes. Everything will work out as planned, until she crosses paths with her long lost friend, Diego Ardiente Torillo (Joseph Marco).
How will Diego affect Ivy's plans to avenge her family? Will justice for the death of her parents finally be served? Is there a chance for forgiveness and love in Ivy's heart?
Also joining the cast are Tirso Cruz III, RK Bagatsing, Vin Abrenica, Malou De Guzman, Ana Abad Santos, Arnold Reyes, and Izzy Canillo.
"Wildflower" is directed by Onat Diaz, Raymond Ocampo, and Cathy Camarillo under the production unit headed by Ruel Bayani.
"Wildflower" premieres this Monday (Feb 13) on ABS-CBN or ABS-CBN HD (SkyCable channel 167).