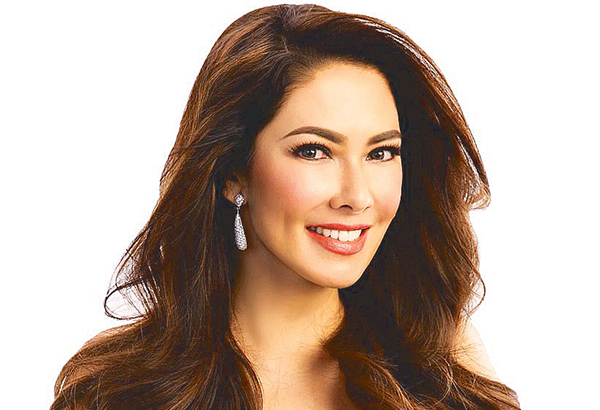 Ruffa Gutierrez on looking good: I didn't wake up like this. It's hard work.
MANILA, Philippines - Sometime last year, no doctor could diagnose what Ruffa's ailment was. She consulted an espiritista and found out that three lost 'souls' were stalking her.
Ruffa Gutierrez is keeping her fingers crossed that the year 2017 will bring in more good things for her. Last year was not so lucky after a major health scare, but thankfully, she has surpassed a most difficult time and now she's back to being radiant, beautiful and healthy.
Sometime last year, no doctor could diagnose what Ruffa's ailment was. She consulted an espiritista and found out that three lost "souls" were stalking her.
"They were following me around. Sorry readers, do not freak out. I've been to a lot of hospitals, and I've paid hundreds of thousands to get well, but the doctors cannot find my illness. What's the other option? Well, finally, I resorted to espiritistas and they found and shooed the bad spirits away. Now, I'm super fine and they don't haunt me at 3 a.m. anymore," Ruffa told entertainment and lifestyle reporters at the media launch of Watsons' Big White Blowout Sale recently.
Ruffa is the brand ambassador of Cosmo Skin, a collagen and glutathione skin supplement, which is one of the participating brands in Watsons' Big White Blowout Sale, which will run until Feb. 22.
The Big White Blowout Sale is the biggest and widest sale of the year that features huge discounts and amazing deals of whitening and skincare products. The other participating brands are Cetaphil, Celeteque, Belo, L'Oreal, Olay, Pond's, SkinWhite, Dove, Kojiesan, Nivea and many leading brands.
At the launch, Ruffa shared her skincare tips to look young. First, she advised women not to go to bed without taking off their make-up because not doing so will clog pores and cause pimples. She also said women who are over 30 should already take anti-aging supplements. Ruffa swears by the efficacy of collagen and glutathione.
"Watsons is the best place to find all the whitening and anti-aging skincare. I'm even more thrilled that Cosmo Skin is included. To slow the process of aging, creams are no longer enough, it's helpful to take collagen to maintain healthy-looking young skin. I can't live without the Cosmo Skin products. You know, no matter how much I travel, I don't get dark because I take Glutathione which is also very healthy to the skin. A must is taking my Cosmo collagen. This is good, especially for working moms like me who are over 30 years old. It's part of my diet, I take it in the morning before leaving for work," Ruffa said.
She has also returned to the gym, saying dieting is no longer enough to lose weight.
"At my age, hindi talaga pwedeng diet na lang. There has to be really a change in lifestyle. It's hard work, you just don't wake up like this. You know, you have to exert the extra effort to make ourselves look young, fresh and youthful looking," said Ruffa.?
This year, she will be busy shooting for the new season of It Takes Gutz to be a Gutierrez and a sequel to her book Truth and Lies My Mother Told Me.
She's going to be busy this year on her career, what about her lovelife?
"Well, me and my boyfriend have no plans of getting married," she said referring to her mi amore Jordan Mouyal.
"It's work, work, work. I've been there and done that (marriage), there's no rush to get married. I was thinking, 'Do I still want to have a baby or not?' I think I don't like anymore, two are enough. I will just buy a lot of dogs," Ruffa said.
She lauded Jordan for respecting her mom. "He doesn't mind her, he's not someone who fights back. I have boyfriends who make patol. He's very respectful toward her and I like that," she said.
The other thing that she's busy with is, of course, raising her two daughters, Lorin and Venice, who are now 12 and 13. Her daughters are getting offers to do commercials and magazine photo shoots, but Ruffa said they must do these activities during summer when there's no school.
"Right now, I want them to focus on their studies, because sometimes they get excited with all the offers. But I told them, no, not yet, studies first," she said.
In fact, she doesn't allow her daughters to have cellphones.
"I told them when I was your age, I didn't have a cellphone until I was 17 and they said mommy, kupong kupong pa yun," she said.
Is Lorin showing an interest to be a beauty queen like her?
"Well, I tell her if she wants to be a beauty queen, she has to have the right reasons. And I want her to finish school first. Have you noticed in pageants now, the contestants are in their 20s? They are all accomplished and have finished school. The dynamics have changed. Women are go-getters now. Ang dami ng magaganda ngayon, and beauty is not enough, you have to stand out with your education and skills," she said.
Like everyone else, Ruffa is proud that Pinay beauty queens are no longer thank-you girls in global beauty pageants.
"The Philippines has really made a mark in terms of beauty pageants, hindi na tayo dati na thank-you girls na lang. After our victory last year, everybody's eyes are always on the Philippines," she said.
Meanwhile, for those who want to look more beautiful, you can head over to any Watsons store nationwide for great deals, crazy offers and as much as 50-percent discount on the best whitening products. As an added treat for SM Advantage or BDO Rewards members, every P5 purchase of whitening products included in the Big White Blowout Sale earns you a free raffle entry and the chance to win a brand-new iPhone 7.
For more details, visit www.facebook.com/WatsonsPH.