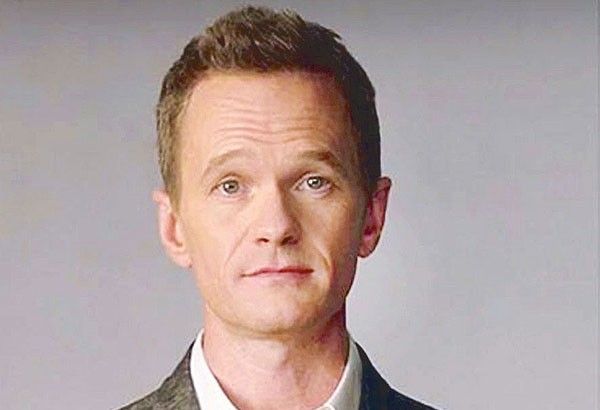 Neil is a fan of content that's darker in tone but still has a nice sense of humor
Harris deliciously awful in Netflix's new Series
MANILA, Philippines - Emmy and Tony winning actor Neil Patrick Harris has pulled out all the stops to be deliciously awful as Count Olaf in Netflix's latest family-oriented dark comedy, Lemony Snicket's A Series of Unfortunate Events, which hit the popular streaming service last Jan. 13.
The creepy role was first brought to life on the big screen in 2004 by Jim Carrey — with mixed reviews — and Harris knows his portrayal won't escape scrutiny and comparison. Fortunately, critics are way kinder this time and Harris is only thrilled that even the Netflix bosses gave his version a thumbs-up.
Based on the international best-selling Lemony Snicket children's novels of the same title, the series recounts the tragic tale of the Baudelaire orphans — Violet, Klaus and Sunny — whose nearest relative and evil guardian Count Olaf makes their lives miserable and will stop at nothing to get his hands on their enormous fortune after the children's parents died in a fire. The siblings must outsmart Count Olaf at every turn, foiling his many devious plans and disguises, in order to discover clue to their parents' mysterious death.
All eight episodes of the series' first season are directed and executive produced by Emmy winner Barry Sonnenfeld (Men in Black, The Addams Family) and writer Daniel Handler (the man behind the pseudonym Lemony Snicket). A Series of Unfortunate Events also stars Patrick Warburton (Lemony Snicket), Joan Cusack (Justice Strauss), Catherine O'Hara (Dr. Georgina Orwell), Alfre Woodard (Aunt Josephine), Malina Weissman (Violet Baudelaire) and Louis Hynes (Klaus Baudelaire).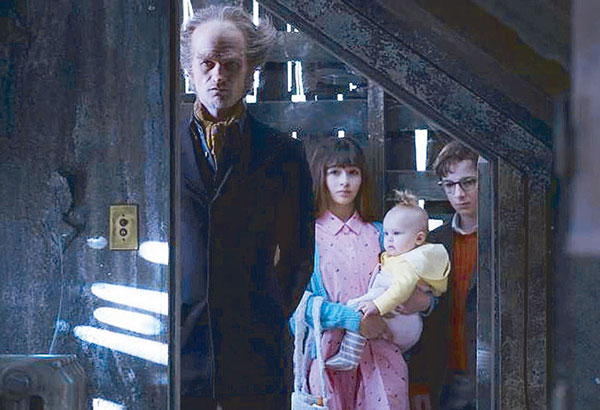 As Count Olaf with the Baudelaire children
At a recent New York junket to promote the original Netflix series, the always dapper and charming 43-year-old Harris, best known for his characters on TV shows Doogie Howser, MD and How I Met Your Mother, and the highly-acclaimed 2014 movie Gone Girl, talked about having "absolute fun" playing the bad guy and laughing all the way to the bank. The Philippine STAR was among the foreign publications invited to the junket.
How is your interpretation of Count Olaf different from Jim Carrey's?
"I think Jim has a lot of himself into the role. When I watched the movie version, my takeaway was I was watching Jim Carrey's take on Olaf and I wanted to lose myself within Olaf. I just really wanted to be more Elizabethan and more Shakespearean. I was really wanting to honor Daniel's (Handler) take on it."
So how did you tackle the role?
"I try to just focus as much as I could on being as literary as possible. The character has a lot of piercing darkness and sort of delusional dementia. He thinks he's so handsome and he thinks he's incredibly charming, and incredibly gifted as an actor. And yet he's not. I didn't want to be overly charming. I was just trying to be really awful like distinctly mean. I didn't want to make him like myself. Since Olaf is just horrible, it freed me up to be just awful 10 times. So it was absolute fun."
Why did you make Count Olaf really awful?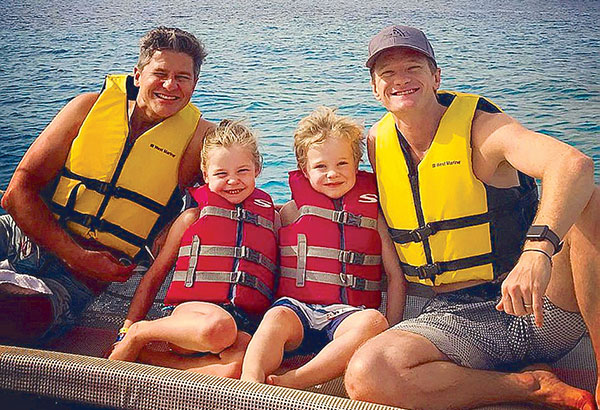 With husband David Burtka and their twins Harper and Gideon
"I really wanted Olaf to be a bad person because otherwise I don't think it justifies the siblings' constant fear of him. Each book is two hours of film and so they have to validate why they are so scared of Olaf, and the only reason is that he is awful. He's trying to kill Sunny, he's trying to physically harm Klaus and he's trying to marry Violet so that he can get the inheritance at all cost. And it's only as the books go on that you start to learn that maybe he's involved in their parents' demise in some way."
Won't it be too much especially for the younger viewers?
"I think it's super faithful to the books. I think at times it's shockingly dark. I went pretty dark. I never approached it as though it's a kids' piece at all. I'm a fan of content that's darker in tone but still has a nice sense of humor that teenagers can enjoy as well as their grandparents."
What else is exciting about this series that viewers can look forward to?
"It's period-less, which is one of the interesting things when I reread the books. It doesn't take place in the '50s or '60s, but it's not modern and they don't have cellphones. They take a train or trolley from an unknown era and there are some '70s vibe. What (production designer) Bo Welch did to the set design is extraordinary. Sincerely, I've never seen anything like it. We would walk into these sets that are fully realized, including Olaf's mansion that's so decrepit. And so we're just struggling visually as characters to fit into that world."
We heard you were paid so much money to say yes to this $100M-plus project.
"Wow (laughs). I was paid well for it, but so much money kinda depends on who you ask, I guess. I was away from my family filming in Vancouver, which is on the West Coast, and we live in New York (East Coast). So, I was not super gung ho to jump into a multi-month gig away from my family and so there were certainly reasons for me to make sure that all aspects were good. I was less concerned about getting paid well."
What exactly were your concerns?
"I was more concerned about how visually it would look. I was very interested who else is in the piece, I was interested in how much Barry Sonnenfeld was gonna be involved, whether it's just by name or whether he's actually gonna be hands on doing it. I don't want to do or sign up for a job and then it turns out to be a different job that you're presented all of these amazing opportunities and then when you're actually doing it the people you were promised to be there are not there anymore and suddenly it's something different. And thankfully, that's not the case here. This has got the Sonnenfeld stamp all over."