Shopping made (very) easy
FUNFARE
-
Ricky Lo
(The Philippine Star) - July 1, 2016 - 12:00am
Curtain-raisers:
Wowowin host Willie Revillame (photo) is flattered upon learning that his song Ikaw Na Nga, a Vehnee Saturno composition, is the favorite of Joshua, son of Kris Aquino, who used it as soundtrack for his birthday photos. "Kris and Joshua, together with her other son Bimby, are welcome to guest on my show anytime," said Willie. "I will be very happy to sing the song for them."
A certain actor can't seem to accept the painful reality that it's all over between him and his actress girlfriend. After a short break-up, they reconciled and then they broke up again…for good. While the actress seems to have moved on, going out on dinner dates with another actor who, like her, has broken up and reconciled and then broken up with his actress girlfriend…also for good. The other poor actor is feeling all-time low, finding it hard to move ahead and move forward. It was he who, well, taught the actress about the birds and the bees and whatever else when she was only 17.
Another actor is trying his best to mend his broken heart after his actress girlfriend casually ended their romance which was religiously monitored by the public on social media. The actor is slowly but, hopefully, surely getting out of dumps. The actress? She is into greener pasture. (Reason for the breakup? "Hindi sila magka-level, socially speaking," said a Funfare DPA.)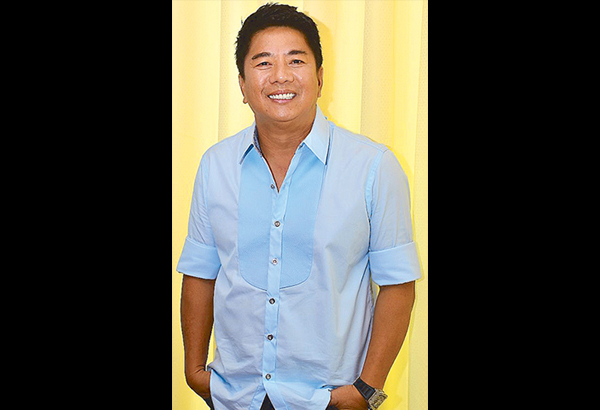 * * *
Shopping has never been this easy. You don't even have to dress up, leave home and brave the horrendous traffic on the way to a mall, and, knock on wood, risk losing your money to a taxi driver (if you have the bad luck of riding a "colorum") or to pickpockets that pick on distracted shoppers.
All you have to do is sit back (in your house clothes), prepare your pen and paper (and mentally count your budget) and, with a glass of perhaps iced tea to freshen you up, tune in to Channel 11 (on SkyCable). Voila, there you have O Shopping showcasing maybe most of the items in your shopping list.
The show has been on air 24/7 for three years, ABS-CBN and SKYcable joint venture with CJ (Cheil Jedang) Shopping of Korea, which has also similar shows in Korea and Japan with exactly the same format.
"We are doing well," O Shopping director Bjoy Balagtas told Funfare. "The response is good. Our buyers are happy and satisfied because the items sold are really good. We get the stocks direct from Korea. The most saleable are kitchenware and other household items."
It helps that the six hosts are very charming, articulate and, yes, effective "salesmen" flashing a friendly smile while showing the items and convincing prospective buyers that prices on O Shopping are far lower than those in the stores.
They are (at random): Victor Anastacio, Hiyasmin Neri, Lesley Lina, Cara Eriguel, Justine Peña and Sandro Hermoso. (Check out their credentials on the "jump" page, C-9.) All college graduates, they are as "saleable" as the items they are selling.
"Before we go on air," said Sandro, "we have to know each product very well. Sometimes, we are allowed to take the products home to study them." Called "a man on the go" and the parent among the six, Lesley made sure that she and her co-hosts have clean hands (manicured nails) during the shoot.
"When we describe the items," she explained, "our hands are shown in close-up."
Victor, the comedian in the group, finds the job just as fun and when he's tickling people's funnybone.
"We have to be good at thinking on the spot," shared Victor. "We have to memorize the prices so we don't make mistakes."
Because they have training in hosting and, some of them, in acting, they don't really need a script.
"We are just given a sequence guide," said Cara. "We have meetings before the shoot and we really study every item shown on the air."
The show has been giving the hosts generous exposure.
"We are learning while we are selling," admitted Justine. "It has also been very educational. We have gone to Korea for the shoot and we have learned a lot about Korean culture."
"It's a challenging job," agreed Hiyasmin. "We have to bring the product to life, figuratively speaking. We have to make every item jump out of the screen so that the buyers can almost touch them."
According to direk Bjoy, prices shown on the show are fixed. (Numbers to call are flashed on the screen.)
"We charge a very minimal delivery fee," assured direk Bjoy. "Payments are either through credit card or COD (Cash On Delivery). We guarantee delivery in 24 to 72 hours within Metro Manila."
Sometimes, buyers prefer wholesale.
"So we anticipate cases like that and we get ready with stocks to fill orders," said direk Bjoy. "Most of the products are imported from Korean, exclusively available on O Shopping."
There you are. Next time you want to shop, don't leave home. Do it in front of your TV set.
(E-mail reactions at entphilstar@yahoo.com. You may also send your questions to askrickylo@gmail.com.)