Lav Diaz's breakthrough movie Batang West Side (West Side Kid, 2001) ran for five hours, an unprecedented record and the longest Filipino movie created at the time of its release.
His succeeding works Ebolusyon ng Pamilyang Pilipino (Evolution of the Filipino Family, 2004), Heremias (Book One: The Legend of the Lizard Princess, 2006), Melancholia (Melancholy, 2008) and Kagandanan sa Banwaan Ning mga Engkanto (Death in the Land of the Encantos, 2008) were characteristically shot in black and white and laced with every little, if any, background scoring that would run even longer.
His eight-hour Melancholia, a story about victims of summary executions, won the Grand Prize-Orizzonti award at the 2008 Venice Film Festival. Death in the Land of the Encantos competed at the Venice Film Festival documentary category in 2007, and was granted the Special Mention-Orizzonti.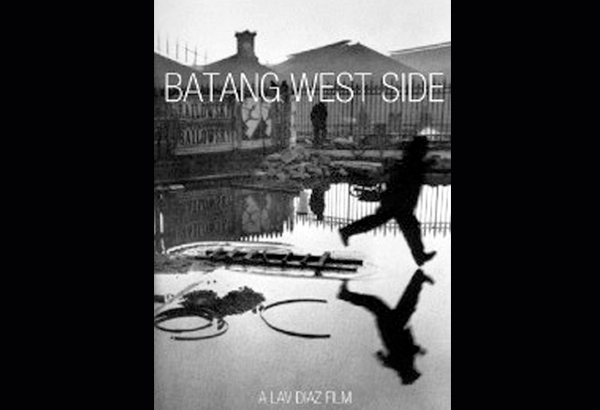 Batang West Side, the five-hour breakthrough film of Lavt issue of Sydney's Daily Telegraph and in the Sampaguita Pictures' Kaming Mga Talyada in 1962 when she visited the Philippines
The great English Film director Alfred Hitchcock once said, "The length of a film should be directly related to the endurance of the human bladder." He couldn't possibly been referring to Lav, then not even a twinkle in his father's eye.
It is interesting to note, however, that as an offshoot of the pito-pito system popularized by Regal matriarch Mother Lily Monteverde, which condensed movie-making from months to seven days — a cheap way of making movies, but which attracted some of the best directors in the country in the late '90s.
In Hubad sa Ilalim ng Buwan (Naked in the Moon, 1999), Joel Torre stars as an ex-priest with a somnambulistic daughter (Klaudia Koronel) who sleepwalks naked, representing the country's struggle with Filipinos sleepwalking for a very long time.
Batang West Side won Best Asian Feature in the Singapore Asian Film Festival, and was hailed as nothing less than a masterpiece by Variety Magazine and the late critic Alexis Tioseco. Back home, however, reception bordered on the lukewarm as moviegoers were not too keen on sitting through a five-hour feature.
Gawad Urian gave it 10 awards, including Best Picture and Best Direction for Lav. CineManila gave it the NETPAC award, along with Best Actor trophies for Joel, Yul Servo, Arthur Acuña and Ruben Tizon. Jessica Zafra of the best-selling Twisted books, proclaims, "Batang West Side is infuriating, but it engages the viewer in a way few Tagalog movies have done in recent years. It is the best Filipino movie I've seen on what academics call the diaspora, the mass migration of Filipinos to every corner of the world."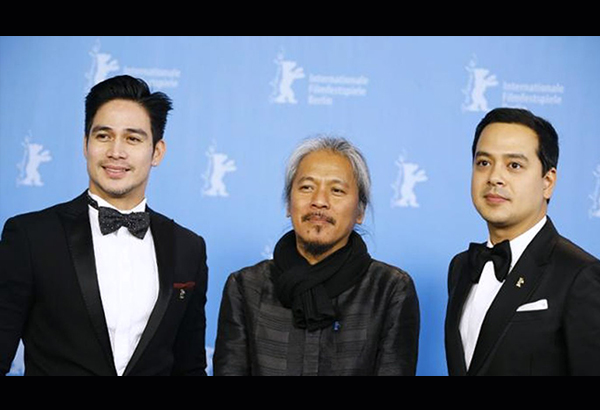 With Piolo Pascual and John Lloyd Cruz, stars of Lav's Hele sa Hiwagang Hapis at the Berlin filmfest
If watching Batang West Side proved dreary for Pinoy audiences, an 11-hour picture was a cruel joke where UP's 1,000-seating capacity Cine Adarna was graced by a handful, with a few staying until the closing credits. Like the prophet shunned in his homeland, Ebolusyon was met with favorable reception from foreign audiences — some resorting to amusing devices to literally survive his hours-long epic. Yet, despite all the jokes surrounding Diaz and his style of filmmaking, one just cannot ignore him. He is a picture of contrasts. His favorite movies run from vintage Avellana in Kundiman ng Lahi, to Lino Brocka, to esoteric Ishmael Bernal in Nunal sa Tubig, to Manong Gerry's Moises Padilla, to Dolphy and Chiquito, FPJ in Matimbang ang Dugo sa Tubig, to Erap Estrada's komiks-based Galo Gimbal. He loves movies with a passion. They inspire him; they give him a high.
His latest work Hele sa Hiwagang Hapis, starring Piolo Pascual and John Lloyd Cruz, won the Alfred Bauer Prize at the 66th Berlin International Film Festival in February.
(For your comments, call 571-1569, text 0917-8991835 or e-mail bibsyfotos@yahoo.com.)