Gaita Fores' culinary journey
MANILA, Philippines – There's something about Margarita "Gaita" Fores.
Always.
Whether she's opening a new restaurant; presiding over the tour de force gastronomic congress that was Madrid Fusion in Manila; serving up the likes of US President Barack Obama and Canadian Prime Minister Justin Trudeau at the epic APEC meeting in Manila; and being named Best Female Chef 2016 by Asia 50 Best Restaurants award.
Or now, as the subject of CNN's Culinary Journeys, in which she kicks off the second season of the acclaimed series. It follows her as she explores the markets, hometowns, produce and influences that have made her dishes in particular and Filipino food in general one of the most diverse, intriguing, uncategorizable, and therefore underappreciated cuisines in the world.
Indeed, Filipino food has always been on the verge of becoming the moment's new food trend. Especially in America where everything from holes-in-the-wall to food trucks to acclaimed bistros serving Pinoy cuisine are regularly cited by the New York Times and the Los Angeles Times. Or calamansi being hailed as the next must-have ingredient by hip food magazines like Lucky Peach, the brainchild of culinary rock star David Chang. Or Anthony Bourdain sheepishly admitting a compelling affinity for Jollibee Spaghetti and having his daughter sneer at him because he knows little of the Pinoy meals her Filipina nanny lets her eat.
Little has come of these mentions many of us assiduously share and reshare with our Facebook friends. Once upon a time, it was thought that our food was too stewy and brown, with no counterpoint colors to brighten up a saucy sludge or an oily landscape of browned meat. One time, we thought of cosmetic ways of making our food pleasing to Western eaters. We deconstructed kare-kare and sinigang, separating ingredients so they should be recognizable to an alien audience.
Nothing worked. Because there's something lost in the finessing of what is essentially one-pot dishes where veg is cooked to nothingness so they meld with the flavors of the stew. If adobo is better the next day, so is sinigang, if you happen to cook it with gabi. The reheating softens the gabi, turning the broth viscous and giving a second dimension to the original dish, which is sharp, bright and soupy.
There are also as many ways to cook sinigang as there is adobo. There is no OTR (One True Recipe) to speak of. My perfect adobo might be twice cooked; yours may be a straight-up stew.
So how is the rest of the world supposed to keep up with us? With our penchant for oido, for cooking by feel and by region? There's also something to be said about eating family style or handaan/fiesta mode or boodlefight style. We think nothing of having the fruit salad right next to our pancit and menudo during provincial fiestas or double dipping on a sawsawan of vinegar and sili during a free-for-all boodle meal. If there is no integrity of taste by having separate plates for each dish, there is the camaraderie and joy of partaking in a shared meal.
It's just who we are. And, from the outset, Gaita understood. She understood the irreplaceable flavor of Choc-Nut, which she has used in one of her creations. She understood how Pinoy it is to love our Spam and so she served it in a sandwich ­­— a Spamwich, she called it ­— with fried egg and cheddar in her old restaurant Café Bola, long before we got essentially a similar thing from Starbucks. It's very telling that as part of her last meal, she chose bone marrow (now a big foodie thing, but which we still call "utak" round these parts) with patis, not to mention buttered rice with taba ng talangka alongside Bistecca Fiorentina with sauce béarnaise.
It's a stunning thing, especially as she's been doing it for the last 30 years. An Accounting graduate, Chef Gaita made a complete turnaround to cookery after touring Italy. Since then, she has perfected her Italian and runs Cibo, one of the longest-running and most successful Italian restaurants in the country. At the same time, she continued to create dishes with "hugot," tossing in flavors and ingredients she knew from childhood, from spending days in Negros where she grew up, and from the fusion of Pinoy and American pop culture. She embodied us. And she paved the way for many of today's top Pinoy chefs to embrace the culture and create orgasmic variations of well-loved dishes like crispy dinuguan or sinigang rice — not to mention run fine-dining Pinoy restaurants.
So to be recognized as the Best Female Chef in Asia in 2016 is double-edged. Because she is just best chef.
Still, people recall how emotional she was when she received the award. It's as if she finally stood still long enough to look back and see what she has done and contributed to Filipino food culture ­— or, let me correct myself, to food culture in general.
CNN's Culinary Journey shows us where her love for food began, looks into her participation in the farm-to-table movement via Grace Park, one of her restaurants; and accompanies her to her childhood summer haunt in Negros. Her journey ends with a meal back at the her ancestral home in Manila sharing the best of the Philippines with family and friends.
Still, she hopes others can see us the way we truly are. "I'm hoping for people to see how beautiful our country and people are," she says of the CNN feature. "I'm hoping it will also excite them enough for them to come and try our diverse cuisine and enjoy our unique ingredients in some of the most beautiful places in the country."
Culinary Journeys featuring Margarita Fores airs today at 4:30 p.m. CNN is partnering with SKYcable for a contest that runs until May 31. If you watch Culinary Journeys on SKYcable Ch. 28, you can win vouchers from Grace Park, Chef Gaita's restaurant at Rockwell in Makati.
* * *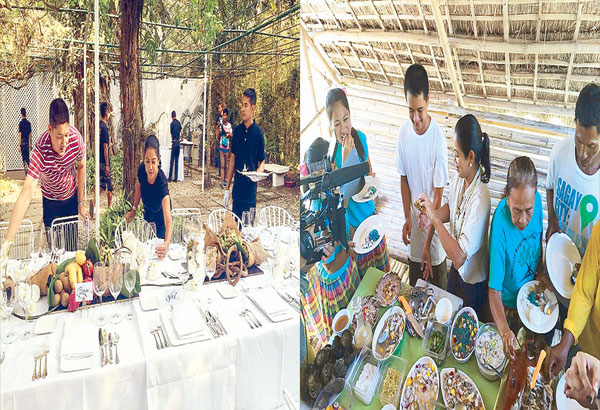 Left: Chef Gaita hosting a meal at her family home. Right: Letting the CNN crew sample local dishes.
Q&A with Gaita
What are the businesses you run or the projects you're involved with?
"I'm currently running 10 branches of Italian casual dining restaurant Cibo which has been in operations for 18 years and counting; a farm-to-table restaurant called Grace Park in One Rockwell, Makati; champagne bar Lusso in Greenbelt; the F&B operations in Ascott BGC including Alta as well as my 29-year-old catering business Cibo di M Signature Caterer and Fiori di M Food and Floralscapes."
How did you get involved in CNN's Culinary Journeys? What was the best part during the shoot?
"Perhaps all the buzz that stemmed from the Asia's Best Female Chef award proved to be quite interesting for CNN's Culinary Journeys to feature the Philippines and my work. I am feeling very blessed.
"Coming home and being able to show the team how beautiful my province is (was) the best part."
What are your hopes for Filipino cuisine? Is it really important to have international acceptance of our food or should you, as a chef, simply be content creating, evolving or pursuing your culinary vision?
"I think that what is primary is local acceptance first and seeing how we Filipinos have embraced our own cuisine so warmly in the last five years. It is not a surprise that our cuisine is now being appreciated internationally."
You were recently voted Best Female Chef of Asia. How did this affect you?
"It's a validation of all the work I've done for the last 30 years. This award is a life-changer. It makes me appreciate all the challenges that I went through to get to where I am today. I guess it makes me feel all the effort was worth it.
"But aside from just the accolade, what is perhaps more daunting is the responsibility that comes with holding this title. It allows me a bigger platform to be able to speak about our country and its cuisine and culture, and also allows me the opportunity to dispel any misconceptions that people may have had not only about our cuisine but our country as a whole."
What's the best thing about the current culinary scene? What needs improvement?
"It's absolutely vibrant. And it is going through a real renaissance right now. A strong sense of national identity has been awakened. Filipino cuisine is the cuisine of 2016, and the media buzz supports this. There are a lot of things from Filipino cuisine that are becoming global trends, like fermentation and the use of souring agents, local spices like turmeric and sour fruits like the calamansi.
"Rather than needing improvement, what's vital is for us to maintain a unified voice as an industry and continue to push for more growth and maintaining higher standards."
Gaita's culinary slumbook
•Comfort food
Buttered rice and taba ng talangka
•Dessert
The yema inside the brazo de mercedes
•Guilty pleasure
White Alba truffles shaved on handmade Artusi-style taglierini bathed with Negros butter
•Food you don't like
I'm game to try everything at least once
•One ingredient you can't live without
Good olive oil
•If you had to eat one food a day for the rest of your life what would that be?
Buttered rice and taba ng talangka
•Best/favorite recipe you created
Crab ravioli with calamansi cream and Alaminos baby crab coral
•All-time favorite restaurant
It's very difficult to have just one:
Osteria Francescana in Modena, Italy
Roscioli in Rome
Chez l'ami Louis in Paris
Narisawa in Tokyo
Eleven Madison Park and Russ & Daughters Café in New York
Aida's or Bacolod Chicken House in Bacolod
Sala in Manila
Of course, needless to say, my own restaurants as well.
• What would your last meal be?
Bistecca Fiorentina with sauce béarnaise
Chilled diet Sarsi
Bottle of 1985 Sassicaia
Buttered rice and taba ng talangka
Italian sea salt
Bone marrow with patis