MANILA, Philippines – The forthcoming Valentine's concert, Jazz in Love, is a "family musical affair." Headlined by the grand lady of jazz Annie Brazil, the show will also feature her son, jazz prince Richard Merk. Sharing the stage with them is jazz singer Emcy Corteza, a proud alumna of the UP College of Music.
"Emcy has been part of our extended musical family for a long time now," Richard smilingly declares. "She has performed a number of times with my mom and I at Merk's and in different other venues. We all share a passion for jazz and live performing."
Jazz queen Annie, who considers music as her "life and passion," proudly agrees. This beaming octogenarian has been based in New Jersey with daughter Rachel Anne Wolfe for a long time now. Yet, Annie isn't about to throw in the towel when it comes to singing. She continues to perform live whenever and wherever she can — from the US East Coast to Manila.
Valentine's Day is just perfect for Annie to stage another concert that will surely delight music lovers. "I believe this is also the perfect season not just to reminisce the nostalgic feeling of being in love, but also to remember those loved ones who brought so much joy to our lives," she says.
Richard, meanwhile, maintains their Valentine show will be a "throwback" for the audience who can go back in time and reminisce the ones they love or express love to their current special someone.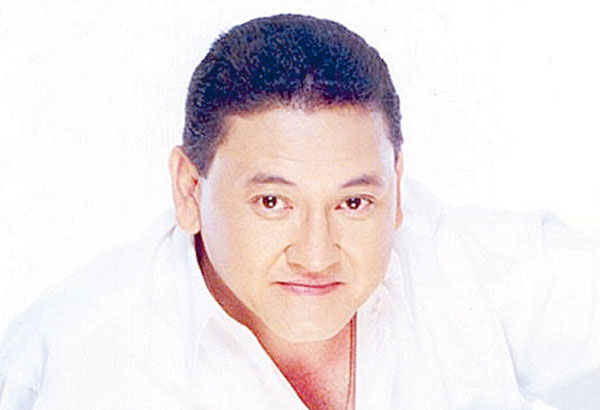 The show also features Annie's son Richard Merk
"Audiences watch Valentine shows to be entertained, so artists can showcase their talents on this special day, with love mainly as their theme," he shares. "We can even interact with the audience to ask what is their theme song or are they still in love? This show is interactive."
Although they have performed all together many times, Annie considers it a "great privilege and honor" to share the stage with great and respected musicians. "At the end of the day, we share the common objective to bring joy to our dear audience," she says.
Richard feels it's an endearing and welcoming experience to share the stage with his mom and fellow artists like Emcy. "It is different each time we sing together. Like in the jazz genre, there is an element of spontaneity and freshness, creativity and passion."
Emcy, for her part, says she feels "humbled and honored" when she shares the stage with other artists and musicians. "Singing and performing is one gesture to show passion, love and intimacy in a special season like Valentine's Day," she says.
Artists who have inspired and influenced her include Ella Fitzgerald, The Carpenters, Patti Austin, Jane Monheit and Manhattan Transfer, to name a few.
Annie remembers her conversation with the late jazz great Duke Ellington. "He said there are only two kinds of music, good or bad. Of course, I go for the good one."
Richard, who's a self-confessed Beatles fan and known as the "Al Jarreau" of the Philippines, says he has his own, unique style of performing. Yet, he also listens to James Taylor, Sting, Tony Bennett, Frank Sinatra and even Sam Smith, Ariana Grande and Adele.
Richard assures the audience will be listening to love songs in Jazz in Love, although he doesn't normally render this kind of repertoire in other concerts. The audience can even request their favorite tunes.
The dinner-concert, Jazz in Love, is presented by Laurel Media and goes onstage on Feb. 13, 8 p.m. at the Laurel House at the 515 Laurel St. corner Shaw Blvd., Brgy. Wack Wack, Mandaluyong City. The show will also feature session musicians Elhmir Saison on piano, Mar Dizon on drums and Colby dela Calzada on bass.
Asked how they like to be remembered, Emcy replies, "As a musician rather than a singer because that's what I am — pure, eloquent and simple, not aggressive."
Richard maintains, "I'd like to be remembered as a friend and entertainer. I'd like to give back the gift of music, which God gave me. I'd like to share my blessings to others through singing."
Meanwhile, Annie insists she'd rather be remembered as plain Annie Brazil, not as jazz queen. "Queens are only for beauty queens."