Bailey May after PBB 737 It's crazy, a dream come true
Bot Glorioso
(The Philippine Star) - January 31, 2016 - 9:00am
MANILA, Philippines – Mention the name Bailey May and what initially comes to mind is his three-month stint as teen housemate in the ABS-CBN Pinoy Big Brother 737, where he finished Fourth Teen Big Placer in the reality show's grand finale night.
But the end of his stay inside the PBB house marked the start of a blossoming career in showbiz. The 13-year-old Fil-Brit lad has begun performing in Kapamilya variety shows ASAP 20 and It's Showtime! He, too, is now pitting acting talents with the stars of On The Wings of Love portraying the character Harry Fausto. That's not all. Bailey's love and passion for music has allowed him to realize the dream of becoming a recording artist with the release of his eponymous debut album under Star Music. Jamie Rivera is the album over-all producer.
"This is crazy; it's like a dream come true," says Bailey about having his hands full with work. "Actually, a year ago, I never expected anything, so what's happening now is a great blessing."
He was shocked, Bailey adds, when the recording offer came "because my dream is to have an album and to record songs in a recording studio. So when I first heard about it, it was really mind-blowing and I can't breathe in excitement. I'm really thankful for this." In fact, Bailey expressed his gratitude to the people who made his debut album possible by acknowledging their names in the liner notes. One can also easily sense Bailey's astonishment at how his 34-second video drastically turned his life around.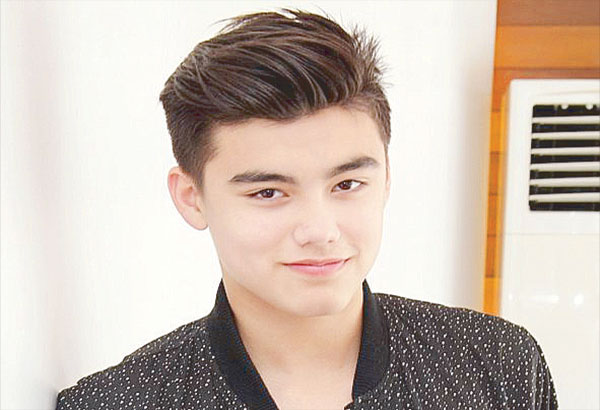 For those not in the know, Bailey was an Internet sensation prior to joining PBB. The videos he posted on YouTube showing him doing covers — when he was still in England — instantly went viral. The videos also garnered over a hundred thousand likes on his Facebook page.
Jamie was among those who have watched the videos. "The first time we saw Bailey online, I asked my manager (Ming Tiñana, now also Bailey's manager), who is a friend of Bailey's dad Matt, if we could get in touch with him and when we saw Bailey on FB (Facebook), that was the time we asked him if he was interested in coming over to the Philippines to try showbiz. And he said he wanted to and it just so happened that PBB was scouting (for housemates) at that time and so we were lucky enough that he auditioned online and he made it," Jamie relates. "So even before PBB, we already had this intention of giving him an album because we believe in Bailey not only because we know we could polish his craft but also we know he could really sing."
Asked if he is confident about carrying a tune, Bailey replies in the affirmative and adds, "My parents are both professional singers and I learned from them by watching them sing all these years." His mom Vanessa and dad Matt met at a cruise ship where they both worked as singers.
Jamie admits that Bailey's vocal range is still "on the adjustment phase. We have to be truthful to everything. We know that Bailey is not a professional singer yet; he has just started. But I think all singers started with just one voice and eventually after so many trainings and experiences, they were able to get the real potential of their voice and Bailey is like that. He's a work in progress. We believe that with more practice and experiences, he'll be able to give more feelings to his songs and he would be able to sing them well just like every professional singer that we have."
Another thing that needs some polishing is his Tagalog. Bailey was born in Cebu and he was four when his family moved to England. It was only last year when he returned to the Philippines for PBB. That's why Bailey is diligently working on his Tagalog by watching Filipino shows and movies on TV. He tries his best to talk straight in the native tongue to friends and people around him. Attending a three-hour Tagalog class twice a week has also been included on his timetable. "It will start by next week," says Bailey.
In fact, the album's carrier single is a Tagalog ditty titled Gusto Kita, one of the two original compositions of Jamie. The other is the catchy tune Can You Be My Girl. According to Jamie, she wrote the lyrics of Gusto Kita with the intention of providing not just pure listening pleasure but also reminding teenagers that they should wait for the right time before getting into a relationship. Its refrain goes: Gusto kita, alam mo ba/Gusto kita ok lang ba/Ngunit tayo ay bata pa/Kaya friends lang muna/ Gusto kita, ok lang bang maging girlfriend ka/Pag pwede na.
Other songs included in the album are the hip-hop laced Boom Goes My Heart, the sparkling Now We're Together, the inspiring Gotta Win and Bailey's version of Build Me Up Buttercup.
(Bailey, which includes minus-one version of all the tracks, can now be streamed on Spotify and is available at all record bars nationwide.)