Another intriguing, heartfelt tale from GMA 7
January 17, 2016 | 9:00am
MANILA, Philippines - Literature is a rich source of dramatic stories for the small and big screens. And for the past years, GMA 7 has sourced out some of its intriguing yet heartfelt TV series from medical journals, explaining cases that provide story premises that catch the televiewers' attention and imagination. Another intriguing medical case called chimerism is presented as Wish I May unfolds today after Eat, Bulaga!.
"It is a condition wherein a person has two sets of DNA," says Denoy Punio, creative consultant for ETV, of the strange genetic condition. "The person was supposed to have a fraternal twin that didn't develop and (the former) acquired the latter's DNA. Thus, he has two sets of DNA. When swabbing is done, let's say by using hair follicle, its DNA is different from the DNA found in the saliva. This is true with the DNA found in the other parts of a person's body."
Wish I May is also taking the same path that Rhodora X, Hiram na Alaala, Yesterday's Bride and The Half Sisters have successfully treaded and eventually won the nods of primetime viewers. Rhodora X discussed the complicated life of someone (Jennylyn Mercado's character Rhodora with other personalities Roxanne and Rowena) suffering from dissociative anxiety disorder and espoused the idea that mental health in general should be given priority.
Rocco Nacino and Dennis Trillo's Joseph and Ivan presented the psychological battles of two soldiers scarred by traumas of living in a war-torn place. Lovi Poe's Andrea-Lorraine conceived a child despite her comatose condition. Barbie Forteza and Thea Tolentino's Diana and Ashley were twins with the same mother but of different fathers. It is a case of heteropaternal (superfecundation). Their mom (Jean Garcia) was a rape victim.
This has become a Kapuso drama tradition and a staple in its afternoon primetime block.
"I think at the heart of it is still a soap," says Richard "Dode" Cruz, head of Afternoon block. "We want to capture the interest of the audience the way The Half Sisters did, wherein the twins have two different fathers. It had generated interest and curiosity; it's a style na para sisilipin ka ng audience. Kapag na silip ka na at maganda naman yung kwento, panonoorin na (They will look into the story and watch the TV series)."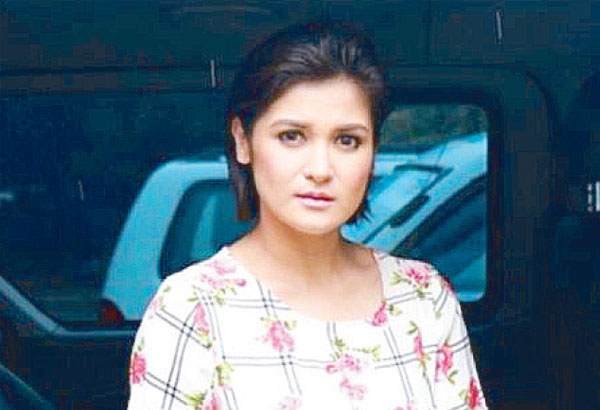 Camille Prats as young mom Olivia who has two sets of DNA
Every working story fit for this genre inspired by a medical condition, according to Dode, "comes from a case study" which one can read in journals or watch in the news. When it is made into a TV series, the creative team is challenged to interpret it in a way that's close to the actual case or situation.
"In making (the storytelling) truthful in Rhodora X, at least creative-wise, we had a psychiatrist as a consultant," the head writer says. "We had to consider the character's behavior which was changing every sequence. We needed someone for advice."
With The Half Sisters, the creative team had to learn the rules with heteropaternal that in a matter of two days a woman could bear fraternal twins of two fathers due to two "successful" sexual contacts. Dode shares that the challenging part is to establish the case well in the early part of the show.
In Wish I May, Olivia played by Camille Prats is the one with chimerism.
"Naging anak ko si Bianca (Umali) sa pagkadalaga (She is my love child)," she says. "As an actress, I always have to evolve and do roles that are not the same. It is something new. I'm very excited playing the role. Bianca is mabait and very hardworking. She talks a lot." Due to pressure from her conservative and strict father (Juan Rodrigo), Olivia has to entrust her daughter to a couple (Mark Herras and Alessandra de Rossi). From there, the legal battle between the biological mother and the foster parents begins.
"The premise is binabawi na ng nanay yung anak niya sa pinagiwanan niya (The mother is fighting for her custody)," shares Dode. "They (adoptive parents) are claiming that the child is their own. She can't claim her maternal rights because her DNA doesn't match her child's DNA. Dun din niya malalaman kung paano niya mababawi ang anak niya. (Again,) it was inspired by a case in the US."
Giving Bianca's Carina comfort in the middle of this domestic issue is Miguel Tanfelix's Tristan, who comes from a dysfunctional family. Wish I May is BiGuel's follow-up project to Once Upon A Kiss, where the tandem showed their acting mettle as star-crossed lovers. Their latest show is replacing the afternoon hit The Half Sisters that ran for more than a year.
"We feel blessed," says Miguel. "Maganda yung pasok ng taon kasi may project kami agad. We are pressured (given the success of The Half-Sisters). Pinagbubuti namin ang trabaho namin and we're just doing fine." In spite of their busy schedule, Miguel and Bianca are able to squeeze in their studies — she, a high school student while he, a first-year entrepreneurship student at the De La Salle University Dasmariñas.
Although every story is "pare-pareho lang at nag-iiba lang ang bihis," as Dode puts it, GMA is able to entertain and educate their viewers through the drama platform and leave them something to ponder on, especially the moms and their teens who tune in to its Afternoon Prime series.