Chicago a hard habit to break
FUNFARE
-
Ricky Lo
(The Philippine Star) - January 17, 2016 - 9:00am
For a group of music students in 1967 when the American rock band was formed, with making a record as its biggest dream, Chicago has surpassed itself and survived tough times through the years, starting in the '60s when the members went with the flow and played music that reflected those turbulent times (the Vietnam War, etc.).
Said to have sold more than 100 million records, Chicago has mellowed and what endures are the band's love songs such as, among others, If You Leave Me Now, Hard to Say I'm Sorry, Colour My World, You're The Inspiration, Baby What a Big Surprise, I Don't Wanna Live Without Your Love and Hard Habit To Break, which are part of the band's repertoire at its concert Chicago Live In Manila on Wednesday, Jan. 20, at the Araneta Coliseum.
The band's current members are Robert Lamm, Lee Loughnane, James Pankow, Walter Parazaider, Jason Scheff, Tris Imboden, Keith Howland, Lou Pardini and Walfredo Reyes Jr.
So how did Chicago keep itself intact (despite occasional changes in members), keep up with advances in technology and keep on playing with its unique sound all these years?
Listen to Lamm in an exclusive phone interview with The STAR (the only Philippine paper given the opportunity):
Did you think that Chicago would last this long, almost half a century?
"When we started we were music students. I think that our biggest dream at that point was to someday make a record. You know, when you're young, you don't really think in terms of the future; you think only of the moment. We didn't have any idea that it was possible, or even desirable, to have this kind of career."
To what do you attribute your longevity? After all these years, you are still very much around.
"Well, I do think that the music that we have created is very unique; it's rock 'n' roll but it has a little bit of jazz, a little bit of blues, a little bit of classical and a little bit of Latin. We sort of stretched the values of rock and somehow by accident we have written really memorable songs that "people everywhere in the world came to love."
Chicago has undergone changes in membership. What are your criteria in taking in new members, aside perhaps from the fact that they should have that distinct Chicago sound?
"I don't know about that. But obviously, they must have not just the love of music but also the love to play music and to play it with other musicians. You'll be surprised to know that many musicians are not like that. If you really think about it, the only time that we needed to add or change members is when a member leaves the band, such as when Peter Cetera did, or when a member dies like when Terry Kath passed away. (According to a report, Kath died of an accidental, self-inflicted gunshot wound from a gun that he thought was unloaded.)
"Those are the only two situations when we allow a new member to come in. With Kath, we've never really been able to fill his part but the current guitar player, Keith Howland, is just as good. He has been with the band for more than 23 years, longer than Kath was.
"Same with Jason Scheff. We were looking for someone who had a high voice, someone who had to sound like Cetera. And Scheff does sound like Cetera. You know, we started out with six members. We added a bass player, a percussion player and second keyboard player. Now, we are nine members."
How did you feel when Cetera left the band?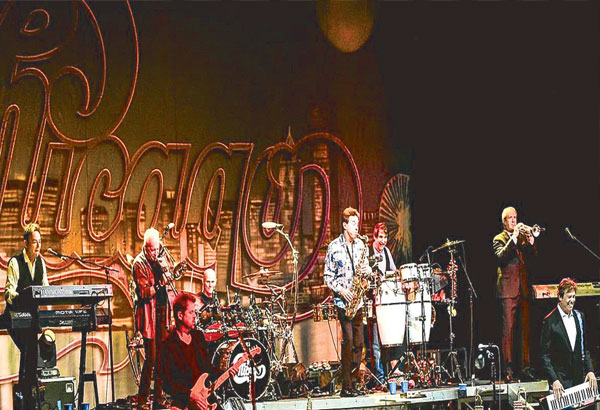 Chicago will perform at the Araneta Coliseum on Wednesday, Jan. 20, with their old hits in the repertoire. Below: Lamm (third from right) with the current members of the band. It was Lamm whom The STAR had an exclusive phone interview.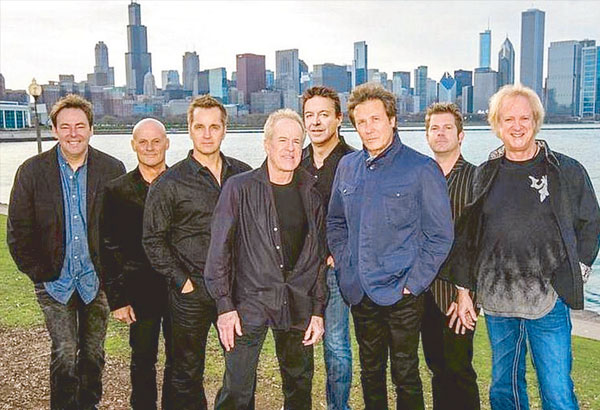 "I didn't care; I don't care."
Do you get in touch with him for old time's sake?
"Not really. But there's a possibility that he might be present at the 31st Rock and Roll event at the Barclays Center in Brooklyn, New York, in April when the band's original members will be inducted into the Hall of Fame. It's going to be a television show, so the band might be asked to do a song and Peter might be included. It's up to those behind the event, so I don't know."
Congratulations. The Hall of Fame honor is long overdue. What are you proud of as a Chicago member?
"It's been such a long career and many of the songs that I've written have been performed and recorded by the band. So I'm very proud of the band's body of work. I'm proud of the fact that the Chicago songs are very unique."
How does Chicago keep up with trends in music, especially as far as advances in technology are concerned?
"The technology is just something that we have always had to keep up with starting probably in the '80s with the beginning of digital recording and programming. Our album Chicago XXXVI, done in the mid-'80s, was very high-tech, a lot of pitch and a lot of modes that are part of being musicians nowadays."
During the band's early years, your songs were full of political messages about how "the youth can change The System." Those were the days, you know.
"When the band started, it was a very active time politically not only in America but all over the world. College-age students were demonstrating against the war in Vietnam. It was a very political time. Folk and rock music groups were singing about what we were experiencing as a generation. Those were difficult times."
I'm sure that during these past decades Chicago has loads of unforgettable moments. What would you consider the three memorable ones?
"I'm very grateful for many, many memorable moments. One, the first time we were nominated for the Grammys; two, going on tour with Jimi Hendrix; and three, the band's being inducted to the Rock and Roll Hall of Fame. There were times when Chicago played in front of millions of people back in 1984 and 1986. Those were something that we will never forget."
How do you keep the band intact, surviving trends and trials along the way?
"Well, it's the music that keeps us together. More than that, it's our being not just friends but being more like brothers. It's like a family come together to make music. I think we are just lucky that members of the band are united."
You have so many songs. Any favorite? Is there one song that you keep on singing or humming maybe in the bathroom, the bedroom or anywhere you go?
"You know, I'm a composer so I write music all the time. Usually, the most recently recorded songs are my favorite such as those from Chicago XXXVI. That album has great songs and we're going to perform some of them during our concert in Manila. We are going to play for about two and a half hours."
And, of course, Filipino fans would love to listen to your old songs.
"Yes, we are going to perform about 40 songs and most of them are our greatest hits."
(Note: The Philippine STAR is among the sponsors of Chicago Live in Manila which is produced by Wilbros. For tickets, call 911-5555 or 373-9999.)
(E-mail reactions at entphilstar@yahoo.com. You may also send your questions to askrickylo@gmail.com. For more updates, photos and videos visit www.philstar.com/funfare. or follow me on www.twitter/therealrickylo.)