Lucy Liu: I'm proud being Asian
CONVERSATIONS
-
Ricky Lo
(The Philippine Star) - December 5, 2015 - 9:00am
Remember how Lucy Liu unwittingly ruffled the feathers of our hyper-sensitive kababayan a few years ago?
Asked in a US TV show (or was it a print interview?) why she didn't want to darken her fair Chinese complexion, she said something like she didn't want to be mistaken for a Filipino. Personally, I didn't find anything wrong with that (although Liu did say sorry for the unintended "offense"). Had a Filipino been asked the same question in reverse ("I don't want to whiten my complexion lest I be mistaken for a Chinese," for example), I doubt if it would create a hullabaloo.
That little incident, fortunately nipped in the bud before it escalated into, heaven forbid, a diplomatic issue, crossed my mind during a recent tele-conference with Liu among journalists from Thailand, Malaysia, Singapore and the Philippines in connection with the RTL-CBS TV series Elementary in which she plays Dr. Joan Watson, a role that has won her a 2013 Teen Choice Award for Choice TV Actress and Best Drama Actress award at the 2013 Seoul International Drama Awards.
As Dr. Watson, Liu partners with Jonny Lee Miller as detective Sherlock Holmes in a modern-day drama about a crime-solving duo that cracks the NYPD's most impossible cases. Of course, Liu is fondly remembered for her role as one of Charlie's Angels along with Drew Barrymore and Cameron Diaz, as Ling Woo in the hit series Ally McBeal and for Quentin Tarantino's Kill Bill (1 and 2).
A native New Yorker, Liu graduated from Stuyvesant High School, attended NYU and later received a Bachelor of Science degree from the University of Michigan. She marked her birthday on Dec 2.
Obviously, Liu was comfortable talking to her fellow Asians during the 30-minute tele-conference.
"It's my pleasure," she told us. "I just want to say that I am very proud to be Asian and I am very proud to be taking time to be in this (tele-conference). It was a no-brainer because I get to be asked by my own peers. I have met different people from different countries. It's always an honor to connect with people that I really know and that's something that I grew up with. I am really happy that you guys wanted to do this. I would like to thank you. It's important and (I) will continue to grow because of how you approach your journalism. It's wonderful."
Excerpts:
Before you started doing Elementary, were you already a fan of the Sherlock Holmes series?
"I knew about Sherlock Holmes but I never really did or never really learned about it or knew about it because I didn't grow up reading those stories as I came from a Chinese family. It wasn't at the top of our list but when I did start the show and after reading all of the short stories, I really love some of it. That's how it basically began."
What do you find interesting about your role as Dr. Joan Watson?
"I love the relationship she has with Sherlock. That is shown very deeply in the novel and all the short stories. But basically the connection between the two of them being together in solving (cases) is fascinating. There is more of an emotional connection before they became (a team)."
What are some similarities between you and your character?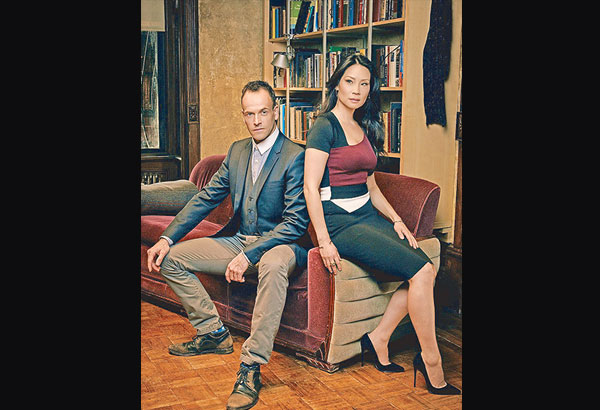 As Dr. Joan Watson, Liu plays opposite Jonny Lee Miller as detective Sherlock Holmes
"I just think that she is not American which, I think, is important. She's very down-to-earth and she likes to eat a lot which I like to do as well."
After several seasons, how has the relationship between the two characters gone so far?
"They're still partners but their friendship has deepened quite a bit. Now we're introducing the father in the fourth season, we will really get to see the dynamics between Sherlock and his father and also see Joan Watson as someone who cares and protects him in a different manner. So it's more of an emotional relationship now rather than a working relationship and that's how it transformed itself from Season One to Season Four."
You've directed Elementary for the second time, in this season. So what lesson have you learned in directing and how did it change your approach to acting?
"Directing is a whole different ball game. You study the mechanisms. Funny because when you watch the audio for film and television, it's magical and the behind-the-scenes are even more magical because you have the script. I feel like when I'm directing I'm a part of a giant painting, making colors and connecting to make a beautiful work. I also love being intimate with the crew and really getting to know them and creating something together. It's good to be directing with a group of creative people. I found that my life has changed significantly from directing because of doing things in a different way."
What are the challenges that you have encountered in playing Dr. Joan Watson?
"Dr. Joan Watson is a very patient, open person — very straight-forward. I like that because doing action movies is different. I just have to be comfortable with the pace in Elementary; it feels like we are not rushing it. My character taught me a great deal about how she will come to you and being activated the whole time."
Who are your favorite fictional characters?
"There are so many that I have grown up with by watching television like Charlie Brown or Derek Martin, people that are not fictionalized today. A lot of the original materials are being revived through generations of Star Trek or Star Wars. I think there is a beautiful uncapped thing about things that we can find in other cultures like in Asia — in China and Japan — so many beautiful stories that we could probably enhance and show in the United States. But also I think some people are already creating them, so we should be fast in making them, especially with the Internet. It's a different way of living now because you have to keep up with everything which I don't mind because there is always something I want to explore."
Elementary is the longest show you've done since Ally McBeal so when you meet fans, do they usually recognize you as Watson now or do they still remember you as Ling? Do you still remember the dancing baby from Ally McBeal?
"Of course, I still remember the dancing baby from Ally McBeal. A lot of people from Europe remember Ally McBeal, some people remember me from movies and other people remember me from Cashmere Mafia and it's really fun what kind of fan you are, the kind of character you connect with. Luckily, I've had fans from doing drama, comedy, action maybe like that. I've been lucky enough in my career to be able to experience some of those things like sometimes you like chocolate and other times vanilla, so I have a little bit of it."
Action movies are not new to you having done Kill Bill and Charlie's Angels. How different has it been playing drama this time instead of playing action type of series or movie?
"Well, when you do a television show, you have an intense schedule, you have 10 months to produce 24 shows and you have a very long time to prepare. You are working on one show and then next you're working on another show having different cast of characters, different names. It's kind of like a marathon, you have to push yourself. Being on television has taught me so much about how to push yourself and when you do film, sometimes you have to shoot one to three scenes in one day. And in television, you're shooting eight to 10 pages a day so you have to be really prepared and organized.
"I really love what I do. To me, it's never a problem to take time to learn my line and to make that happen to me. You need to spend time with your friends and family to make sure you have time for the next day because there's a big crew waiting for you. There's a significant difference between the two and even in cable television or network television because cable to 10 episodes and we do 24 so it's a very big commitment."
(E-mail reactions at entphilstar@yahoo.com. You may also send your questions to askrickylo@gmail.com.)