MANILA, Philippines - Rico Blanco isn't afraid to bend rules when making music.
Case in point: For his last album, he assumed an alter ego Fiesto Bandido and experimented to his heart's content. In coming up with Galactik Fiestamatik in 2012, he eschewed all things conventional — guitars, drums and bandmates. He recorded the entire album by his lonesome using unlikely instruments, from a giant cowbell, a melodica, to a neighbor's junk.
Now, Rico is back with a brand-new album and the "rule breaker" has decided to go by the book. He did it just the way it has been done, with a little — no, make that lots of — help from his rock star friends Raimund Marasigan, Buddy Zabala and Roll Martinez.
Dating Gawi, as Rico fittingly names the eight-track album, is his third since going solo in 2008 and his first with his new music label Universal Records.
"I don't think anyone was expecting me to come up with a back-to-basics album (laughs)," Rico told The STAR in an exclusive interview last Thursday, a day before the album became available for digital download and in record bars.
"Maybe they thought I was going to go more far out. Maybe the (record label bosses) got nervous. But I don't plan these things. Whatever my mood is, I go for it." For his third outing, Rico was in the mood for stripped-down numbers, intimate venues and playing the guitar again.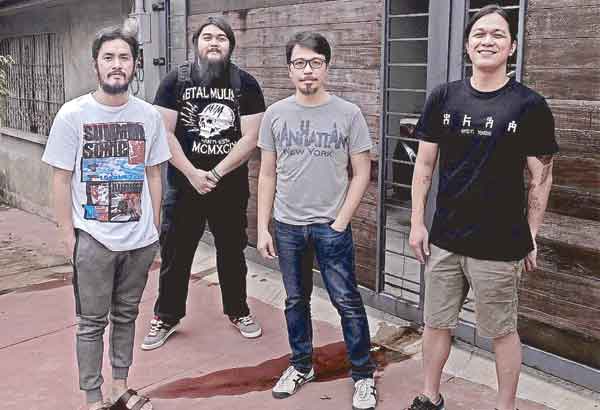 Dream band comes true: (From left) Rico Blanco, Roll Martinez (Hale), Buddy Zabala (The Dawn, Cambio, Eraserheads) and Raimund Marasigan (Sandwich, Pedicab, Cambio, Eraserheads, etc.)
A 10-minute preview of Dating Gawi was posted on social media by Universal Records on Wednesday night.
Based on initial feedback, the album has been praised by fans as "fresh." Rico finds it interesting that just when he goes the conventional rock 'n roll route, his music is called "fresh."
Fresh is always good. But so is the familiar. And when mixed together, you can expect something potent, which Rico promises and delivers in Dating Gawi.
Here are excerpts from the interview:
On the making of Dating Gawi:
"This is the fastest time I made an album from writing the songs, to rehearsing, to recording. (He started immediately after signing with Universal Records last October and submitted the masters two weeks ago.) One time, tinamaan ako ng, 'Gusto kong gumawa ng album.' In the past, maybe since I started as a solo artist, I followed a schedule when it came to releasing albums. I would release when I felt like there was new material I wanted to share.
"So habang tinamaan ako, inupakan ko na. When I started writing songs, my goal was to write one song a day for two weeks. In about a little more than two weeks, I already had 20 songs. All the songs in the album are Tagalog and new, except for the first track's chorus.
"Everything in the album is a snapshot of where I am now … where I am now musically, and a big chunk of it is a stream of consciousness. Like I get a guitar, this is the first topic that comes to mind, I see where it goes. It's the least contrived album in terms of what I feel."
On getting rock stalwarts as bandmates:
"When it came to choosing Buddy, Raimund and Roll, they were the people I thought of while I was already writing the songs. If you remember, my first solo album — because I was with Rivermaya for 14 years — I explored working with different musicians because finally, I could do that.
"For the second album, what happened was I did everything. I holed up in my home and even had a panic attack because there was no second opinion (laughs) but it was my concept.
"For Dating Gawi, isang banda ulit kasama ko for the whole album. So, while I was writing, I already imagined Raimund, Buddy and Roll in it. I actually decided even before asking them. Fortunately, when I called them up, in a heartbeat, they all said yes. They were all game. With no disrespect to my previous bandmates, but this is my dream band. For a long time, we would tell each other, let's do one song, two songs, but I never imagined we would do one whole album. Parang dream band talaga."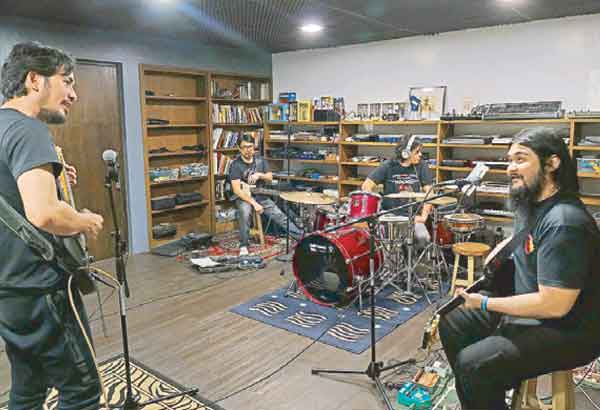 Rehearsing at Raimund's basement — and not in a professional recording studio — felt like the time 'we were starting out'
On welcoming help and input for the album:
"They (Buddy, Raimund and Roll) had a lot of input. First day of rehearsals, I told them, the songs and arrangements are raw, and it's intentionally raw because I want us to act like a real band. Like, I really want you to tell me how you want the whole album to go. As a songwriter, I had a vision, but malaki ang input ng boys. And their characters, their personalities, they will really contribute. I didn't just get anyone. These are guys who really have ideas.
"So, ang bilis! On our first jam, we nailed five songs, and then second jam another five songs, and a third jam for the remaining songs. Three jamming sessions for the album. We're inspired with one another.
"I think I'm more open now (to feedback) than when I was younger. When you are younger, you think you know everything. So you don't welcome inputs from other people. I think when you gain more experience, you realize how little you know. And I get bored with my own ideas, especially after the last experiment. But it was cool."
On the album as a sort of blast from the past:
"There's a feeling of how you used to do things. I would force myself to think like I'm in that state of I'm starting out ... what I will play, we're in our garage. It helps that we were rehearsing in the basement of Raimund. You have two guitar amps, bass amp and a drum kit, and you plug in… Then kain kami pandesal for merienda, then rehearsals ulit. Bumabalik talaga yung feeling when you're starting. A lot of musicians will be able to relate to that."
On what makes Dating Gawi different from his previous works:
"What makes this album really different from everything that I've done, was for the first time, I didn't aim to innovate. In fact, bawal mag-innovate, na gumawa ng something new. It has to be done already before, but still interesting. So, how do you do that? That was my rule: Do not make some far out experiments on this album, just follow the rock 'n roll rule book. Do not put any weird things. Stay within the rule book and make it work.
"Sometimes, there's way too much importance given by artist to breaking rules, I'm very guilty of that. Exhibit A: My last album, right? (Laughs) This is the opposite of that. My rule here was: Do everything traditional."