Bryan White on Alden, Yaya Dub: A match made in heaven
November 29, 2015 | 12:14am
MANILA, Philippines — It's an honor to be part of Alden and Yaya Dub's love story.
This, said Bryan White during a roundtable interview with members of the press on Saturday to promote his one-night concert at the Araneta Coliseum on Tuesday.
White, an American country music artist, is the singer behind "God Gave Me You," the "national anthem" of the GMA-7 noontime variety show "Eat Bulaga's" popular "kalye-serye" segment, which features Bae Alden (played by Alden Richards) and Yaya Dub (played by Maine Mendoza) as lovers.
Music played a huge part in the success of the kalye-serye—and "God Gave Me You" was one of the songs that helped catapult the AlDub love team to pop culture consciousness. Likewise, "Eat Bulaga" was responsible for turning White's 1999 song into a chart-climbing hit in the Philippines more than a decade after it was first released.
The 41-year-old singer-songwriter appeared on Saturday's episode of "Eat Bulaga," cementing his involvement in the kalye-serye universe—a world that includes Wally Bayola (as Lola Nidora, among other characters), Jose Manalo (as Lola Tinidora and Frankie Arinoli), Paolo Ballesteros (as Lola Isadora) and Ai Ai delas Alas (as Lola Babah, to name a few.
"They look to me like a match made in heaven. They look to me like they belong to each other. For the record, that's how I feel," White said. "So finding out later that I was injected in the whole scenario, I'm okay with being the serenading guy. I'm honored to be part of it."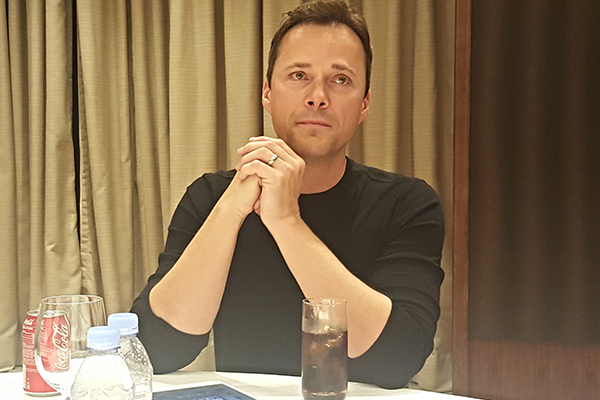 "We're here, and it's because of them that we're here," says American singer Bryan White, who is in the Philippines after his song "God Gave Me You" became a hit a decade after it was first released. Philstar.com / Chuck Smith
White said Filipino fandom isn't new to him, as there were a few who would attend his shows and do covers of "God Gave Me You" prior to the kalye-serye. But it was in September—specifically, the 40th birthday of his wife—when he found his song a trending topic on Twitter, prompting him to ask fans what AlDub is.
"We're here, and it's because of them (the fans) that we're here. I think it's incredible that we're actually sitting here," he said. "We're gonna sing, we're gonna do a big song. It's exciting."
"The one thing that it reinforced for me is to never underestimate the power and impact of music and what it can do," White said on the sudden popularity of his 1999 song. "You can't judge things. You just have to let God do what he does."
White said he met Alden on Saturday and describes the young actor as a "great guy, very humble, very mild-mannered, very quiet."
He added, "We had a great chat... We talked a little bit about the show and the music. It was really good to actually meet him and visit." The singer is yet to meet Maine at the time of the interview.
The country music artist added he is open to collaborate with Alden, who is also a recording artist, in a project.
"I would like to collaborate with him. I would like to write a song with him or, you know, cut a record with him," he said.
"I think he has a great voice. Again, I think I love his delivery, vocally. He has a really unique style," White said of Alden. The 23-year-old actor has performed White's "God Gave Me You" on "Eat Bulaga."
"I think it's wonderful, I think it's great because everybody has a different style, a different take. I think people's voices are an extension of them, so you can really get that when you hear him sing it. And you know he means every word that he is singing," he added. "So I would love to collaborate with him."
Will Alden and Maine make an appearance in his concert on Tuesday?
"I don't know yet but they are certainly welcome to be there. The door is wide open. I would love for them to come," White said.