Amalia recovering from stroke
FUNFARE
-
Ricky Lo
(The Philippine Star) - November 9, 2015 - 9:00am
A lot of people, getting wind of unconfirmed rumors, have been wondering what happened to Amalia Fuentes and how she's doing. Yes, Amalia suffered a stroke while vacationing with friends in South Korea. It was Cheng Muhlach, one of Amalia's only two brothers (the other is Alex, father of Niño and grandfather of Alonzo) who fetched Amalia from a hospital in Seoul and accompanied her back home.
Here's the official statement to put things in the proper perspective, issued by Amalia's grandchildren (children of Amalia's late only daughter Liezl and husband Albert Martinez):
It is with deep sadness that we, the grandchildren of Amalia Fuentes, are confirming that she had suffered an ischemic stroke on Oct. 9 while on vacation in South Korea.
She was discovered by her friend in her hotel room and was immediately rushed to a hospital in Seoul where she was placed in an intensive care unit.
After a few weeks when she was finally stabilized, her Korean doctors allowed her to travel back to the Philippines.
Upon her return on Oct. 27, from the tarmac she was brought straight to the hospital.
We were informed by her doctors that she hopefully can be discharged within two weeks.
She will continue her recuperation at home and will be undergoing extensive therapy soon after.
We, her grandchildren, and the rest of the Muhlach family, appeal to her friends, fans and the general public for prayers for her immediate and full recovery.
We love and respect her deeply.
— Alyanna, Alfonso and Alissa Martinez
Why Gloria was nervous during her AlDub moment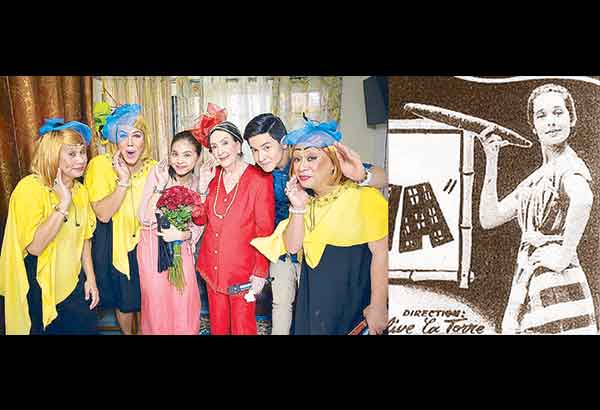 Gloria Romero in the 1954 Sampaguita comedy Dalagang Ilocana for which she won Famas Best Actress; and (left) in the Eat, Bulaga! kalyeserye with (from left) Jose Manalo, Paolo Ballesteros, Maine Mendoza, Alden Richards and Wally Bayola.
After her brief but memorable appearance on the Eat, Bulaga! kalyeserye last Thursday, Nov. 5, playing the Tiya Bebeng of the three lolas (Nidora, Tinidora and Tidora, played respectively by Wally Bayola, Jose Manalo and Paolo Ballesteros), Gloria Romero has been swamped with requests for her to join the kalyeserye on a regular basis.
"I don't think I can do it," Gloria told Funfare. "Hindi ko kaya ang daily."
In that episode, Tiya Bebeng asked Alden Richards how sincere he was with Maine Mendoza, and if Alden could afford to support Maine. Alden answered yes to all of Tiya Bebeng's questions, assuring her, "Nangangako po ako na handa ako maghintay at gagawin ang lahat para maging karapat-dapat kay Yaya," promised Alden.
"I was nervous during that episode," confessed Gloria who gamely joined the kalyeserye cast on the set in San Pedro, Laguna. (Her "dubsmash" scene with Jose Manalo was a winner!). "For the first time in my whole career, talagang kinabahan ako kasi walang script. Mabuti na lang mahuhusay 'yung tatlong lola."
But Gloria pulled it very beautifully. After all, perhaps the new generation of movie fans didn't know, Gloria started in showbiz as a comedienne at Sampaguita Pictures and has a FAMAS Best Actress award (1955) to prove it, for Dalagang Ilocana in which she played a feisty tabako-chomping Ilocana. Gloria soon graduated to drama roles, cast in all characters in the book ("uglified" as an aswang, etc.) but fondly remembered for her comedic performances. (Note: Tune in to Jeepney Channel which airs retro episodes of the sitcom Palibhasa Lalake and see how convincing a comedienne Gloria is.)
Lav Diaz retrospective in Brussels
Scheduled until end of November is a Lav Diaz retrospective in Brussels including his films Batang West Side; Hesus, Rebolusyonaryo; Evolution of a Filipino Family; From What Is Before (Mula Sa Kung Ano Ang Noon); Death in the Land of Encantos; and the highly-praised Norte, The End of History.
Here's one of the rave reviews of Lav's works:
At their best, Lav Diaz's films reveal just how much others leave out. Their protean beauty and moral complexities are matched only by their heroic running times: six hours is a common length, nine hours to be expected. They combine a devout belief in the power of bearing witness to the ebb and flow of quotidian moments with a poetic sense of historical time, the massive and warring abstract forces (governmental, societal, philosophical, spiritual) that conspire to shape daily life.
And another one from a Paris newspaper:
Diaz is the elder statesman of the New Philippine cinema and his films are haunted by his country's past. The wounds and defeats of Filipino history loom large in his work, and their broad canvases accommodate both the irreducibility of individual experience and the sweep of time and space. Few, if any, filmmakers have so powerfully shown that cinema is, to quote Andrei Tarkovsky, "sculpting in time."
As Diaz himself has said, "I would go to any extent in my art to fathom the mystery of humankind's existence. I want to understand death. I want to understand solitude. I want to understand struggle. I want to understand the philosophy of a growing flower in the middle of a swamp."
The Film Society is proud to present the most complete American retrospective to date of this major, criminally underseen filmmaker.
(E-mail reactions at entphilstar@yahoo.com. You may also send your questions to askrickylo@gmail.com. For more updates, photos and videos visit www.philstar.com/funfare or follow me on www.twitter/therealrickylo.)