Queen clone brings Freddie back to life
MANILA, Philippines - One of rock history's most poignant what-ifs is the idea of the late Freddie Mercury performing live in front of the 21st century audience, with all the advanced technology in stage sound and design multiplying the spectacle that he was in terms of vocal power and theatrical crowd rapport. Besides, he was beyond just being a quarter of Queen, a legendary four-piece band that could really declare "we are the champions" for all its success and legacy. He was a quintessential frontman, and he couldn't be equaled.
Tribute artists can only pin on the hope of being the closest to how he acted or heard on stage.
And perhaps, Gary Mullen, the Star In Their Eyes record-setting vote-getter back in 2000, has already reached the grand podium. After all, he does sound like Freddie and trying his best, to great nods, to look and act like the singer-songwriter. At least for two hours each time, he assures his audiences that he can somehow bring the "good old fashioned-lover boy" back to life.
The clip recently shown to Filipino press showing him sing an acoustic rendition of the classic Love of My Life in the same style as Freddie used to do (backed by Brian May's flawless guitar run) simply held on to that assurance. That come Oct. 24 and 25, Pinoy fans of Queen, including curious youngsters, will be able to witness the closest to seeing Freddie perform live. It's a world-renowned touring concert dubbed One Night of Queen and the venue is at The Theatre of Solaire Resorts and Casino.
Adding to that, he inserted in the said clip his imitation of the Pabebe Wave as if telling everyone he and his band The Works are out to give even the AlDub Nation a performance to match the phenomenon currently bewitching the country deep into its kilig bones.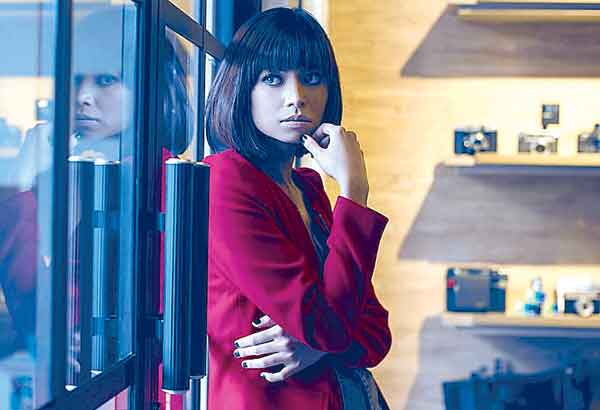 Glaiza de Castro as Gary's special guest
Freddie would have liked doing that "wave" himself.
"We intend to give you guys the most fun you can have with your clothes on," Gary quipped during his chat with Filipino scribes via Skype at the New World Manila Bay Hotel.
He added with emphasis, just like how Freddie usually peppered his spiels, "But please, get naked and enjoy the show."
According to promoter Yuri of Royale Chimes Concerts and Events, "Gary's spot-on imitation of the legendary frontman has been well-received by international critics."
Gary and The Works have been touring for more than a decade now. They have brought entertainment and much-loved nostalgia through their versions of Queen hits, including We Will Rock You, Another One Bites The Dust, Radio Gaga and Bohemian Rhapsody, Freddie's magnum opus as a songwriter himself.
The mustachioed imitator shared, "We're very excited. We're trying to go as far and see as many people. We will definitely have a good time as we rock the night away."
The Mercury legend took off in London when in 1970, Freddie, born Farrokh Bulsara, joined May and drummer Roger Taylor in a band called Smile. They changed the group's name to Queen and bassist John Deacon later completed the line-up that released its eponymous album in 1973.
While the classic line-up is noted for having all members scored No. 1's as a songwriter, Freddie, nevertheless, dominated the songwriting department himself, having penned some of the band's familiar tunes like Killer Queen, Bicycle Race, Play The Game, Crazy Little Called Love, Don't Stop Me Now and Somebody To Love, the song singled out by Gary as one of his favorites to perform because of its choir-style sing-along parts that got everyone in the mood to sing.
Even George Michael became a noted guest at the tribute concert delivered by the surviving members of Queen in 1992 after he delivered the piece to a roaring crowd.
Freddie, known for his vocal acrobatics which he used for playing with spectators, died in November 1991 from bronchial pneumonia resulting from complications of AIDS. He announced that he was suffering from the deadly disease a day before he passed away.
By the time he died, he was already a live stage legend. Queen's performance at the Live Aid in 1985 is counted by many as the greatest gig ever, eclipsing the biggest names in music who also performed at the iconic charity event.
Gary noted, "I have loved Queen's music since I was small. When I enter the stage, Freddie comes in and Gary stays in the corner. It's kind of schizophrenic but it's a job I have and like to do."
Curiously, Glaiza de Castro will appear as special guest on the show. She must have prepared herself to be the "killer queen."
For tickets, call 891-9999 (TicketWorld), 470-2222 (SM Tickets), and 911-5555 (TicketNet).