Another Asian-Am rising in Hollywood
Raymond Lo
(The Philippine Star) - September 9, 2015 - 10:00am
MANILA, Philippines - This writer first met Ki Hong Lee, one of today's fast-rising Asian-American young actors in Hollywood, during last year's press junket for the first film in the hit 20th Century Fox YA series The Maze Runner based on author James Dashner's best-selling trilogy and directed by the talented Wes Ball.
Ki Hong was a newcomer then and our group of journalists at our roundtable had just but a short bio on him provided to us prior to the interview so we didn't exactly know how to start our conversation. There was a noticeable silence when he was brought in to our room. He had his characteristic grin on his face but that did not help us break the ice. All the journalists, including myself, were throwing glances at each other, nudging the other to start the interview until someone finally asked him how he got cast as Minho. (Junket interviewing tip # 1: Always have a stock question ready.)
Lucky for us, the actor, who was raised in different cultures (he was born in Seoul, grew up in Auckland but now considers himself to be a Californian at heart who loves Mexican food) instantly warmed up to us and related the series of auditions (eight in total!) before he finally got the part of Minho, the lead runner in the movie about a group of kids known as Gladers who found themselves trapped in a giant maze called the Glades in the first film. In Maze Runner: The Scorch Trials, the second installment in the series, Minho and his friends are now searching for clues about the mysterious and powerful organization known only to them as WCKD.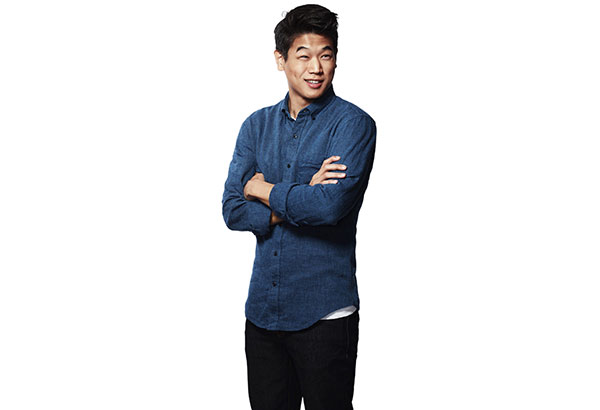 In our interview last year, he revealed that he had to do a lot of workout, dieted and made sure he stayed true to the character as it was written in the books to avoid disappointing the fans. He also shared that he hoped the movie would be a success but quite cautious in keeping his expectation from getting too high.
This writer met with Ki Hong again for a one-on-one interview during the junket for the sequel held in Los Angeles last week and, this time, there were no more awkward pauses during our interview. I had about 20 questions prepared for our scheduled 15-minute interview that proved to be a tad too short in the end.
In just a year, the actor appeared in the film The Stanford Prison Experiment alongside Billy Crudup and Ezra Miller and also starred in The Unbreakable Kimmy Schmidt, the acclaimed Emmy-nominated Netflix comedy series produced by TV superstar Tina Fey. He also tied the knot with actress Hayoung Choi, who played his new girlfriend in the short film She Has a Boyfriend on March 7 this year. So yes, he's a Hollywood player now.
"It's been good. It's been busy. It's fun!" was how he described the past year, which included three months of filming The Scorch Trials in New Mexico. "We just picked up were we left off, we went to Albuquerque together a couple of weeks before shooting, acclimated to the weather, see the same guys again, had a good time. So yeah, it was fun!"
"The first time, I was really anxious and excited about creating the character but now it's about going back to the character that I created and, kind of, getting back into the skin of that character," said the actor after I asked how he relates to his character after having portrayed him in two movies now. "In the first movie, he just ran in the maze and in this new movie, he's in a new environment, new climate with these people and new characters, so he is, kind of, out of his element. He doesn't know what's going on."
There will still be lots of running in the film, of course, but there's a reckoning at some point and the film takes a more thrilling turn that will definitely give lots of fans of the series something to look forward to and be excited about.
I had to ask Ki Hong if after two movies, he could finally divulge to me the secret of why there's so much running in the films — and whether there's more to the Maze Runner title that we are not seeing.
He immediately sensed the dry irony in my question and laughed with me after.
"We're not going to run anymore, we are going to go on planes in the third movie!" he replied half-smiling. "I don't know. I feel like, you know, with any kind of running, you've got to keep in mind, especially in life — it's a marathon, not a sprint."
"One of the themes of this film is you have to surround yourself with good people and I am very, very fortunate to have some of my cast-mates become genuine friends so I hope that when the young viewers watch this they know that it's important to have good friends around that have your back."
The actor believes that this emerging YA genre in films that deals with a grim and dystopian future not only piques the interest of people interested in the post-apocalyptic worlds but also focuses on the young generation. "You know, if anything, the children are our future. I think that having these inspiring stories where the children have to rise up and be the strength and our hope in the future is good message for the kids to grow up to because there's so many bad things in this world and we need to give these kids hope and have something to look forward to."
I also asked him a question that's similar to the one I asked his co-star in the film Giancarlo Esposito: Is the fascination for this genre indicative of fear or hopelessness of today's young adults about this future or whether it's normal for anyone in their age bracket to feel this way?
He had a rather insightful reply. "I think for young adults, they're going through so many changes — you are questioning everything, you are experimenting with things and you are experiencing new things and you feel like whatever you surround yourself has this profound effect on your actions and life, and I feel like we need to instill in them the most positive things, the most beneficial things for their future."
Does he fear the future himself?
"No," he replied instantly. "I mean there's always going to be bad things in the future, there's always going to be good things in the future and I feel like it's important just to align yourself with the good people and do the right thing, whatever the right thing is, and do it the right way."
I reminded Ki Hong that he got married this year and that meant he's hopeful about the future, his future, at least.
He agreed. "Yeah!"
So how's married life like?
"It's been good, it's been a lot of fun," he shared. "To spend more time with the person that you love is great. It's a good rewarding experience. I am growing as a person, she's growing as a person and it's nice to have someone along for the ride."
And his ride is only going to be a lot more interesting in the next few years. Ki Hong is currently filming the second season of Unbreakable Kimmy Schmidt and will return to the set of Maze Runner to resume shooting the final film in the series very soon. He is also currently in the cast of the ABC Family TV series The Nine Lives of Chloe King.
Last year, he took his cast-mates to Koreatown in Los Angeles for some Korean BBQ to celebrate the first film and this year he said he plans on taking them to a real Korean BBQ in Seoul when the cast goes to Korea for the Asian junket of the new film.
Ki Hong will turn 29 at the end of the month and when I asked to describe his life right now, he was quick to reply, "Exciting."
Maze Runner: The Scorch Trials is now showing in theaters.