Lara: Not just lip service
Away from her office desk, Lara Togonon-de Castro looks like any young, upwardly mobile adult determined to change the world. The only difference is that for Lara, that's not just lip service — as one of more than a thousand environmental planners in the country, she actually has the power to make changes in the world around her.
We ask Lara to explain her job: "Environmental planning is a regulated profession, just like architecture or civil engineering. It's a multidisciplinary science and art of analyzing, specifying, clarifying, harmonizing, managing and regulating the use and development of resources. Kung sa Pilipinas tinatawag na environmental planner, sa ibang bansa, we're also called urban planners, or town and country planners. We're involved in land and water use planning and zoning, planning for specific developments like tourism, housing, and industrial areas; protected areas, environmental impact assessment, climate change and disaster resilience, and so on."
The goal of an environmental planner, says Lara, is to help develop sustainable communities and ecosystems, which is a challenge because the scope of work is wide and right now, there are only 1,152 licensed environmental planners in the whole Philippines. That, she says, is already a big jump because eight years ago, when Lara got her license, she was only the 595th planner since the beginning of the profession in the 1960s.
Lara is currently in her first year of being the President of the Philippine Institute of Environmental Planners, and she feels good seeing the profession grow. This year, 178 new environmental planners passed the regulatory exams and will be taking their oaths in August.
Lara also co-founded EnPraxis (short for environmental planning theory and practice), a company that she set up with fellow alumni from the University of the Philippines' School of Urban and Regional Planning. EnPraxis is Filipino-owned, led by licensed environmental planners and supported by specialists in architecture and design, governance, social and natural sciences, arts, enterprise and the academe.
Companies like EnPraxis and people like Lara give technical advice on how to plan for better cities and municipalities. They work with the government, private sector, civil society groups and other stakeholders to make this happen.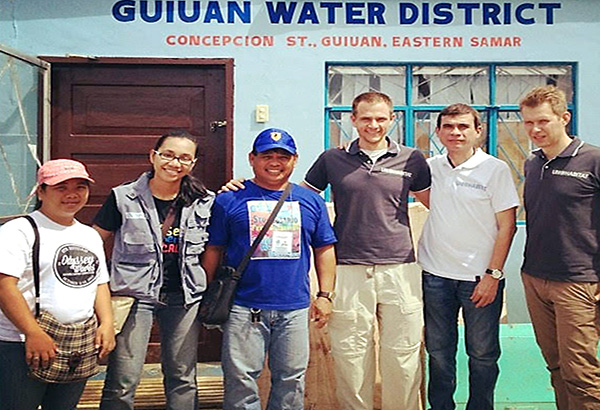 With colleagues and stakeholders during a rehabilitation planning activity in Guiuan
Planning is a collaborative effort that requires experts and inputs from different fields — and as environmental planners, says Lara, they have to study not just how to use the available space and resources, but also the lifestyle, economic and cultural needs of the communities they work with. The process doesn't start and stop with planning residential areas, assigning commercial and industrial zones, or relocating people to wherever there is available space.
"You have to study and understand what development means to people. Halimbawa sa housing, 'O, kailangan by this year, maka-200 units.' So the government or private developers will build. Pero nakikita ba kung ano 'yung gamit or value nu'n sa end user? Para sa akin, mahalagang ma-discover kung ano yung pinanggagalingan ng tao, what their perspective is, what their priorities are. Some people prefer jobs over houses, and would readily sacrifice aesthetic for other important needs. When we build settlements, or a master planned community or even an entire city, reflection yan ng pagkatao mo, ng values at ng pangangailangan mo. When you look at Metro Manila, you have to ask, ito ba yung reflection ng pagkatao natin bilang Pilipino? Is this what represents us?"
Lara and other environmental planners were also heavily involved in rehabilitation efforts in Guiuan, Eastern Samar, and other areas in what is now known as the Yolanda corridor. On Nov. 8, 2013, Guiuan suffered heavy damage, along with 110 fatalities and over 3,625 injuries, as it was hit by the typhoon with peak wind gusts near 380-km. per hour and sustained wind speeds of 315-km. per hour. Almost every building was heavily damaged or de-roofed, including the designated typhoon shelters, the Catholic Church, hospital and gymnasium.
"We assisted the local government and community members in coming up with a post-disaster recovery and rehabilitation plan," she says. "That's another way that environmental planners can help. Of course, it would be ideal to craft plans beforehand, so people are equipped with tools that can actually prevent or at least lessen the impacts of climate change or disaster risk."
Lara hopes that as our population increases and puts more demands on our space and resources, that more environmental planners will rise to the challenge. "I think environmental planning helps us to realize that humans are a small part of a larger system. It can be a barangay, a city, a metropolitan area, an agricultural community. Whatever the scale or character, we have to understand how that system works, and what our roles are within it. Because we are all connected, and every little thing we do has a long-term impact on the whole."
Maybe by placing importance on planning, we can all look forward to sustainable communities and eventually, a better world all around.