MTRCB names hall after Liezl
MANILA, Philippines - Asked why she included Anna Lissa "Liezl" Muhlach Sumilang Martinez among her first batch of members of the Movie and Television Review and Classification Board (MTRCB), Sen. Grace Poe said: "She was a good mother and wife, had a firm grasp of what is right or wrong, with a strong connection and concern for the movie and TV industries, balanced by her compassion for the welfare of children."
And that is how Liezl will be remembered at the MTRCB: As mother, before anything else, for she was motherly towards even those older than she, not only to fellow board members but also to office workers; and fair, even to those deemed difficult to work with.
She took charge of the "Matalinong Panonood" sorties to various parts of the country; an able captain of that MTRCB ship, obsessive-compulsive down to the littlest details of who was rooming with whom, to the extent of asking whoever her roommate would be, just before retiring, for the night, "Nagsepilyo ka na ba?"
She was designated to take care of physical improvements at the MTRCB Building, a task she relished, and how, down to sighing when the wrong tiles were delivered, or the wrong wallpaper installed.
And so it was, that the board could not let her passing go as if it were an ordinary departure. Thus, the decision, to dub the fourth floor board room, the Liezl S. Martinez Hall. Christening rights were held on the 25th of March, two days before what would have been her 47th birthday.
In attendance were her husband, Albert; children Alfonso, Alyanna and Alissa; and father Romeo Vasquez. MTRCB Chairman Eugenio "Toto" Villareal, board members, and the office staff who loved their Ma'am Liezl dearly. It was an emotional event that had everyone present tearing up, soon after the curtains were drawn apart to reveal the marker that bore her name; Bobby V. averted his face and kept his crying private.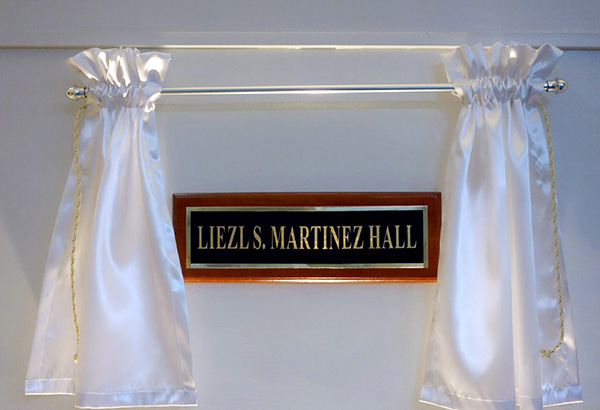 Here's a poem written and read by poet and MTRCB board member Marra PL. Lanot for the occasion:
Liezl
How you loved exploring the world
Through dark-tinted glasses,
Swimming to the edge of the sea,
Drowning perhaps stress and sorrow.
What deep emotions did youth
Uncork? What battles
Did adulthood scorn?
The wall of family and friends
Was your comfort and joy.
Like a butterfly you would
Flutter into the office,
Unaware that you were
A ray of sunshine,
A flower in bloom.
As an officemate,
You were a homemaker
Caring for the welfare of others
In your cool way. You grew
On people until you went
Away like the amihan in March.