How the MMFF grew in 4 decades
December 27, 2014 | 12:00am
The annual Metro Manila Film Festival (MMFF) is in full swing. The festival runs until the first week of January the following year. One of the highlights of the festivity is the parade of floats during the opening of the festival. Each float represents an official movie entry and parades along Roxas Boulevard with the lead stars onboard. The MMFF 2014 finalists that will compete include the following: Mainstream — Bonifacio, Ang Unang Pangulo, English Only Please, Feng Shui 2, Kubot: The Aswang Chronicles 2, Magnum Muslim .357, My Big Bossing, Praybeyt Benjamin 2, Shake Rattle & Roll XV; New Wave — An Maogmang Lugar, Shifter, Cherry, Isip Bata, Gymsnatch (for the Animation category) and Kalaw, Kubli, Siyanawa, Bimyana, Ang Soltera (in Student Short Films); and Full Length Feature — Gemini, M. (Mother's Maiden Name), Magkakabaung (The Coffin Maker), Maratabat (Pride and Honor), Mulat (Awaken).
The MMFF past award winners include Ganito Kami Noon, Paano Kayo Ngayon? (1976), Burlesk Queen (1977), Kisapmata (1981), Himala (1982), Karnal (1983), Bulaklak sa City Jail (1984), Andrea, Paano ba ang Maging Isang Ina? (1990), Jose Rizal (1998), Muro-Ami (1999) and Tanging Yaman (2000).
Before MMFF, there was the Manila Film Festival which was inaugurated in 1966 by former Manila Mayor Antonio Villegas and was held in June. In 1975, the festival was moved to September under the name Metropolitan Film Festival. The Filipino Film Festival opened on Christmas day in 1976 with such classics as Insiang, Ganito Kami Noon, Paano Kayo Ngayon? and Minsa'y Isang Gamu-Gamo where Nora Aunor as Corazon dela Cruz furiously blurted the classic line, "My brother is not a pig."
In the '70s and '80s, the Best Picture, Best Actor and Best Actress awardees would boost the earnings of the winning entries like in the case of cinema masterpieces Kisapmata, Himala and Bulaklak sa City Jail.
In its 40-year history, the MMFF has been embroiled in various controversies, especially with its awards. Here are some interesting things that you may want to know about the MMFF:
In 1977, Celso Ad Castillo's Burlesk Queen, starring Vilma Santos, swept the awards. However, Lino Brocka who directed Inay (lead stars Alicia Vergel, Dindo Fernando, Chanda Romero) made a scene when he shouted at Rolando Tinio, then head of the jury, before walking out of the awards ceremonies!
The MMFF did not give any lead and supporting acting awards in 1978. Instead, the Best Performer went to Ate Guy for her brilliant performance in Atsay. It was earlier predicted by fortune-tellers in Inday Badiday's talk show that Vilma will win for her first Brocka film, Rubia Servios. It was in her acceptance speech where Ate Guy said the iconic line, "Nanay, hindi nagkatotoo ang hula."
In 1983, Karnal won as Best Picture but cinema greats direk Marilou Diaz-Abaya and lead stars Charito Solis, Vic Silayan, Phillip Salvador went home empty-handed. Anthony Alonzo, Coney Reyes and direk Willie Milan bagged all the plum awards for Bago Kumalat ang Kamandag.
Another controversy arose in 1986 when Ms. Tingting Cojuangco who was then a jury member announced that "no one of the seven entries deserved the Best Picture, Best Story and Best Screenplay Awards." The horror flick Halimaw sa Banga was awarded Third Best Picture but there were no First and Second Best Picture.
In 1988, Chito Roño's Itanong Mo sa Buwan starring Jaclyn Jose, Mark Gil and Anjo Yllana was snubbed by the jurors. Instead, the Best Picture trophy went to Patrolman directed and topbilled by stuntman-turned-actor Baldo Marro.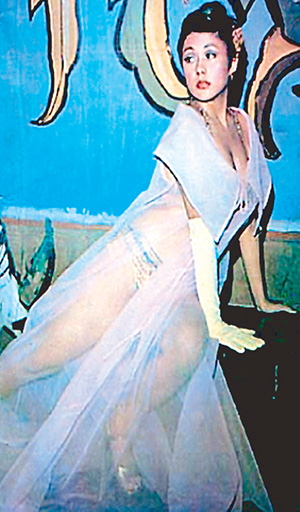 Vilma Santos in a scene from Burlesk Queen
There were no awards for major categories in the 1994 MMFF. Roi Vinzon won the highly-coveted Best Actor award for Lucas Abelardo but there were no Best Picture, Best Director and Best Screenplay winners.
In 2002, Roño's film Dekada '70 had to settle for a Second Best Picture award. The judges chose direk Joel Lamangan's Mano Po as Best Picture. Ara Mina, one of the lead stars of Mano Po, won over Vilma Santos for Best Actress. The whole Star Cinema delegation walked out during the awards night.
In 2005, it was direk Joel's turn to walk out when he lost to Joey Reyes who won the Best Director award for the movie Kutob. Direk Joel's entry, Blue Moon, bagged the Best Picture award.
MMFF awards became controversial again in 2006 because Enteng Kabisote 3 won Best Picture due to a change in criteria that favored commercial films. Star Cinema challenged it because it claimed that its official entry, Kasal, Kasali, Kasalo deserved the award since it was the highest-grossing movie among the entries.
The film that won the most number of awards in the 40-year history of the MMFF is Jose Rizal which took home 17 trophies. It did not win the Best Actress award which went to Alice Dixson for Sambahin ang Ngalan Mo.
Jose Rizal is closely followed by 10,000 Hours and Magic Temple with 14 trophies each in 2013 and in 1996, respectively.
For Best Actor, Christopher de Leon leads the race with eight wins while Ate Guy tops the list for Best Actress also with eight wins. She is followed by Maricel Soriano with five and Vilma with four MMFF Best Actress trophies.
In 2010, Jennylyn Mercado starred in Rosario directed by Albert Martinez. Rosario did not win as Best Picture. During the Gabi ng Parangal, direk Wenn Deramas' Ang Tanging Ina: Last Na 'To emerged as Best Picture; he also won Best Director while Ai-Ai delas Alas received the Best Actress trophy instead of the widely-predicted win for Jennylyn.
The most-awarded directors in the 40-year history of the MMFF (with three wins each) are Marilou Diaz-Abaya, Jose Javier Reyes and Joel Lamangan.
For the Best Supporting Actress category, Eugene Domingo lorded over other female performers with three trophies, followed by Cherie Gil and Nida Blanca with two wins each.
Cesar Montano has won a total of six trophies — three for Best Actor, two for Best Supporting Actor, and one for Best Director.
In 1980, Amy Austria won over Ate Guy (Bona) and Vilma (Langis at Tubig) in the Best Actress race for her film Brutal.
After winning her seventh Best Actress trophy in 1995, it would take 17 years before Ate Guy won again in 2012 for her challenging portrayal in Brillante Mendoza's Thy Womb.
(Sources of information for MMFF are director/writer Senedy Que, Wikipedia and Video 48: Metro Manila Film Festival.)