How Allen reinvented himself
FUNFARE
-
Ricky Lo
(The Philippine Star) - December 18, 2014 - 12:00am
Contrary to what Coco Martin did, making a name in indie films (where he shed inhibitions, and more!) before venturing into mainstream cinema, Allen Dizon did the reverse and successfully "reinventing" himself by superimposing on his bold/daring image with one of a serious actor — and winning awards along the way.
This year, Allen did what no other Filipino actor has done — that is, win Best Actor awards in two international film festivals for Magkakabaung (The Coffin Maker), first in September at the 9th Harlem Filmfest in New York and last month at the 3rd Hanoi International Film Festival where, according to reports, he beat Ralph Fiennes (for Two Women), Korean actor/model Go Soo (Green Rose, My Fair Show), award-winning Indian actor Na See Ruddin Shan (The Voiding Soul), and Vietnamese actors Trung Anh (The Children of the Village) and Tran Bao Son (Flapping in the Middle of Nowhere).
Also a Best Asian Film/NETPAC awardee, Magkakabaung (directed by Jason Paul Laxamana), is competing in the New Wave section of this month's Metro Manila Film Festival (MMFF), now showing until Dec. 24 at SM Megamall and Ayala Cinemas. Then, it will be screened in various international filmfests.
Up next are Daluyong (Storm Surge) with Diana Zubiri, directed by Mel Chionglo from a screenplay by Ricky Lee, which is about a priest who gets a girl pregnant and then accused of murder in a far-flung province; and Imbisibol, to be shot in Japan in January, directed by Lawrence Fajardo and also starring Bernardo Bernardo, Ces Quesada and JM de Guzman.
How is the competition abroad compared to competition at home?
"Both give me pressure. Abroad, you represent the Philippines and compete with international actors so you get this feeling that it's impossible to win. But I was proven wrong. At home, I have this insecurity that my kababayan might not appreciate my performance. It's painful that people abroad appreciate your acting but in your own country you are ignored. Don't get me wrong. I trust the judgment of the Filipino jury. At the MMFF New Wave, may the best win."
You've been attending and winning in international filmfests. What have you learned from experience?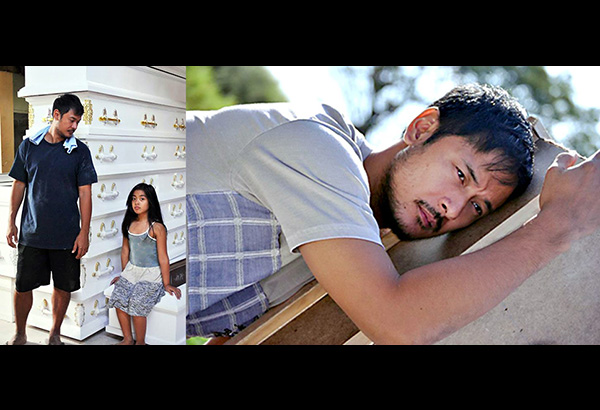 Two scenes from Magkakabaung, directed by Jason Paul Laxamana, with Allen and Felixia (left), and Allen hugging a casket
"You learn from watching the films in competition, you learn about the cultures of other countries. You learn from how actors interpret their roles. You make friends with actors, directors and other filmmakers. Abroad, I surrender everything to the Lord and that's how I get over my insecurity and overcome my nervousness."
How challenging was Magkakabaung vis-a-vis your previous indies?
"Playing the coffin maker was challenging because direk Jason told me not to act and to give real emotions. No melodrama. Avoid 'soapy' acting. In the death scene of my daughter, played by my own eight-year-old daughter Felixia Crysten, direk Jason didn't ask me to cry; he just wanted to see the expression of denial. I deliver my lines in Kapampangan which is my native tongue, so everything came out natural. It was challenging also because I was acting with my real daughter. The camera was handheld and it followed my every move tuhog style, so the scenes came out spontaneous."
Aside from the fact that you can choose your roles and control the budget, what are the advantages of being an indie producer?
"I co-produced Paupahan, Marino and Dukot. My business manager Dennis Evangelista financed and produced Magkakabaung with some investment from Romeo Lindain and equipment share from Romnick Sarmenta's company. Pang-gas lang ang talent fee ko sa movie. But when I won $3,000 cash in Hanoi, he told me that I was lucky kasi hindi ko raw siya pinahirapan sa budget. Dennis chooses the roles that he thinks fit me. When I am producing, I let Dennis control the budget so I can concentrate on acting"
Do you have a hand in choosing your co-stars and directors?
"No. The producers are the ones who choose my co-stars and directors. I also love to work with direk Joel Lamangan; I'm very comfortable with him. He gave me several local acting awards in our previous collaboration. He's really an actor's director. But I'm also open to new directors like in Magkakabaung where the director is younger than me, a fellow Kapampangan. He's brilliant and knows what he wants."
With the honors they are giving the country in international filmfests, shouldn't indie producers get subsidy from the government?
"In fairness to our government, although limited, they gave support and some funding to some independent films through the FDCP (Film Development Council of the Philippines), Cinemalaya and the Quezon City government. The indie industry is growing fast and it needs sustainability. And the main problem is how to get larger audience. Maybe the government should fund efforts to educate the audience (especially young people and the students) on appreciating and supporting indies that give honor to our country. Cherie (Gil) was also in Hanoi to represent her film Sonata and we were amazed by how the Hanoi government supports the film industry. Sabi namin, kaya naman talaga kung kakayanin."
(E-mail reactions at entphilstar@yahoo.com. You may also send your questions to askrickylo@gmail.com. For more updates, photos and videos visit www.philstar.com/funfare or follow me on www.twitter/therealrickylo.)