MANILA, Philippines - Sarah Geronimo lends her voice and talent to Disney's The Glow, a global Disney princess anthem meant to inspire self-belief and self-empowerment.
The singer-actress joins other popular artists from Southeast Asia in the localized music video of the song that premiered yesterday to coincide with Disney Channel's I am Princess Weekend, which offers viewers the chance to revisit such Disney classics as The Little Mermaid and Sleeping Beauty.
Sarah sings the English version of the song (the rest are in Thai, Bahasa Indonesia and Bahasa Malaysia). Her vocal rendition — veering from the fierce diva numbers you've probably been hearing from her of late — rings with delicate earnestness, infusing each lyric with disarming feeling.
Small surprise really, as Sarah said she can relate so much to the song (which is also reflective of her journey to becoming one of the country's top performers).
"I can very much relate to the song. It's very fitting… Whether you are a little girl or a grown-up woman, kahit nga mga kalalakihan makaka-relate sa song because it's encouraging anyone to go after your dreams, your goals in life and to have that courage to really pursue that. It's about self-empowerment and self-belief," Sarah told The STAR in a one-on-one last Friday.
"My journey started with a simple dream — all I wanted was to stand on a stage and entertain an audience. It all started from that small dream, until it grew bigger and bigger… As the song goes, The story begins with the light in your heart, a fantasy, a dream and a spark/Once you believe you are ready to shine, the princess inside you will show/You are the glow… It's very true, you don't need a castle or great clothes, you don't need a prince charming, you don't even have to look like a Disney princess na magandang maganda, blonde, fabulous and everything to become a princess — you can be a princess in your own way. You can find that princess in you."
According to a statement from Natasha Malhotra, GM for Branded Media and Content of The Walt Disney Company Southeast Asia, "The Glow is a crown jewel in our Disney songbook, a song that truly reflects the qualities of a Disney princess. Through the song, we hope to inspire Filipino kids to believe in themselves, follow their dreams and recognize that true beauty comes from by being kind and compassionate just like their very own homegrown princess, the young, talented and beautiful Sarah."
The Glow was composed by Adam Watts and Andy Dodd (who have written for the likes of Miley Cyrus, Jonas Brothers and Demi Lovato) in 2011 and originally sung by the British pop singer Shannon Saunders.
Obviously, Sarah is honored to be chosen to interpret The Glow, along with Oranicha Krinchai from Thailand, Daiyan Trisha from Malaysia and Chilla Kiana from Indonesia, although the prestige of it didn't sink in right away.
"Just the mere mention of Disney, it's (like) wow, is this for real? But maybe because they (her management Viva) didn't want to overwhelm me, they didn't hype it up (initially). It was only a few days before I was to record it, that I was told what to do. Then we recorded it and it went well. Naging maayos naman yung shoot ng music video then when I saw the video, nung nakalatag na ang boses ko, it was when it hit me, like wow, is it really me singing? Ang sarap! It's a dream come true."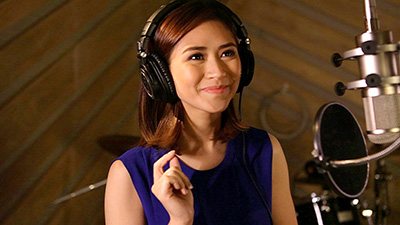 The Disney project is another highlight in what has been a very productive year for Sarah. She has two words to sum up the year 2014 — "fruitful and fulfilling."
"My 2014 is a year of self-discovery," Sarah said, "because of the situations in my life and even the projects that I have become part of like The Voice of the Philippines. Who would have thought I would become one of the coaches? It's something that you'd never expect — to be entrusted with that position. And all the citations I received like the (Best Southeast Asia Act at the MTV Europe Music Awards), and others, and now this project with Disney, 2014 has been very fruitful and fulfilling."
And what is her personal wish this Christmas? "Siguro, just to continue this mindset (as in the song) because with the kind of business that I'm in, the pressure, the bashing, the negativity, i-da-down ka ng lahat, it's important to look inside yourself and to see the beautiful in you that other people don't have. Yung self-belief, that's what will lift you up, nobody can do it for you. Kahit ano pa ang sabihin nila, 'Kaya mo yan, kaya mo yan,' but if you don't believe in yourself, nothing will happen."
Sarah also picks herself up by focusing on her relationships and not on the material aspects of her success. She said, "Especially when there are trials, when you feel down, when you feel you are not blessed enough or when you feel insecure, you just have to look around you, and look back to what has been given to you, the blessings that God gave you, and you will realize you have more than enough already. Even the little things — that you're alive, that you're breathing, right? And especially (the presence of) your loved ones, the thought that they are with you. That's what you should focus on, not the material things."
Being regarded as one of the most wholesome stars around has its advantages but also disadvantages, one of which is being placed all the more under media and public scrutiny. Asked if she's feeling the pressure to be always mindful of her actions on and off-screen, she said, "Sa totoo lang po, I don't think about it (being seen as a role model). But of course, the sense of responsibility is there as young ones look up to you. Especially when I see kids, nagugulat ako na kilala pa nila ako kasi 26 years old na ako, I expect that there are kids who don't know me anymore, so it makes me happy (that they do recognize me). Somehow, it's a reminder that you have this responsibility to fulfill. But of course, my motto is, as we mature we also mature in the projects and roles that we do, in the songs that we perform. I have to be careful at the same time, I also have to find that balance — that what I do is appropriate for my age."
It's also not hard to notice that as Sarah matures, she's blooming even more. She didn't have to state the obvious as to what's (at least, partly) responsible for that glow (read: love life). Nevertheless, she stressed, "Music (keeps me glowing)… the gift of music. Also, the gift of life, not just with me, but lalo na sa mga mahal ko sa buhay, sa pamilya ko, the people I love, my relationships with them, and also my supporters, and every given opportunity to inspire people — I think that's what keeps me glowing."