A complete Christmas package from Jose Mari Chan
FUNFARE
-
Ricky Lo
(The Philippine Star) - November 27, 2014 - 12:00am
As I write this, Jose Mari Chan's Going Home to Christmas is on my CD player and the songs are evoking mixed feelings in me — feelings of joy, of sadness, of longing, of nostalgia, of reconciliation, of forgiving, of everything — as did his multi-multi-platinum Christmas In Our Hearts which is the biggest-selling Christmas album in Philippine recording history.
The album, dedicated to Joe's late father Tony Chan, is almost a one-man job with Joe himself writing the music of 17 of the 20 songs on it and collaborating on the lyrics of some and, for the first time in his 45-year checkered and award-studded career, singing a Tagalog song, Pagdating ng Pasko, without any trace of Ilonggo accent (oops! that's a joke!), lyrics by Jimmy Santiago with whom Joe has collaborated on the Metropop finalist Hahanapin Ko, interpreted with infectious poignancy by Anthony Castelo at his prime.
Other artists who worked with Joe on the album were Homer Flores, Louie Ocampo, Rina Villena-Osorio, Trina Belamide, Freddie Santos, Joel Trinidad, Teenee Chan, Ogie Alcasid, Loren Steele, Shiela Valderrama, Hanna Flores, Lilibeth Tan, Hail Mary The Queen Choir and Psalm 47, plus the ABS-CBN Orchestra with Valderrama on That Time Of The Year (arranged by Gerard Salonga) and Joe and wife Maryann Ansaldo's children Michael Joe, Franco and Liza Chan-Parpan, and the Chan granddaughter Ramona Isabel Bunag Chan.
A complete Christmas package, Going Home To Christmas has a song for every member of the family — and beyond. Listen to the lyrics and the melody and you will see how complete the album is. There's a gift of song for everyone of all ages, a gift that keeps on giving year after year after year, just like the 24-year-old Christmas In Our Hearts that has become a Philippine Yuletide classic. Going Home is a gem of a sequel.
The carrier single (Going Home) is about an OFW longing to spend Christmas with his family: I'm tired and weary, feelin' all alone/I wonder where the months have flown/I need the warm embrace of cool December/And all the Love that I have known. And there's Christmas Anyway, about the daughter of an OFW wishing to have her father home on Christmas: We don't need the tinsel or the Tree/All I need right now is simply you and me/We don't need holly/Or reindeer or a sleigh/When you're here, it's Christmas anyway.
And more: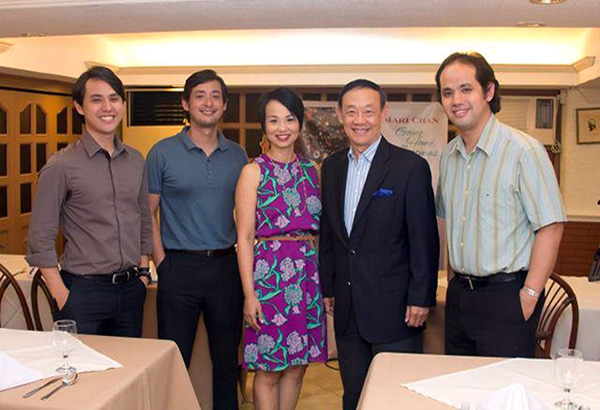 Joe Mari with children (from left) Franco, Jose Antonio, Liza Chan-Parpan and Michael during the 2012 launch of the album — From Jose Mari Chan's Facebook
December 25 (Joe and Cris Villongco): This is the Season we joyfully anticipate/Christ is the Reason that we celebrate/December 25, let the world sing out with glee/Christ has conquered death and sin, it's our victory.
Song of the Firefly (the season through the eyes of a child, with Joe and his apo Ramona): Let yourself be like a firefly/Let your loving light shine through/Wear a happy smile and all the world/Will brighten up with you
Starlight (about a young lady longing for the return of her loved one, vocals by Noelle Cassandra): Christmas Eve…I'm so lonely/It's just no way to be/Wish upon you starlight/Bring him back home to me.
A Christmas Song For You (about an elderly couple, with Joe): My heart still skips a beat/When we would kiss beneath the mistletoe/And through all these years I know/I've loved you so.
Pinoy Na Krismas (a salute to the traditional probinsya Christmas, lyrics by Ogie Alcasid and performed by The CompanY): Nagsasama-sama/Away ay limot na/Ang kapuso, kapatid at kapamilya/Tayo ay sadyang ganyan/Ang pagmamahalan/Ganyan lang ang Pinoy na Krismas.
The Bells of Christmas (a choir-friendly song, lyrics by Pinky Valdes with whom Joe has collaborated a few times): Listen the bells are ringing/Rejoice with the angels singing/Peace to your heart He's bringing/Just follow the Star.
Christmas Moments (on which the Chan children recall their memorable Christmases):
Michael: I remember my Christmas when I was 10/Oh, what I would give to be a young boy again/And hear those carolers singing/My heart, with joy, was brimming/As a child, anticipating/The bells of Christmas morn.
Joe: I remember my Christmas at 25/The love of a wife and the gift of a child/I held my babe in my arms/A tender warmth ran deep/The sound of chimes softly playing/As I cradled her to sleep.
Liza: I remember my Christmas at 17/Mommy and Daddy made me feel like a queen/A pretty box tied with a ribbon/Was underneath the Tree/And wrapped inside was a beautiful gift/A pair of shoes for me.
Franco: I remember my Christmas when we went around/My Daddy drove us down to some orphans in town/We gave some goodies away/Happy faces made our day/We learned that giving and sharing/Is the real Christmas way.
Already, only a few years after its release, Going Home To Christmas has won the following awards: Pinoy Na Krismas, Novelty Song of the Year and Best World Music Recording, and Christmas Moments, Best Christmas Recording from the 5th PMPC Star Awards for Music; Shiela Valderrama, Best Performer By a New Female Recording Artist for That Time of Year from the 26th Awit Awards; and Going Home To Christmas, Best Secular Album and Best Inspirational Album, and Best Secular Song for Christmas Moments, from the 35th Catholic Mass Media Awards.
Meanwhile, excuse me while I replay my copy of the album given to me as a gift by Joe in 2012 when it was released.
(E-mail reactions at entphilstar@yahoo.com. You may also send your questions to askrickylo@gmail.com. For more updates, photos and videos visit www.philstar.com/funfare or follow me on www.twitter/therealrickylo.)