Vilma in 2016: Goodbye, politics?
FUNFARE
-
Ricky Lo
(The Philippine Star) - November 25, 2014 - 12:00am
Curtain-raisers:
• BREAKING NEWS: Derek Ramsay (photo) may babalikan. Anytime now, as soon as the whole thing is finalized, there will be a big announcement about Derek going back to something. In the meantime, all Funfare could give are three guesses: 1). back to an old love, 2). back to an old "home," and 3). back to an old show. Happy guessing!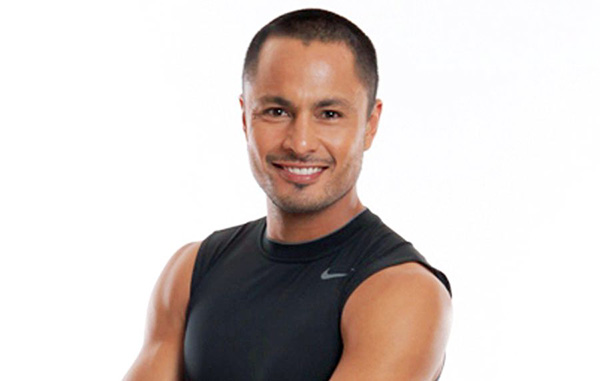 • Isabelle Daza (photo) had her farewell appearance on Eat, Bulaga! (the show that made her what she is now) last Saturday, making Ryzza Mae Dizon cry and cry. Now a Kapamilya, Isabelle texted Funfare why she's jumping ober da bakod: "It was a very difficult decision. I have been with them for three years and I've made great friends. They really have become family to me and a lot of what I am today is because of them. But I guess I wanted to try something different and expand my horizons for new challenges." Will ABS-CBN put Isabelle on Bulaga rival It's Showtime? Ouch! That would be adding insult (salt!) to injury!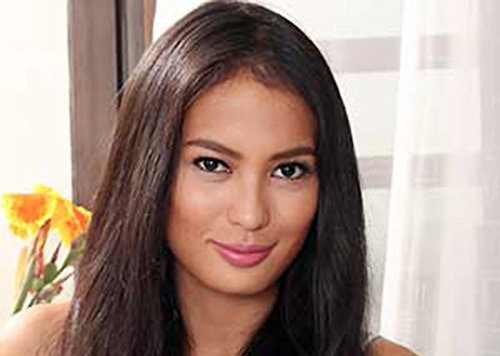 • Could it be true that the long-time hosts of a show ( I won't say what kind) don't see eye-to-eye? But since they are professional, they don't show it on air, although if you are perceptive, you can spot it in their body language. Don't they look at each other at the end of the "live" show? There's your clue!
* * *
When Batangas Gov. Vilma Santos faced movie writers at a post-birthday lunch-presscon yesterday at Regal Matriarch Mother Lily Monteverde's events place on Valencia St., Quezon City, she was back to her old bubbly self — that is, with her acidity stabilized, other symptoms (mostly psychosomatic triggered by her prolonged grieving over the sudden death of Aida Fandialan, her accountant/Girl Friday) gone and minus what she called "my Rudolf the Red-Nosed Reindeer look" caused by a scratched pimple that sidelined her for weeks, insulated at home.
Hosted by Mother Lily and her daughter Roselle Monteverde, the affair also served as launch for Batangas' annual Ala-Eh Festival (part of the province's 433rd founding anniversary) from Dec. 1 to 8, of which Mother Lily is a staunch supporter, she being an adopted daughter of the province. The two ladies' friendship goes a long way, extending beyond politics and showbiz. It was Mother Lily's Regal Films that produced Relasyon, directed by Ishmael Bernal with Christopher de Leon as Vilma's leading man, which won for Vilma Best Actress grand slam.
"We are like sisters," said Mother Lily who put up an Imperial Resort Hotel in Taal and supports scholars in the province.
Said Vilma, "Mother Lily will always be a dear friend. I don't have to remind her what she can do to help our province. She has been helping us without being asked to."
In passing, Mother Lily told Funfare that although Vilma is on her last term as governor of Batangas, she should think twice before retiring from public service. "She's a dedicated public servant," Mother Lily described Vilma. "Nanay na Nanay talaga ng Batangas. I think she deserves a much higher position in the government at unang una na akong tutulong sa kanya!"
Before the presscon proper, Vilma told Funfare, "Honestly, I have no political plans after 2016," not even if there's a clamor for her to run again as Taal City Mayor, a position she has served in three terms.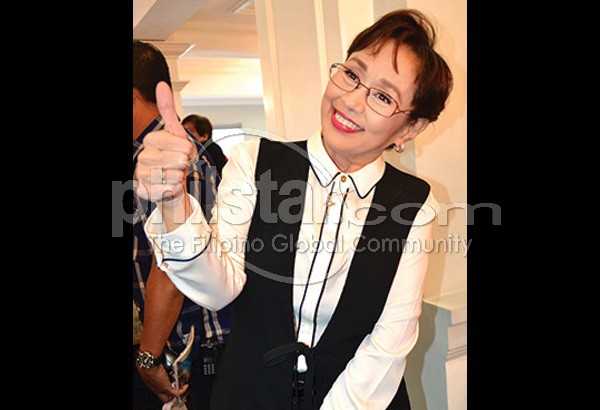 'I'm back in shape!' exclaims Gov. Vilma – Photos by VER PAULINO
Vilma also cleared reports that she's being lured to run for vice president, a position being dangled before Sen. Grace Poe who has so far remained undecided and uncommitted.
"There are no feelers," denied Vilma, "at wala ring invitations. I'm not entertaining anything. Magulo ang pulitika ngayon."
In fact, she said she has been cautioning her son Luis about being "lured" into running in 2016, reportedly for Lipa City Mayor.
"I've been telling Luis to think hard before entering politics," added Vilma. "I told him, 'Pag-isipan mo ng matagal at maigi because if you are not prepared, you won't be effective.' Luis naman is keeping my advice in mind."
After 2016, if her plan were to push through, Vilma said she would concentrate on showbiz.
"I miss showbiz so much," she confirmed.
Already, she's meeting with Star Cinema guys to finalize a movie with Angel Locsin, her future daughter-in-law. Luis has begged off from the project because, according to Vilma, he didn't want his romance with Angel to be dragged into the promo.
Asked when Luis and Angel were getting married, Vilma demurred.
"It's up to Luis to decide," Vilma said. "Pero sana sa Lipa City where Ralph (Sen. Recto) and I were married. Look, Ralph and I have been together for 28 years now," vaguely hinting that should Luis and Angel got married (in the same cathedral), they were assured of a long life together.
What about having an apo from Luis?
"Ay," Vilma exclaimed, "gustong-gusto ko na nga, eh! Sabik na sabik na ako."
If ever, the apo should come only after Luis and Angel (if she's already The One) got married.
* * *
A new challenge for Ogie A.
Giving back.
That's what Ogie Alcasid is concentrating on at the moment, added to the many tasks on hand including exploring new directions in his career, heading the OPM (Organisasyon ng Pilipinong Mang-aawit), co-managing a Japanese restaurant (Ryu Ramen on Tomas Morato Avenue, Quezon City) with friends and now taking the helm of A-TEAM (Alcasid Talent Entertainment Artist Management). No, it doesn't conflict with the agency of Leo Dominguez, Ogie's manager (and co-member of La Salle's Kundirana).
"A lot of struggling singers and songwriters would approach me to manage them. But I am not a manager," disclosed Ogie who has been in the business for close to three decades.
The other members of A-TEAM are entrepreneurs Job Adriano, Rubby Lugtu and architect Anthony Nazareno, all of who have produced some local concerts. Completing the team are advertising whiz Monique Agatep-Ignacio, director/writer/talent manager Paolo Bustamante and athlete talent manager/events producer Cathy Nazareno.
"We have covered all the bases," continues Ogie, "Job, Rubby and Anthony bring the expertise on how to successfully run a business. Monique brings in her advertising know-how to networking the talents, while Paolo and Cathy are the ones like me, who are presently active in the entertainment and sports business."
As for their initial roster of talents, A-TEAM will begin by managing relative newbies in the industry who are in the field of singing and songwriting, which as we all know is Ogie's forte.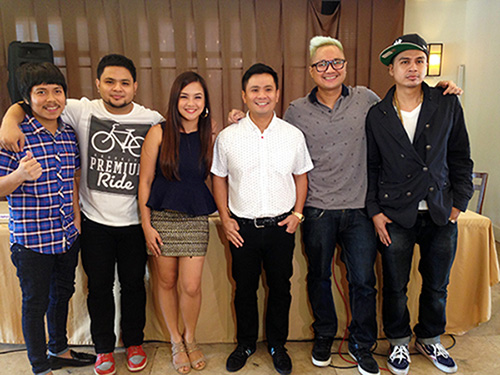 Ogie Alcasid (center) with A-TEAM contract artists (from left) Empoy, David Langit, Lara Maigue and the duo QYork. Below: On the ad for his concert TBT (Total Balik Tugtugan) on Saturday, Nov. 29, at Solaire Resorts
"We are starting off with just a few talents, so there will be more focus on their need," admitted Ogie.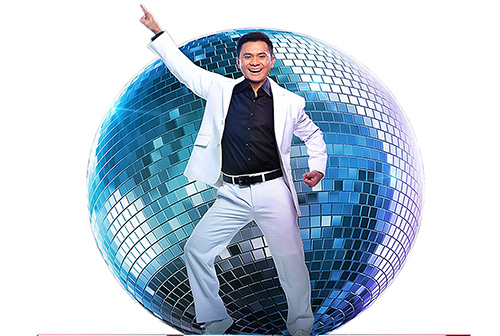 During the presscon, Ogie and company presented four of its contract artists and their music videos — the QYork duo Cedric — with Budotz (for their new single); Davey Langit (Yeng Constantino's batchmate on Philippine Dream Academy) with The Selfie Song; Lara Maigue with Sa'yo Na Lang Ako; and comedian Empoy whom Ogie jokingly described as "the new big comedian…in 40 years!"
It's also the A-TEAM which is producing Ogie's TBT (Total Balik Tugtugan) repeat concert on Saturday, Nov. 29, at Solaire Resorts which is co-producing it along with TV5. A repeat of the hit Music Museum show last August, TBT will again reminisce the fun and crazy parties of the '80s through songs and his bagets days, with Ryan Cayabyab as musical director. With artists who grew up with Ogie during that era like Roderick Paulate, Janno Gibbs, Manilyn Reynes, Dingdong Avanzado and Jojo Alejar (with the Tigers), plus Ogie's wife Regine Velasquez as special guest.
(For inquiries about TBT, call Ken Garcia at 0915-1866955 or Dinah Remolacio at 0917-8158032.)