MANILA, Philippines – Impressive. May be the first thing that comes to mind upon reading his curriculum vitae. He earned his Associate in Science Degree in Electrical Electronic Engineering from the City College of San Francisco and his BA Liberal Arts or Inter-Disciplinary Arts Minor in Music (Classical Guitar Major) and Minor in Business from the San Francisco State University. He has appeared in a total of 56 productions (http://www.imdb.com/), two of which are Italian and one a Hollywood film, The Great Raid, starring James Franco and Benjamin Bratt.
Alvin Anson has long ceased to be known as the brother of award-winning actress Boots Anson-Roa and the son of legendary film star Oscar Moreno.
Alvin is no longer just an actor. The 52 year-old is now focused on producing and shooting both Indie and mainstream films in the Philippines. He also offers services for international companies that want to film in the country.
"I'm also busy developing scripts and film projects that I'll play a major role in and co-produce with my partners. We're also busy with projects in our new production house. We'll be very busy soon working and putting together a Hollywood animation project with our American A List Hollywood Actor/Producer partner," says Alvin, who put up his own production company and production house.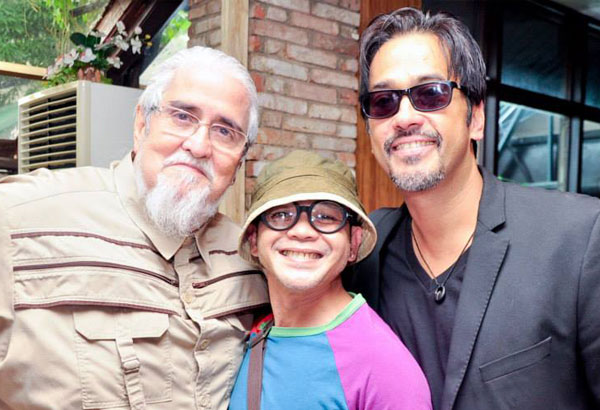 "We established it so we can produce, line-produce, co-produce film, TV, etc. projects for local and foreign investors/executive producers. I've seen it many times during my long acting career, local and foreign investors/exec-producers get 'burned' and cheated by our very own people. We need to stop this vicious cycle because it's killing our industry and it's one of the main reasons why we all lose work or jobs. If we don't take care of the investors and make them money, then who'll invest in our industry so we can all have jobs? Think about it really hard. We want to have a long term relationship with our investors, we want to make them money and make many movies/projects with them," he shares.
Alvin takes pride in his team that he calls the "A Team," a small but solid group with each department head with their own expertise. He describes his team as "very honest, hardworking, creative, and we all take pride with the work we give to clients or partners." He adds that personal integrity is vital to each of his team members.
"We have goal to expand globally, but would like to expand here first, then regionally, then globally. All in God's time," he says.
Showbiz has changed Alvin's life in so many amazing ways. Besides being blessed to make a living out of something he loves doing, it also opens up many opportunities for him, both personal and business. He could not even imagine himself not being in showbiz.
"I don't really know where I would be if I'm not in showbiz. It's really tough for me to find a job that will not be boring after a while. The job I have in showbiz, as an actor, producer, etc. is fulfilling and I believe it's my purpose," says Alvin, who is just a simple, happy, positive person behind the spotlight who enjoys time with his kids and doing regular things like watching movies, eating out with family and friends, and working out.
"Love what you do and the people you work with and have a lot of faith in God that He'll bless and provide you with work in the industry," says Alvin of what he has learned in showbiz.
Alvin describes his life right now as "so busy, it's not even funny sometimes," saying that "it's a good crazy hectic cool life at the moment." He admits to not having a love life as of yet, "maybe one day when it's not as chaotic with my schedule," he laughs.
A typical day starts with reading text messages he gets every day followed by production meetings that normally run through the wee hours of the morning. Then he goes home not to rest, but to work some more because he constantly talks with people abroad to organize or develop film projects he can bring to the Philippines.
The traveler loves the United States where he lived for over 20 years, Japan and Brazil and some countries in Europe like Spain, Greece, Italy and Switzerland. He used to work for Philippine Airlines, so he was blessed to travel around the world. Locally, he likes Boracay and Palawan.
Alvin keeps fit by picking the right food to eat, taking proper vitamin supplements and exercising. He goes on a low carb diet before he starts a film or TV project. He also hits the gym when he gets the chance.
Alvin wants to be better in time management, especially now that he's getting into bigger TV and film projects.
"I'm no longer just an actor, I also now do the job of an executive producer and producer, which requires a lot more of my time," he says.
Alvin admits he has many regrets in life, but he has learned from all of them. In all of those, the greatest lesson is that he cannot live his life without a relationship with God.
Alvin is looking forward to bigger challenges and bigger projects. He wants to continue bringing and making world-class films here in the country.