Antipolo, in Rizal City, is the largest in the Calabarzon region, best known for being a pilgrimage site where Our Lady of Peace and Good Voyage is revered and enshrined. The city is popular for being a pilgrimage site with thousands trekking from as far as Manila to her shrine on Good Friday and May 1. Antipolo is also known for suman, mangoes and cashew nuts, and a cool temperature much like that of Tagaytay.
During the start of the World War II, in order to protect the image of the Virgin of Antipolo, Stevenson Sayson (then the sacristan mayor) and members of the community brought the image to Quiapo Church. It was only after the war that Our Lady of Peace and Good Voyage was returned to Antipolo on Oct. 15, 1945.
Another much-visited site used to be the Hinulugan Taktak National Park where families, during hot summer months, would visit the park to sit around, partake of their snacks and swim in the cool waters. The site became so crowded that visitors from all over the country came to the falls leaving behind their trash and stench. In no time at all, Hinulugan Taktak was abandoned to the forces of the nature. It is fortunate that a group of residents decided to get together and solve the problem. Today, visitors have returned but chastised by the realization that one has to respect nature and it will return the favor. As the motto of mountaineers goes, "Kill nothing but time; take nothing but pictures; leave nothing but footprints." The waterfall area has since been designated as a National Park by the Department of Environment and Natural Resources and proclaimed as a National Historical Shrine.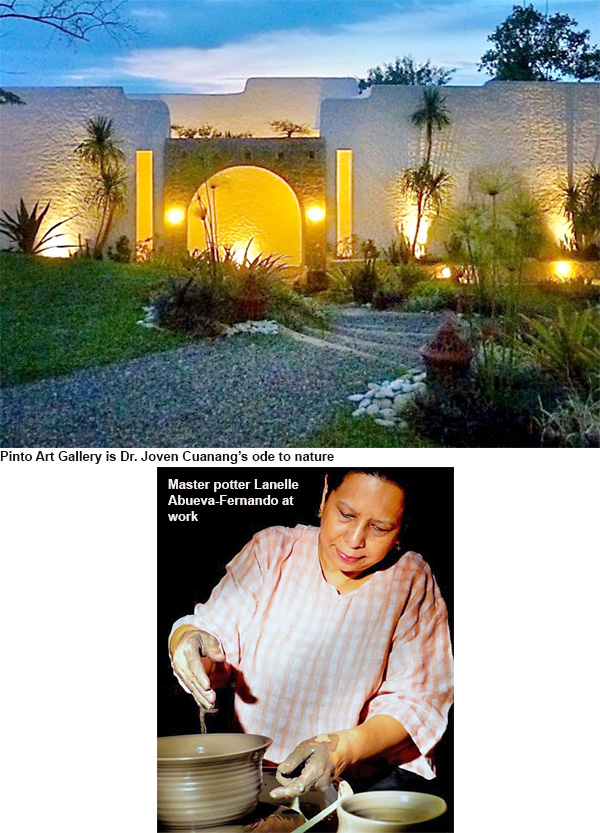 The history of Hinulugan Taktak is as rich and colorful as that of Antipolo itself. Legend has it that sometime during the 16th century, the townsfolk of Antipolo were bothered by a church bell that produced harsh, unbearably loud sounds when rung during Angelus. They demanded that the local priest get rid of the bell. Bowing down to the clamor, the priest had it dropped in a nearby river. This explains the name, Hinulugan Taktak, which means "where the bell was dropped."
We recall going to Antipolo to visit Crescent Moon, Lanelle Abueva's home and workplace. We met her years ago when we were introduced to the new technique of picking up shards, cooking then decorating them with paint of different colors and voila! One had a work of art. Lanelle still lives in Antipolo, still practices her painting techniques and still works on various other styles. Proof is a recent exhibit titled Confluence held at the Globe Art Gallery in partnership with Lisa de Leon Zayco and Suzette Bernardo Montelibano.
Antipolo has also been home to Jardin de Miramar, a multi-purpose venue, and the very popular Casa Santa (open throughout the year) which has given joy to hundreds of children all over the archipelago. It all started when the resident-in-charge of the hectare-large property felt it was ridiculous to let such a property go to waste. Something had to be done with it. The options included selling the entire property, putting up a residential garden or turning it into a vegetable farm, which would be admirable and at the same time profitable. After going through her options, she came up with a mix of a farm and a place children would enjoy. Hence, the Casa Santa that has become so popular, it is now a tourist attraction with buses arriving during the months close to Christmas.
The latest Robinsons Mall will soon be the newest attraction in Antipolo. It will have everything a regular Robinsons will have and more. Now on the last stages of construction, Robinsons Movieworld will consist of four digital movie houses, including a 3D cinema, all of which have a direct access to the transport terminal. The mall is equipped with a surface parking area good for 604 slots.
Finally, let us not forget the famous neurologist Dr. Joven Cuanang, an advocate of art in its various forms. We have gone to his many exhibition areas but have yet to visit his Pinto Art Museum in Antipolo. Pinto comes from the Tagalog word pinto meaning door. The gallery can be visited at Sierra Madre St., Grand Heights, Antipolo City. For details, call 697-1015 or e-mail info@pinoygallery.com.
(Send your comments to bibsyfotos@yahoo.com or text me at 0917-8991835.)