Angelica: Comedy is not easy
Bot Glorioso
(The Philippine Star) - October 26, 2014 - 12:00am
MANILA, Philippines - In the movie trailer of Beauty in a Bottle, which was shown prior to the presscon proper held recently, the three lead stars — Angeline Quinto, Assunta de Rossi and Angelica Panganiban — displayed their knack for comedy in varied ways. Interestingly, there's something in Angeline's manner of delivering her lines that can easily put the audience in stitches while Assunta can be equally funny through her body language.
How about Angelica? Her timing complements her lines and that no longer comes as a surprise because among the three stars, Angelica is the one who's often seen in the comedy genre with Banana Nite and Banana Split Extra Scoop as her regular TV assignments. That already explains her ability to pull off funny stuff without a hitch even as she is also known to be effective in drama. Add to that her memorable performance in the 2010 comedy flick Here Comes The Bride with Eugene Domingo.
But for Angelica, comedy is not a walk in the park. "Comedy is very difficult for me probably because I've been doing drama ever since I started my career in 1993; bata pa lang ako drama na."
She got so used to drama that Angelica didn't feel anymore the need to exert that much effort in every heart-breaking scene that she was tasked to do. "In drama, you only have to work with your emotions but in comedy, it's a lot different. The brain is also at work and the last time I used my brain was during my high school days pa (laughs)."
Kidding aside, Angelica stressed that in comedy "you have to be smart and witty at the same time. You should also know how to respond quickly."
That's why Angelica considered Banana Nite and Banana Split as effective training grounds. "Isang malaking workshop po sa akin 'yun. Perhaps, many people think that we're just playing in the two (gag) shows but comedy is not as easy as it seems."
Angelica is convincing in her portrayal of an actress who has gained a lot of weight in Beauty in a Bottle. She shared that she was instantly challenged by the role after reading the script. "I was thinking how am I going to slim down in the end (part of the story)?"
In the movie, Estelle (Angelica) is being bashed online for being fat. Her career is on the line and to cope with the demands of showbiz, she promises do everything to get back in shape. She then learns about a product that gives "instant" results.
"I really enjoyed doing this movie na kung iba lang ito grabe na siguro 'yung pressure to look good onscreen and go on a crash diet (for the role) pero nung ginagawa ko ito at all the more na nakikita ko na ganun ako kataba, lalo kong nae-e-enjoy."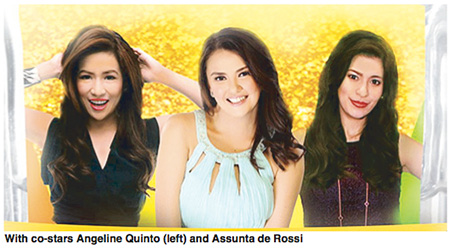 On the personal front, Angelica admitted her body is not perfect yet she has learned to come to terms with it, never mind if there are bashers who keep on making snide remarks about her weight.
"Of course, you get hurt sometimes but I'm not totally affected. I mean, it's my choice whatever I want to do, like if I want to eat or I want to wear make-up at kung ito di mo gusto, hindi rin naman kita gusto so it's just fair."
She enthused that she intentionally dresses down in some occasions so her detractors would have reasons to talk about her appearance.
With a hearty laugh, Angelica continued, "But when I feel like dressing up, I make sure to look my best parang next to God na 'yung kagandahan ko."
When asked if she has ever thought about undergoing cosmetic procedures to lose weight, Angelica answered in the negative. "People would laugh at me and think that I got too affected (by the weight comments) if I had, let's say, a lipo (hahaha). But seriously, I'm scared of it (cosmetic enhancement) and they said that it's really painful."
What part of her body does her beau John Lloyd Cruz love the most?
"Feeling ko 'yung lips ko because he would always kiss me on the lips."
(Beauty in a Bottle, produced by Quantum and Skylight Films, is directed by Antoinette Jadaone. It will open on Oct. 29 in theaters nationwide.)