A magical journey for young & young-at-heart
Raymond Lo
(The Philippine Star) - October 17, 2014 - 12:00am
MANILA, Philippines - Last weekend, this writer saw two different cultures celebrating their respective successes in America. On Saturday morning, I went to the special screening of 20th Century Fox Animation's latest offering, the Guillermo del Toro-produced film, The Book of Life. It's an enchanting tale of true love and heroism set amidst the colorful, musical and vibrant culture of Mexico. I love the movie! And if children are the best critics of any animation movies, this one is a sure winner. This time last year, the contest for the Best Animated Film of the Year was still pretty wide open but when Frozen started screening for the press it easily rose to frontrunner status. The Book of Life could follow that same route given the enthusiastic response it received after the screening and the endearing and delightful sight of children loudly applauding the movie when it ended.
On that same day, at 5 p.m., this writer went to another celebration of a different kind of culture: The Philippines'! ABS-CBN and The Filipino Channel did not skimp on anything and produced what could be the biggest and most extravagant Filipino show ever staged in Los Angeles. But I digress. I was asked to write about the epic ASAP event for the December issue of the Star Studio magazine so please watch for it.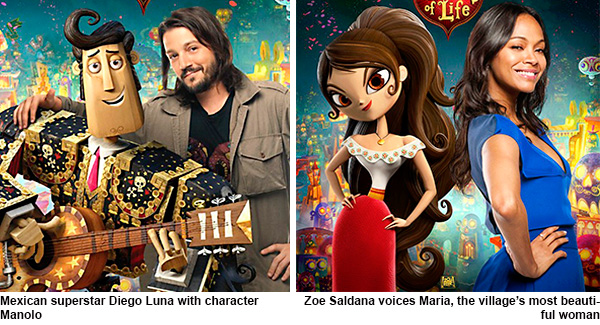 The next day, I was back celebrating at the Four Seasons in Beverly Hills with the jubilant Guillermo and The Book of Life director Jorge R. Gutierrez, who shared that the concept for the movie has been gestating since his film school days. The happy pair held a 30-minute press conference where they talked about the film's development, including how Jorge almost botched his pitch to Guillermo courtesy of a loud Mexican gardener next door — "As soon as my mouth opened, my people betrayed me in the house next door," he recalled laughing — the story, the music, the cast and the pair's excitement of being able to share with the world, via Hollywood, some of their Mexican culture and traditions that are unique, colorful and, with a few cinematic touches, magical as well.
The Book of Life tells the story of three childhood friends: Maria, Manolo and Joaquin, whose lives are forever intertwined by a curious twist of fate. Maria would grow up to become the most beautiful woman in their village. Joaquin, the most decorated soldier and protector of their town. Manolo, meanwhile, would grow up conflicted between what his heart desires and what his family's legacy expects of him. He would set off on an epic quest through magical, mythical and wondrous worlds in order to reunite with his one true love, defend his village and discover his true purpose.
The movie is partly influenced by the myth of Orpheus and it uses a framing device reminiscent of the classic The Princess Bride to introduce the audience to the story. "It's such a magical world that we need to ease the audience into this magic land," Jorge said after acknowledging the homage to one of the most romantic films of all time.
"We are telling this story not just to an audience in America but to everybody in the world," Jorge added before Guillermo interjected and said, "including Scandinavia," alluding to the massive success Disney had with Frozen which was about two sister princesses set in a fictional Scandinavian fjord.
"But what was important was to make it about a beginning and an end of a story that feels ancient and you needed a narrator," Guillermo veered back. "You need to root it with the tree of life, the book of life, the power of Mexico."
No other movie could perhaps bring more pride to someone than a movie celebrating one's own culture without the negative bias that's usually associated with it. The Book of Life is that movie to the Mexican filmmakers and they want to invite the world to see their country in a new light. They gathered the best craftsmen in the industry from the superb musical talent of two-time Oscar-winner Gustavo Santaolalla to the best actors in Latin American cinema, Hollywood and even the Opera to help them realize their vision.
Famed Spanish tenor Placido Domingo appears in a minor role as the voice of one of Manolo's ancestors whose passion was to sing but was forced to become a bullfighter. Mr. Domingo gets to showcase his phenomenal voice in one memorable sequence in the movie.
"The cast was incredibly eclectic and it was pretty amazing," Jorge remarked before he shared how he made Mr. Domingo say yes to him. "I didn't think we'd get him. When we talked to him he saw his part and I got a phone call from Placido Domingo at 2 o'clock in the morning — it was pretty surreal — so I picked up the phone and it was like the voice of god, 'Hello Jorge, this part, I don't want a bigger part but I want a more meaningful part.'"
The director spent the entire night rewriting the part for Mr. Domingo that eventually became the part that the opera superstar voiced.
Getting the right actors to voice the parts was key to the success of the movie and Jorge revealed that they decided from the very beginning that "it can't just be all Hispanic actors because you don't want to scare everyone else into thinking this movie is just for a Hispanic audience we wanted it to be for everybody so the cast had to be from all over the world."
So when they decided to cast for Maria, they chose Zoe Saldana, one of the hottest Hollywood stars to emerge in the past few years. The part of Manolo went to Mexican superstar Diego Luna (Y Tu Mama Tambien) while that of Joaquin went to all-American boy Channing Tatum.
American rapper Ice Cube is also in the cast as Candle Maker, the mythical god made of wax that produces a candle that represents every life on earth. "Hell Boy" actor Ron Perlman is Xibalba, the god who rules the world of the forgotten souls. Mexican soap opera superstar Kate del Castillo voices La Muerte, the goddess who rules the world of the remembered.
The cast held their own press conference after and they echoed the excitement of Jorge and Guillermo about their film.
"Guillermo was an amazing godfather for this project and he believed and he fought for Jorge. Every frame that I see of this movie, I see Jorge. I see the pride that he has in his culture, in his upbringing and how beautiful he saw his life growing up and how colorful it was and I feel like Guillermo was able to sympathize with that, identify with it greatly and therefore felt the need to fight for Jorge to get his vision come to life," Zoe said.
Zoe, who was very beautiful and very pregnant during the junket, also shared how she was able to pull off the singing parts of her role. The Book of Life is a full of music Zoe and Diego get to sing a lot. "It's amazing what you discover that you are able to do once you really put your body and your soul into a scale and you try nothing but to master it," she said. "I realized that I am not as bad, I am not as tone-deaf as I thought I was and some people would appreciate my shower singing. It was fun!"
For Diego, the singing aspect of his role brought him anxiety for two months. "You know, you always go as an actor, and we all tend to do this, 'Of course I can do it, you know, with a little bit of training, I will get there,'" he said. "But then Gustavo showed me the actual songs and they sounded very difficult. It was very scary but I thought about having to tell my kids that that voice wasn't my voice and that kept me going." He added that the process was painful but he loved it.
The Book of Life is now showing in theaters nationwide.