Nova on Tia Pusit: In the end, what prevails is love
October 4, 2014 | 12:00am
Blood, after all, is thicker than water.
Perhaps not many people outside of the movie industry knew that there was a gap between Nova Villa and her half-sister Myrna "Tia Pusit" Villanueva who died of heart ailment at 11:30 Wednesday night (Oct. 2) at the Heart Center where she was confined for several weeks. She turned 66 last March 23.
But in the end, said Nova in a phone interview with Funfare yesterday afternoon before she agreed to discuss that gap, "ang nanaig ay pagmamahal sa kapatid."
Yes, love does conquer all, even sibling rivalry.
"We were really close," Nova started to tell her story, "at nagkaroon kami ng gap after I got her into showbiz. When she clicked, I felt that she changed a bit, para siyang nag-iba."
They were both comediennes but their style was very different, poles apart, with Nova on the wholesome feel-good side and Tia Pusit on the bolder (read: more risqué) side.
"She clicked naman," Nova said. "But as an older sister, I advised her to tone down a bit on her style kasi parang masyado ngang bold. And she resented it. She was not receptive. I guess she felt at that time na mas sikat siya sa akin at ayaw makinig. Maybe she thought that being a comedienne, she could get away with her kind of style. It was only a little misunderstanding between sisters, maliit lang na tampuhan, but it lasted for several years."
The industry being a small world (maliit lang na mundong ginagalawan), the sisters would cross paths every now and then but they acted as if they were not seeing each other, giving each other the cold-shoulder treatment, although they did know what was happening to each other. Small world, as I was saying.
"As early as 15 years ago," revealed Nova (who is slightly older than Tia Pusit), "she was urinating blood due to a kidney ailment. Then, three years ago, she survived a stroke."
But when her kidney ailment worsened, Tia Pusit was rushed to the Kidney Center where she was confined for two weeks. Complications set in (affecting her heart and other vital organs) so she was transferred to the Heart Center where, for some time, she was confined at the ICU on respirator, until two days ago…
The reconciliation came long before Tia Pusit's hospitalization. No apologies, no exchange of "I'm sorry," no recriminations, no digging up of the bitter past but only looking ahead at a bright future.
"Basta, it was automatic, hindi plinano," said Nova. "She just hugged me and that was it. Ganoon kadali, that easy."
Every other day during Tia Pusit's hospitalization, Nova said that she would visit her.
"I would see her eyes wandering, as if asking herself, 'What would happen to me?' We avoided talking about sad things. Ayokong malungkot siya at biglang pumutok 'yung kanyang aneurysm. Paminsan-minsan, nagiging dramatic actress siya but as we went along, lumalabas din ang pagka-comedienne niya. Smile-smile lang kami. After two hours with her, I would say goodbye kasi dumadating na naman ang mga anak niya to watch over her."
No, Tia Pusit never told Nova of any last wishes.
Toward the end, there was only love between the sisters.
"Ganoon pala 'yon. When you see your loved one, or even just a friend, in that condition, no matter how much you hate them, nawawala at ang nangingibabaw ay ang pagmamahal at kung paano mo sila matutulungan. Isa-isang nawawala ang galit o tampo mo at ang tanging natitira ay love."
The wake for Tia Pusit is at St. Peter Memorial Chapels (on Quezon Avenue, Quezon City) until Wednesday, Oct. 8, when she's interred at the Holy Cross Memorial Park in Novaliches, Quezon City. She's survived by children Christian, Christine, Kitkit and Chan-Chan.
The unforgettable Thrilla in Manila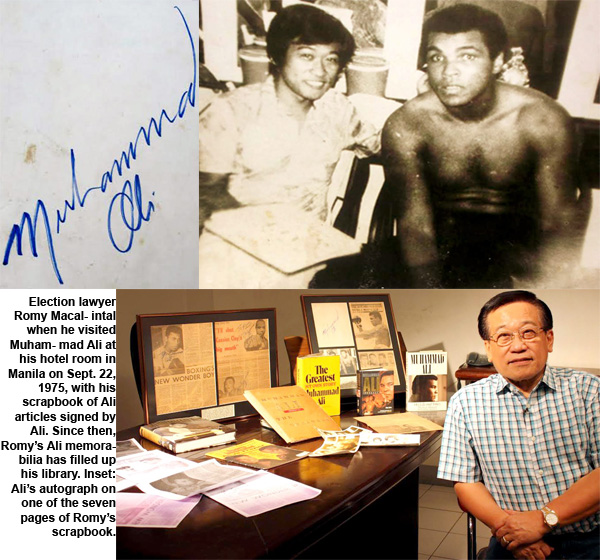 To whom it may concern, for all the world will learn;
The greatest fighter of them all;
Is Cassius Clay — who makes them fall.
These poetic lines characterized the style of boxing that Muhammad "The Greatest" Ali had introduced in the world of sports in the '60s when he was then known as Cassius Clay. Clay would compose a poem where he predicted the round he would knock out his opponents.
And the Filipino people were indeed very fortunate to experience the thrill and excitement Ali brought to the boxing world when on Oct. 1, 1975, or 39 years ago, his third fight against Joe Frazier was held at the Araneta Coliseum in Quezon City which Ali won by technical knockout in the 14th round. Ali would later described this fight as "his closest to dying he had ever been."
A few years after that historic fight, the Aranetas built a shopping complex and called it Ali Mall.
"I vividly remember that historic match," recalled election lawyer Romy Macalintal. "Before his fight, I spent two hours with Ali on Sept. 22, 1975, in his suite at the then Hilton Hotel (now Waterfront Hotel and Casino) along United Nations Avenue in Manila. And my only passport to seeing him was an old scrapbook containing news clippings of his fights dating back in the '60s when he was still known as Cassius Clay."
Upon seeing Romy's collection, Ali said, "Your album is authentic. In other countries, my fans do the collection when they know I'm comin' but yours is the only one of its kind."
And then, Ali autographed seven pages of Romy's scrapbook mostly those news clippings with his photographs.
"But that dramatic episode did not end there. We even watched an 8mm film The Lawbreaker on the Lee Marvin Series with matching juice and biscuits that he personally served me. At that time, there was no Betamax, VHS or CD players yet."
Romy never gets tired of repeating this one-on-one encounter and every Oct. 1 is an opportune time to recall that treasured meeting with "The Greatest."
"Many boxing enthusiasts remember Ali as a boastful and feared warrior in the boxing ring," added Romy. "But I can say, without fear of contradiction, that deep inside his armor, this 'warrior is a child' (a quote from Gary Valenciano's hit song of similar title). Ali's wife, Lonnie, perfectly described him as 'gentle and caring with a heart purer than any I've ever known.'"
In 1996, despite his bout with Parkinson's disease, Ali once again showed his "caring and gentle heart" to his millions of fans when he lighted the 1996 Olympic urn with his right hand while his left hand was shaking.
"I could only say a prayer for him," Romy sighed. "But I still look forward to seeing him again — to shake even his 'shaking' hand."
Happy wedding
Best wishes to Jun and Carolyn who are getting married at the Jubilee Evangelical Church this afternoon. Jun is the son of Mr. Antonio Tan and his wife Luisa, and Carolyn is the daughter of Mr. Ramon Chuaying and his wife Lucy.
The invitation, done both in Chinese and English, captures the playful nature of the couple.
One of the small cards enclosed in it is about "10 Ways to Love," to wit:
• Listen without interrupting.
• Speak without accusing.
• Give without sparing.
• Pray without ceasing.
• Answer without arguing.
• Share without pretending.
• Enjoy without complaint.
• Trust without wavering.
• Forgive without punishing.
• Promise without forgetting.
(E-mail reactions at [email protected]. You may also send your questions to [email protected] For more updates, photos and videos visit www.philstar.com/funfare or follow me on www.twitter/therealrickylo.)