Grace: A love story gone wrong
Jerry Donato
(The Philippine Star) - September 18, 2014 - 12:00am
SINGAPORE — Love is universal. It has become the favorite subject in all art genres and even the core of a supernatural story, which Grace, the latest HBO Asia Originals presentation, will explore in a four-part mini-series premiering Oct. 17 at 10 p.m. on HBO and HBO HD. Russell Wong of The Joy Luck Club fame and Pamelyn Chee lead the all-Asian cast.
"I try taking the script and try to read it a few times. I try to absorb it each time. Each time you read it, you find something different about the script. Something you didn't get the first time," shares Russell of his creative process in acting. The method allows the actor to "gain clarity about the script" and where his character is coming from. If Russell gets the chance to rehearse the scene, he never passes it up. "It kinda (help me) explore and make some discoveries, and kinda build up from there," says Russell, who also uses the discipline of present moment. "You're like backing off (all) expectations. You're backing off those thoughts and really coming to present moment and explore what the relationship is. And that is important."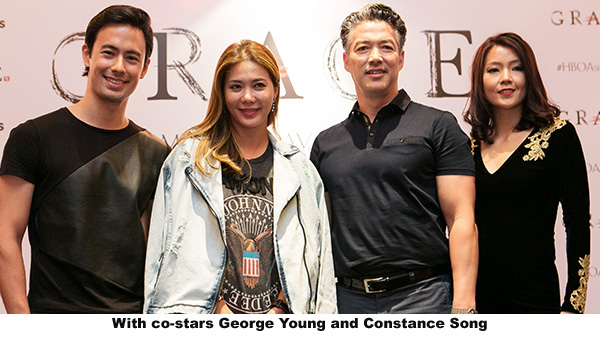 It is vital in playing the male lead character Roy Chan, a family guy who goes astray and gets involved with another woman. The woman is played by Pamelyn, who describes her character named Ya Yi as "someone who is sacrificing what she has. She believes she gets what she wants. That makes her destructive."
To play the part well and give it a different texture, Pamelyn says, "I always try to find the least obvious way of playing the character. A lot of characters, when you read the script, you knew that (they are) expected to be played in a certain way. You'll always try to push something very different. Otherwise, what's the fun of doing the part, right? It's just to make something fresh. Something Russell and I could push beyond the boundaries and make it more organic, which is not typically mistress lover." Pamelyn adds, "It is better to go in with a clear head and react to the present moment."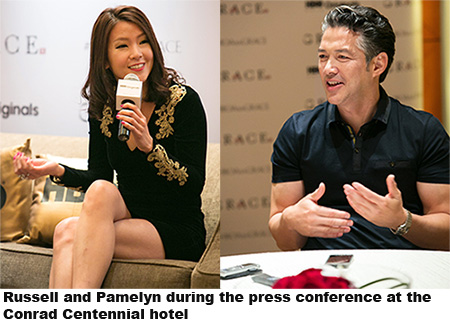 Although this pairing (between a married man and a single woman) is common, Russell, Pamelyn and the rest of the team present something different, especially for those with a trained palate in horror and drama. It lies in the perspective of the supernatural, says Pamelyn.
"I think, for me, it is the Greek tragedy of Romeo & Juliet," she says. "It is love gone wrong. The story has so many layers that you can see the family drama as much as clearly as you can see the love story gone wrong. There's sort of a little bit of everything (for everyone) without (diluting) the content."
Whether the tale is set in some Southeast Asian country like Singapore or put in an Oriental cultural context or not, Grace remains a story about a family, says Russell. It is relatable and readable wherever one is located around the world. What's interesting about Grace is that the scare factor emanates from the story itself. "I don't think there were scare tactics at all," Pamelyn says. "The motivation behind what people do, what they do, is what's really scary for me in the show." For the sake of giving everyone an idea or two, Russell says, "I'm the one who commits the deed that spirals the family downward." Pamelyn adds, "Love is equally protective as it is destructive."
What is their take on Asians getting scared easily?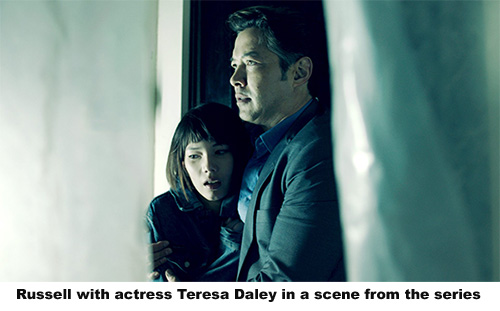 "I think we are scared easily because we are more in tuned with our spiritual side. That can only come when you acknowledge that there's the spiritual presence in the world. I totally believe that these other forms of energies exist," Pamelyn answers.
"As human beings, we are all spiritual beings," Russell says. "I think certain cultures pay attention to their (ancestors), who have certain traditions with their ancestry, among others. I think there are different realms and vibrations."
Before Grace, Pamelyn and Russell already worked on the set of Serangoon Road, another HBO Asia Originals production. The Hollywood-based actor is comfortable working in an Asian environment and appreciates to become a part of an Asian content in English, which can be broadcast not just in Asia but also in other parts of the world.
"It is an opportunity for me and for other actors (to be part of this production) and (I hope) more Asian content in English to be made. So more stories can be told from here," he says.
According to the Grace stars, the taping started in March and it was shot mostly in a studio (Infinite Studios), particularly the interior scenes. The sets were built in 10,000 and 18,000 square feet sound stages, according to the production notes. The historical landmark Alkaff Mansion was used for the exterior shots. Televiewers will be engaged in looking for the clues and hints being established and the lighting, setting and the camera works being used. These all add to the visual and aural aspects of the story. Everyone is all eyes on whether the haunting lurks in the hotel or in the elevator.
"Forgiveness," says Pamelyn on what the audience can learn from Grace. "Be careful who you date," Russell answers in jest. Aside from good entertainment, the actor can assure everyone of "a strong finish."
(HBO Asia fans can also watch Grace via free streaming on www.hboasia.com and YouTube www.youtube.com/HBOAsia from Oct. 18 for two weeks with subtitles in Hong Kong, Indonesia, Malaysia, The Philippines, Singapore, Sri Lanka, Taiwan and Thailand.)