Getting to know Adam, Anna & August
August 25, 2014 | 12:00am
When Anna Fegi got married and decided to return to her native Cebu City, there was little chance for us to meet and bond like we had in the past. Although we had previously met her husband Adam Brown in Cebu, even met their pet dog American Akita with the name of August, they were always in the company of other friends, college classmates, relations and naturally, the dozens of well-wishers attending their wedding on Aug. 21, 2012. There had never been a private moment to share with both Anna and her husband Adam.
The perfect occasion came when Anna invited us to join them both on board the Azamara cruise ship where Anna is a singer and Adam plays the drums. We shared a room with them on the first level of the ship. It was here during the late night hours after work, and the early morning hours that we had them all to ourselves. They gave us the window side, obviously the best location on the ship, as it is on an airplane. Through its peak-hole, we would watch the sun rise or set, depending on the direction of the ship; find lovers sitting on the balustrade breathing the clean morning breeze; and others simply appreciating the wonders of the universe from a vantage point close to Earth. And since we are an early riser, we would go back to sleep for an extra 15 minutes before the sounds of the entire population of the Azamara would wake us up telling us it was time for breakfast.
Both Adam and Anna had precise duties on the ship, other than their daily shows. There was time between these assignments that we could spend with Anna, mostly going back in time to reminisce when she was still a newcomer from Cebu trying out her luck as a singer in the big city. Flash forward to today, with Anna beside us on the bed and Adam off to attend his numerous other duties on the ship. Still, we couldn't help that feeling of nostalgia for the memories we hold precious, even if they would sound ridiculously unimportant to others.
We met Anna when someone called us saying a friend had given him our number and that there was someone who was a famous singer in Cebu we had to meet. Famous? We were amused. The only famous singer from the boondocks that we knew of was Nora Aunor. The one who called was a friend in Manila, Jose Mari Magpayo; the someone from Cebu was Anna. The whole thing was weird but providential. As they say, it was meant to happen.
When we finally came face to face with her to size her up, we saw a curly-haired young girl who came across as shy but determined. When we asked her to sing, we thought her singing passable. Actually, it wasn't her vocal chops that we were attracted to. There were so many young girls from Cebu who were expected to be good singers. The most interesting aspect about her at the time was her hair, that naturally curly bunch of hair that almost covered her face, and followed every movement of her body. That to me was irreplaceable!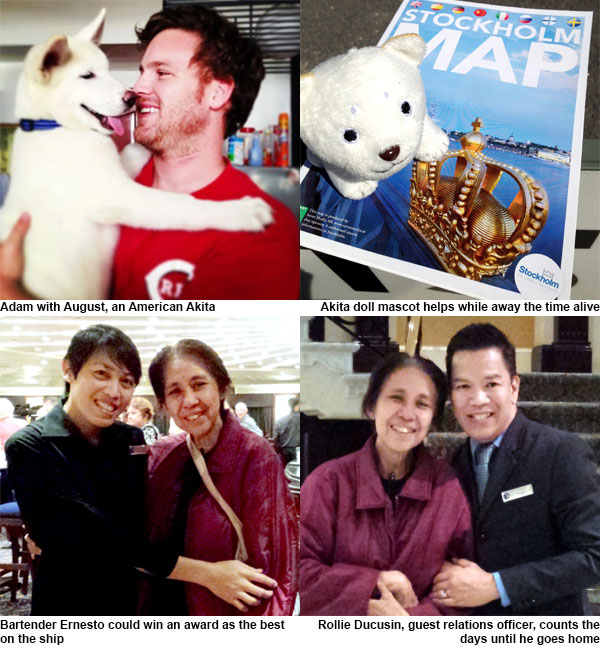 Flash back to Ryan Cayabyab (Mr. C) searching for a replacement in his youth group Smokey Mountain. Anna auditioned, made it and went to Japan to perform. She then returned to Cebu hoping to complete college there but first had to fulfill a singing invitation in Malaysia. Anna didn't expect what happened there. All she would say was that it turned out badly. She just had to go to Manila to seek succour and decided to look for Mr. C who might have had something for her. She also recalled that Magpayo had given her a calling card when she met him in Cebu. She was close to tears!
We met her around that time and recognizing her talent did all we could for the next six years until she became a name and talent who could stand side by side with the better known in Manila. But Anna just had to experience more. She joined Hong Kong Disney for three contracts, was discovered by cruise ships searching for new faces, met Adam on a ship in 2010, and got married to him in Cebu in 2012. Almost after their wedding, they went back to work on the ship, and here we were with them on the Azamara. It felt weird.
(Send your comments to [email protected] or text me at 0917-8991835.)