Around Europe on a small ship
The best thing about traveling, we have discovered, is the many places one gets to visit and the many different types of people and nationalities one gets to meet along the way. The worst thing about traveling is also the various kinds of people and nationalities one has to contend with, including the boastful, those who smell like they have never ever taken a bath, and those who feel they are God's gift to women. But the very worst we need to deal with in traveling are the innumerable rules and regulations one is made to follow that keep changing every other day.
During our latest adventure, we felt we were actually traveling around the globe with the number of different languages we heard on the metro, on the bus, while walking along the boulevard, during lunchtime and dinner! This, we felt most interesting, like we were back in school trying to learn a new language on the sly, we were almost like an eavesdropper. Having been accustomed to traveling solo, we have always prepared ourselves for surprises that are not always pleasant but come with the package.
Flying from Manila to Copenhagen, Denmark, our first stop, would have been a difficult chore had we not had the good fortune of having been guided along the way by the Danish Morten Carstensen, husband of our good friend Marichu. Since we were to stay in Copenhagen for three days, Morten got us a room in the city and even requested his parents to take us around to see the sights. It was a wonderful introduction to a vacation that was to last for 50 days! But the best was still to come.
This particular trip was different from any we had tried before, in that we found ourselves going by air, sea and land all in the same breath. Also, we had never before gone to these places in the past, with the exception of Madrid that we have visited countless of times. As we went through our list of cities, we were astounded by the number and variety they represent. For the duration of 50 days in Europe, the cities included Copenhagen in Denmark, Lubeck in Germany, Wismar in Germany, Ronne in Denmark, Gdansk in Poland, Tallinn in Estonia, St. Petersburg in Russia, Helsinki in Finland and Stockholm in Sweden.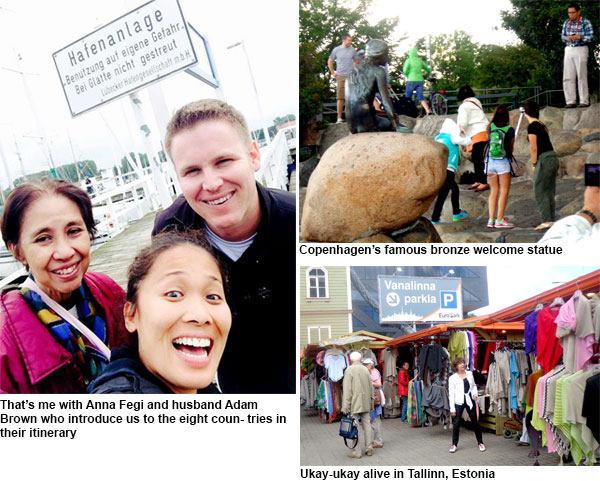 When we were first invited to join the Azamara Cruise ship itinerary by Anna Fegi and her husband Adam Brown, they sent us a program of activities for us to choose from. Immediately, we selected one that listed down St. Petersburg in Russia.
Anna and Adam were talents performing on the ship, she as singer and he as drummer in the Azamara orchestra. They shared with us the wonders of traveling on a small ship, small if compared to the huge ships that traveled the world. If known ships like the Princess or Brilliance would run into tens of thousands of passengers, the Azamara was full at a few thousands. Its main attraction was that being small, it was able to enter the byways that would have been impossible for the gigantic ships.
Of course, those accustomed to working on the large ships initially balked at the idea of a transfer. Nicolas Mirasol from Tarlac who manned the Mosaic Café on the fifth level of the ship told us he was one of those who needed to adjust to the situation. "Pero ngayon, tuwang-tuwa na ako dito," he shared. Not only were there more opportunities to get to know more people, there was also more time to bond with other Pinoys. Naturally, there would be a downside, and this came in the aspect of adapting oneself to the situation. After this adjustment, it was smooth-sailing all the way.
(E-mail your comments to bibsyfotos@yahoo.com or text us at 0917-8991835.)