World Cup: Not an impossible dream
MANILA, Philippines - Sports yes, love life on hold.
These days, Phil Younghusband said he's busy coaching the Little Azkals, a group of 22 young boys who are all training to represent the Philippines in the World Cup 12 years from now.
"I'm single so I have more time to think about and focus on football and of course, my family. Right now, I'm preoccupied with the training and development of the Little Azkals. This is a very important project for me and I want to be a part of this because I believe in the potential of these kids to become our team in the World Cup someday. I know that with the right training, facilities and the support they need, they will make it to World Cup. I want to contribute in maximizing their potential," Phil told entertainment journalists at the presscon for the launch of Pangarap Kong World Cup, a documentary that features the aspirations, tryouts and training of the Philipine Under-11 National Team in the United Kingdom. The presscon was held at the residence of the British Ambassador to the Philippines Isif Ahmad in Forbes Park recently.
The documentary, hosted by Atom Araullo, Phil and brother James, Chieffy Caligdong and others, will air on ABS-CBN tonight at 10.
Pangarap Kong World Cup was produced by Spears Activation for the British Council and line-produced by Unlimited Productions, directed by Cheche Lazaro and written by Booma Cruz.
Unknown to many, the Little Azkals were drafted from different parts of the country in 2012, with many coming from less-privileged backgrounds. Last year, the team and their coaches went to Loughborough University in Leicestershire, United Kingdom for training, sponsored by the British Council and Pru Life UK in support of the Philippine Football Federation's long-term program to build a team which could qualify for the 2019 U-17 World Cup.
Phil, who is half-British, said he was impressed by the skills and the teamwork of the Little Azkals. While in London, the team competed in friendly matches wherein they won in three games.
He said some members of the Little Azkals are not tall and that's OK because height doesn't matter in football.
"Football is a sport for all. Rich or poor, anyone can play football, everyone has the same opportunity and you don't need to be tall. Lionel Messi is only 5'6," Phil said. The Philippines, he added, can someday be a strong team in the World Cup.
Amb. Ahmad and Atom shared Phil's view.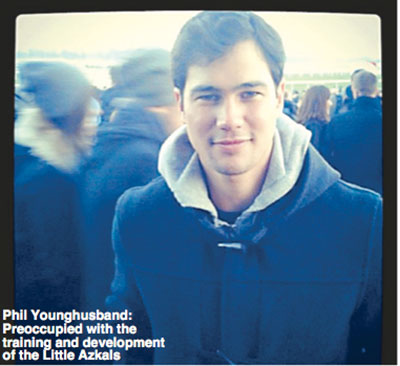 "I can see that football can take root here in the Philippines. I saw that happened in Malaysia, Korea and Japan. It can be replicated here. For our part, we are helping the Little Azkals to achieve their dream. The training of these kids is an important project of the British Council," Ahmad said.
Atom agreed: "I've interviewed the kids and at a young age, they're very disciplined. They would wake up very early, they don't eat junk food, they would practice for hours and hours. You can see the determination in their faces."
Atom spent a couple of days in Brazil last June to watch the World Cup live. A football fanatic, he used to play the game when he was an elementary student in Ateneo.
"It was my first time to watch the World Cup and I was overwhelmed. I can say na may potential tayo to become a good team in the World Cup. One day, we'll get there and it's a good thing that we are training the Little Azkals. This is the start," he said.