Cinemalaya 'hits' 10 with a bang
MANILA, Philippines - Cinemalaya has come a long way — in the past 10 years, it has become an important venue to showcase the best in current Filipino independent cinema. It has also been the launching pad of the careers of many filmmakers in the Philippines and the world.
"The road to Cinemalaya X has not been smooth but (it has been) definitely rewarding," Cinemalaya Foundation president Nestor Jardin told a jampacked audience during the press conference for the annual Cinemalaya Film Festival, which is celebrating its 10th year anniversary.
The festival will be held from Aug. 1 to 10 and the 25 digital films will be shown at the Cultural Center of the Philippines, Greenbelt 3 Trinoma, Alabang Town Center and Fairview Terraces.
Cinemalaya has come a long way — over the years, it has become an important venue to showcase the best in current Filipino independent cinema. It has also been the launching pad of the careers of many filmmakers in the Philippines and the world.
Think Aureaus Solito's Ang Pagdadalaga ni Maximo Oliveros which won Best Film at the Montreal World Film festival; Pepe Diokno's Engkwentro which bagged the Grand Prize, Orizzonti Award ad Luigi De Laurentiss Lion of the Future Award at the 66th Venice Film Festival; Loy Arcenas' Niño, which was chosen as a co-winner in the New Current category at the Busan International Film Festival; and Jeffrey Jeturian's Bisperas, which nabbed the Best Film award in the Asia-Middle East section of the 24th Tokyo International Film Festival. Other Cinemalaya entries such as Hannah Espia's Transit, winner of the Best Picture in the New Breed Category of the 9th Cinemalaya Film Festival, was chosen as the Philippines' entry to the 2013 Oscar Awards for Best Foreign Language Film, joining other Cinemalaya films which have been chosen as official entries in previous years like Ang Pagdadalaga ni Maximo Oliveros, Donsol, Ang Babae sa Septic Tank and Bwakaw.
"We can't help but be proud of what our filmmakers have achieved — the outstanding films they produced, the unique subject matters and stories they revealed to us, and the awards and recognition they garnered," Jardin said.
He couldn't help but wax nostalgic about their first year, way back in 2005 and how only a few people attended the presscon.
"In 2005, there were only five tables in a venue in Makati and we had to urge our relatives, colleagues in the business and friends to watch our movies. Back then, we only had a viewership of 8,440," Jardin said.
But now, things are vastly different, the venue is teeming with people and viewership has ballooned to 85,000 attendees.
"Over the years, the filmmakers have tackled social inequities — from poverty to women's rights and homosexuality," Jardin said.
Festival director Chris Millado said that for this year's festival, there will be three categories — New Breed, Directors Showcase and Short Film.
For the Directors Showcase, the entries are Asintado by Louie Ignacio, Hari ng Tondo by Carlos Siguion-Reyna/Bibeth Orteza, Hustisya by Joel Lamangan, The Janitor by Michael Tuviera and Kasal by Joselito Altarejos.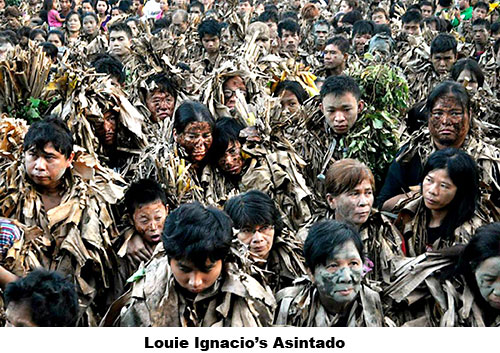 For the New Breed Full Length Feature, entries are #Y by Gino Santos, 1st ko si 3rd by Real Florido, Bwaya by Francis X.E. Pasion, Dagitab (Sparks) by Giancarlo Lauro Abrahan V, Dayang Asu by Bor Ocampo, K'na, The Dreamweaver by Ida Anita del Mundo, Mariquina by Milo Sogueco, Ronda 11 by Nick Olank, Separados by GB Sampedro, Sundalong Kanin by Denise O'Hara/Janice O'Hara.
For the Short Film category, entries are Indayog ng Nayatamak by Joris Fernandez, Nakakabinging Kadiliman by Paolo O'Hara, Mga Ligaw na Paruparo by J.E. Tiglao, Lola by Kevin Ang, Ina-Tay by Chloe Anne Veloso, The Ordinary Things We Do by David Corpuz.
Lamangan said joining the Cinemalaya has allowed him to push boundaries, experiment with form and transcend setbacks.
"It's my third time to join the Cinemalaya and it's always been an experience. I'm always able to do films that I want to do that normally you can't do when you're doing a mainstream movie," he said.
His entries were in 2011 and 2013 with Patikul and Burgos, respectively. Making both films has been a fulfilling experience for him.
"I've always been doing formulaic films that echo the glamour of Hollywood. But my heart longed for something else. I've always wanted to do films that tackled social ills and the inadequacies of the government to address these problems. In my films, I would like to present radical solutions that will change things. In all of my entries at Cinemalaya, I was able to do this," Lamangan said.
For Hustisya, no less than superstar Nora Aunor headlines the movie about people who sees crimes every day but don't care until they become victims of injustices themselves.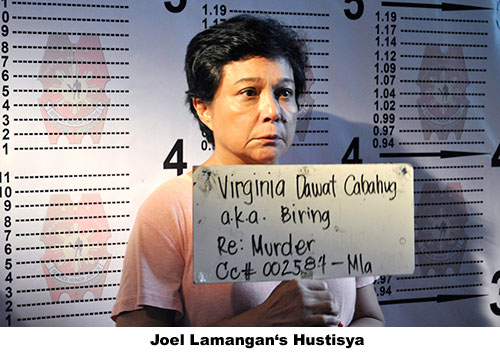 "You will see a different Nora Aunor here, hindi na inaapi-api at hindi na rin inaabuso. Her character sees the evil around her but is quiet until she becomes a victim of injustice herself," Lamangan said.
Ignacio, on the other hand, said he is excited to present his work Asintado, a film that he long dreamed of doing since 2004 when the idea of an unknown and weird festival in Nueva Ecija was first broached to him by a friend.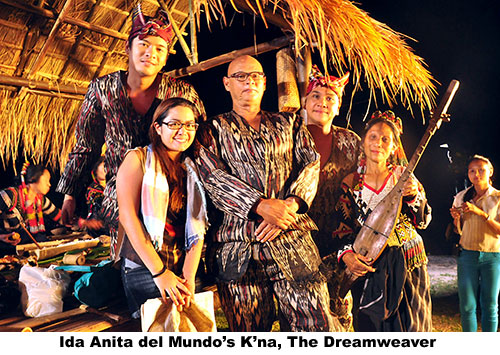 "Not too many people are aware that there is a festival in Nueva Ecija called the Taong Putik which is celebrated every July 14. Here, in the middle of a preparation for the festival, a poor man who is hopelessly in love takes on a drug courier job that goes wrong. To save this man, his mother now makes the most difficult decision of her life and that is where the story will revolve. It's very hard to film this movie given the limited time, but it was worth it," he said. The movie stars Aiko Melendez and Gabby Eigenmann.
Siguion-Reyna's Hari ng Tondo tells about a man who is on the brink of bankcruptcy and his desire to bring his grandchildren back to Tondo, a place that made and shaped him, only to find out the place is no longer the same.
The movie stars Robert Arevalo, Rez Cortez, Cris Villongco, Liza Lorna, Eric Quizon and Aiza Seguerra.
"It's my first film in 14 years and I dedicate this film to my father," Siguion-Reyna told the audience.
Altarejos, on the other hand, explores the concept of gay marriage in Kasal, a controversial topic in a Catholic country such as the Philippines.
"Kasal is a slice of life drama of a gay couple whose resolve to stay together is challenged as they attend a wedding. It is also an examination of how a gay couple navigates through the different institutions in Philippine society," Altarejos said.
Tuviera's Janitor is an action-drama movie boasting of an all-star ensemble led by Richard Gomez, Dennis Trillo, Derek Ramsay, Raymong Bagatsing, Dante Rivero and Irma Adlawan.
The story revolves around a cop who is under investigation and is tasked to kill the suspects involved in a bank robbery.
In the New Breed category, Del Mundo, a writer for this paper's Starweek section, said her film K'na, the Dreamweaver was entirely shot in South Cotabato. The film, which stars Mara Lopez Yokohama, Nonie Buencamino, RK Bagatsing and Alex Medina, is a coming-of-age story about the Kana, a young T'boli woman, caught between the love of her life and the chance to unite her village's warring clans.
#Y chronicles the adventures of today's generation as influenced by social media, Internet, sex, drugs and alcohol. The film stars Coleen Garcia, Elmo Magalona, Slater Young, Sophie Albert and Kit Thompson.
Ronda, directed by Olanka and features Ai-Ai de Las Alas in the lead role is about a policewoman who found out one night, while doing her usual police rounds, that her son committed a heinous crime and must now be punished. How will she deal with it, is tackled in the film.
1st ko si 3rd by Florida, unites the tandem of Nova Villa and Freddie Webb, who were together in the '80s sitcom Chicks to Chicks. The film is about a 65-year-old woman who gets reunited with her first love and their first date happens four decades after they got separated.
The short film entry Asan si Lolo Me is interesting and weird. Directed by Estrada, it tells about how a mother discloses to her young son that his grandfather has turned into a goat in order to cover up for his grandfather's death.
Eyeball, another short feature entry directed by Nazareno, is a comedy about a self-indulgent guy who teaches a naïve guy about his macho moves, only to find out that he needs to learn some more.
Meanwhile, Millado said that since it's their anniversary, they have invited Bird Runningwater, the program director of the Sundance Film Festival. Runningwater will be one of the jurors for the two main feature competition categories.
Likewise, he will give talks and hold forums with local filmmakers.
Jardin said that they're looking forward to more fruitful years. "We have dreams and plans and in the future, we want to show the digital films simultaneously in Cebu and major cities in the Philippines. And we would like to add more financial grants for the filmmakers," he said.