MANILA, Philippines - The chair starts to rock and heave back and forth when mutant Quick Silver from X- Men: Days of the Future Past starts to freeze a fight sequence in the kitchen of the Pentagon and speed around the room moving bullets away from Magneto, Wolverine and Beast. A strobe light flashes and huge fans expel gusts of air reeking of smoke.
It's X-Men's most unforgettable action scene and those who've watched the movie at the Bonifacio Global City's (BGC) newly opened Bonifacio High Street Cinemas got a "different movie-viewing experience engaging all five senses."
This is the 4DX technology and it's now in the Philippines for the first time.
Ayala Cinemas opened the Bonifacio High Street Cinemas last April 30, ushering in the 4DX, a technology that combines moving and vibrating seats with wind, fog, rain and scent-based effects — all of which is synchronized to the action on screen.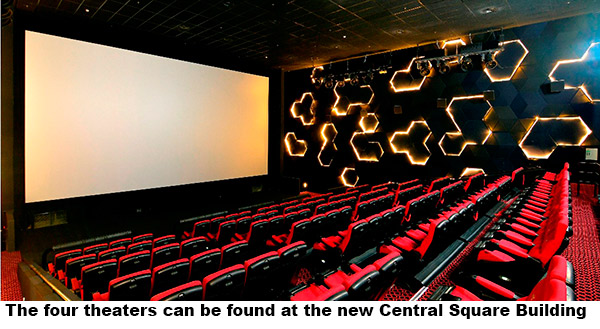 Seoul-based CJ 4DPlex, the South Korean conglomerate that developed the technology said 4DX aims to transform the way Filipinos experience movies at cinemas.
"We're happy and honored that 4DX technology is now in the Philippines. The technology features precise choreography of motion system and environmental effects which means viewers can experience closely the action scenes in the movie. It's like they're part of the movie. Aside from the moving seats, the technology has other features that engage viewers senses beyond sight, like mist, light rain, a gentle breeze, a flash of lighting. The 4DX technology also has a collection of up to 1,000 scents — ranging from rose garden to gun powder," said CJ 4DPlex president Byun Hwan-Choi during the cinema's recent ribbon-cutting and opening.
He said people nowadays would rather download movies on the Internet and watch it in the comforts of their own homes, but with 4DX technology, Choi said hopefully, they can entice people to go back to cinemas for a different movie-viewing experience
"Hear a helicopter hover above; listen as the sound of the rainforest surround you—you can even enjoy these aural enhancements while seated in the plush comfort of a motorized leather recliner," he said.
Choi said they've developed the technology four years ago and it has since been experienced by more than 600 million people in 80 locations in 22 countries, including most recently in Croatia, India, Dubai, Venezuela and Ukraine.
The CJ group operates the largest theater chain in Asia and recently, they've installed a laboratory near Grauman's Chinese Theater in Hollywood to promote its 4DX system.
There are four theaters that can be found at the new Central Square Building at Bonifacio High Street Central. The three other cinemas feature the Dolby Atmos, a "proprietary surround sound system augmented with front and ceiling-mounted speakers. It's revolutionary technology in sound that makes it possible to enjoy crystal clear audio along with the picture."
But ticket prices at a 4DX cinema do not come cheap; tickets cost P450 each. Still, people don't seem to mind. On a Friday night, the cinemas were jam-packed and the 4DX movie theater showing Maleficent was fully-booked. A receptionist said people have booked their tickets a week in advance.