Ibong Adarna in the year 2014
There is hardly anyone who is not familiar with the 18th-century epic tale of the magical bird known as Ibong Adarna. Children from grade school to high school, komiks writers and readers, Filipino actors from the Spanish era to Dolphy knew its basic storyline. Bumping into Mr. Shooli one day at a press conference, we asked what's keeping him busy apart from the almost daily jokes he has been texting us. Shooli, whose real name is Jun Urbano, confessed that he is excited over a new film he has directed titled Ibong Adarna The Pinoy Adventure updating his father's story to present-day Philippines.
During the Spanish era, its title was Corrido and Life of the Three Princes, Children of King Fernando and Queen Valeriana in the Kingdom of Berbanya. Said to be authored by Jose de la Cruz, known as Huseng Sisiw, it tells the story of Don Fernando and wife Donya Valeriana who rule the Kingdom of Berbanya. Their children are Pedro, Diego and Juan, who is the King's favorite.
One night, the King dreams that two traitors are conspiring against them and his three children after which King Fernando falls so ill that no one in the kingdom knows who can cure him. An old man advises that the Adarna bird from the forest that sings a peculiar song can bring back the king's health. King Fernando's oldest son Pedro goes out to the dense forest in search of the magical bird. After days of searching, he falls asleep at the foot of a tree. Without anyone's knowledge, Pedro is turned into stone.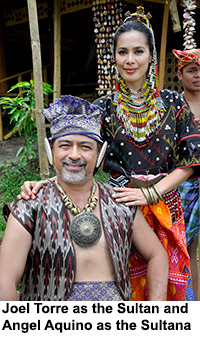 Because Pedro does not return, Diego follows to look for his brother, but similarly falls asleep and is turned into stone. It is Juan's turn, and although the King is not too eager to allow his favorite son to leave his side, he has no choice. On the way to the woods, Juan meets an old hermit who gives him the secret of defeating the wily bird. After requesting the hermit to bring his brothers back to life, the brothers return to the palace and find their father the King miraculously in the pink of health. There is rejoicing all over the Kingdom of Berbanya.
Many years later, a writer/director Manuel Urbano, popularly known as Manuel Conde, chanced on the myth and thought it would make a perfect adventure story for all ages to enjoy. This had been proven by his classic stories in the Juan Tamad series that were widely recognized for their exposure to the populace of the foibles and defects of human nature. They included such titles as Juan Tamad Goes to Congress, Juan Tamad Goes to Society and Si Juan Tamad at Juan Masipag sa Pulitikang Walang Hanggan. Conde also produced, directed and starred in movies like Prinsipe Paris, Krus na Kawayan, Siete Infantes de Lara and Genghis Khan which brought him to Venice and international acclaim.
Other companies, however, were more interested in the Ibong Adarna legend. LVN Pictures was at the frontlines of producing a movie as its third anniversary presentation. Leads were Mila del Sol and Fred Cortes with Ester Magalona, Vicente Oliver, Deanna Prieto and Ben Rubio.
In 1972, Ang Hiwaga ng Ibong Adarna featured Dolphy and Rosanna Ortiz, with Panchito and Babalu giving a comic twist to the adventure story.
Today, Mr. Shooli tells us that his dad, Manuel Conde, still had many other storylines hidden somewhere in the recesses of his imagination when he died. This is what has inspired Mr. Shooli to go into his project Ibong Adarna, the Pinoy Adventure. We asked him to tell us the story, but he was unwilling beyond confessing that he had completely erased the kingdom of Berbanya from the face of the earth. While the residents are asleep, a new country has emerged with hundreds of forests above the ground and millions of minerals of various kinds buried under the earth. The residents are ecstatic with their new country and call it Philippines. But being naïve and basically kindhearted, they are today facing the challenge of their lives. How will this story end? This our friend Shooli refused to reveal.
(E-mail your comments to [email protected] or text us at 0917-8991835.)