Anne of a thousand tricks
Those who did not take her seriously then now know better. Anne Curtis does not make idle threats. She makes good on anything she says. Remember how this Prima Biritera threatened to sing opera a few weeks ago in her upcoming The Forbidden Concert: AnneKapal gig at the Smart Araneta Coliseum? Well, the concert happened last Friday, May 16 and she did get to sing opera.
Anne's diva debut was the aria Nessun Dorma from Turandot and it was a duet with Robert Seña, who was one of West End's Miss Saigon's most memorable Thuys 25 years ago. Anne is not likely to do a full-length opera stint soon but the number was well-applauded and there was no question that she made a pretty sight clad in a wedding cake ball gown complete with a feathered headdress.
Opera singer was not the only thing that the lovely actress, TV star, top product endorser, etc., etc., added to her resumé that night. The other one was aerialist. You know, somebody who performs stunts while suspended in the air. Descending from the rafters on a sofa while singing Whitney Houston's I'll Always Love You was big enough. But Anne followed this up with tumbling, flying, hanging upside-down in harness, and again while singing Dark Horse and Diamond.
She certainly looked amazing and as somebody in the audience aptly said while craning his neck for a better view, "Ang tapang naman nitong batang ito." Look Ma, no net! Ang tapang, indeed. Anne may have been born short in the vocal pipes department but there is no question that she takes her career as an entertainer seriously. So, she puts in hours and hours of work on her routines and bravely goes where other singers fear to thread. And in this case, it was up in the air in the Big Dome.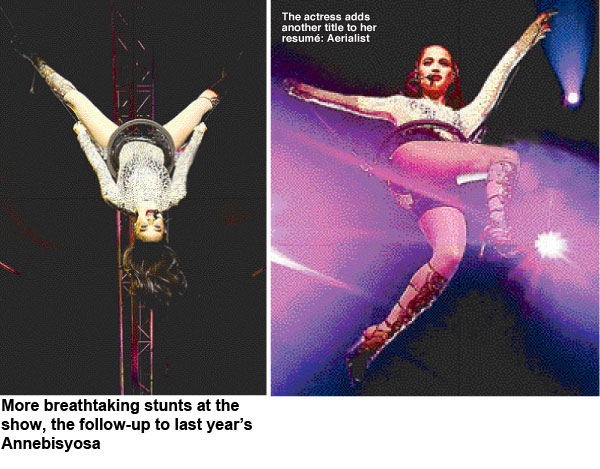 AnneKapal was Anne's second big live performance since last year's blockbuster Annebisyosa No Other Concert. That one came about after it was discovered that her fans enjoyed watching and maybe sometimes also listening to her efforts at singing. She sang on TV. They liked it. She recorded an album. They bought it. So why not a concert? And Annebisyosa not only sold out. It had a local repeat and went on tour both here and abroad. It also gave birth to her own production company, Annebisyosa Productions. So what is to stop her from mounting another show? Nothing.
But of course, AnneKapal had to be a whole lot better than Annebisyosa. And that was where the buwis-buhay stunts in the air came about. She also floated around with pink balloons wearing a mermaid tail to remind people that she is also TV's Dyesebel and she rose to the roof riding a huge apple while singing Basang-basa Sa Ulan by Aegis. For the sake of realism, she did this while also getting drenched with water. Basang basa kasi.
It was a fun-filled evening with stunning costumes, popular songs and a line-up of guests who can certainly sing. Aside from Robert, Anne also did duets with Martin Nievera in All Of Me and Without You; Ogie Alcasid, Say Something and What The Fox Says; and with her big dream of a singing partner, Regine Velasquez-Alcasid with whom she did On The Wings Of Love. Luis Manzano and Billy Joe Crawford came in to provide some laughs and they pulled Sam Milby out of the audience to sing Only You.
Now while eye candy was really overflowing and Anne even in her little briefs was a beautiful sight, I believe that her most daring feat of all was taking that huge Araneta stage to sing alone. Anne, whom Martin fondly dubbed The Noise of the Philippines, went solo with some of the show's most difficult song numbers, Let It Go, One Moment In Time and Wind Beneath My Wings which she dedicated to her mother.
Ang tapang talaga. And she did quite well. Concertgoers expect good music. That is why a concert is called a concert. You know, in concert. This still has to happen in the case of Anne. But the very idea that this girl is risking embarrassment and her very life to entertain me is more than enough to keep me by her side.
So what do you think will come next? Annetapang? AnneTigas? AnneGaling? Anne whatever? Will she walk the tightrope? Shoot herself out of a cannonball? There are lots of interesting possibilities and with lots of practice, Anne might even turn herself into a great singer. Nothing stops this girl.
But no matter what happens, I think Anne has already made a most important mark. She is now the big inspiration for all timid souls with unfulfilled dreams out there. All they have to do is tell themselves that like Anne, all you need is guts and it will happen.