Why Yasmien is not talking too much
MANILA, Philippines - The hoarseness of her voice is an indication of a sensitive throat condition yet Yasmien Kurdi still displays a pleas- ant disposition that seemingly tells everything is going to be fine. She prefers to look at the brighter side of life than sulk in a corner feeling hopeless about the malignant cyst that was recently spotted on the right side of her vocal folds.
"It didn't sink in right away when my doctor told me that the cyst is malignant and it should be removed. But when I got home, I started crying hard," said Yasmien during a recent pocket interview. "And I was depressed for three days."
Thanks to her husband Rey Soldevilla Jr. and their daugh- ter Ayesha Zara whose tireless sup- port, undying love and ready smiles, hugs and kisses made her realize the need to face what- ever life troubles with an optimistic view.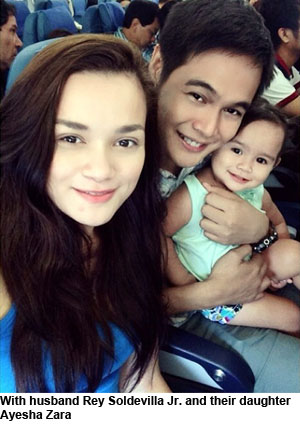 It was after her performance during the last Kapuso New Year Countdown when Yasmien felt some pain and noticed her voice had become too husky. Initially, she thought the hoarseness would go away after a week but three weeks had already passed and her voice was getting worse. "I had a check-up and the doctor saw the cyst through Stroboscopy."
The growth of cyst in her vocal cords, according to Yasmien, is caused by vocal overuse. That's why there are times when she finds it hard to swallow and breathe normally.
The Ka- puso actress is scheduled for surgery as soon as the GMA 7 prime- time drama Rhodora X airs its final episode two weeks from now. "I have four more taping days to complete the scenes of my char- acter and perhaps I'll just rest for a week before undergoing operation at St. Luke's Global."
And though there is no guaran- tee that she will regain her natural voice after surgery, Yasmien remains calm, assuring everyone that she will do everything to get her vocal power in shape. She says a voice thera- py is a best way to achieve her goal.
"Right now, I just try to refrain from talking too much and I get some rest as much as possible to lessen the hoarse- ness."
"I don't want to use my family as a motivation. What I usually do is inter- nalize the situation and I focused on my
She appreciates how her co-stars in Rhodora X understand her situation. "Ms. Glydel (Mercado) even teased me that we both have the same husky voice."
She, too, has nothing but praises for Martin del Rosario who was included in the cast after his recent transfer from the rival network. "He is easy to work with and is always well-prepared. Most of all, he is so handsome; ang ganda ng mukha."
In Rhodora X, Yasmien plays An- gela, the sister of Jennylyn Mercado as Rhodora. Just like in real life, Yasmien is a mom in the series but it's a no-no for her to think about her daughter Ayesha Zara every time the scene calls for a heart-tugging mother-daughter moment.
"I don't want to use my family as a motivation. What I usually do is inter- nalize the situation and I focused on my character to get the right emotion. Ako kasi kung di ko ma-ju- justify yung crying scene, di ko pipilitin. Instead, I will ask if there is re- ally a need to break down since yung unang scene ay iba ang naramdaman ko."
But this is not to say that Yasmien has a hard time crying buckets on- cam. In fact, she could cry in an instant when the director says so. "Mababaw din kasi ang luha ko. There was even a time where I can't detach myself from the role. Now, I have learned to control my emotions. I drink lots of water and listen to relaxing music on my way home to let go of my character. "
Having been signed a three-year con- tract with GMA, Yasmien looks forward to portraying more challenging roles. In the pipeline is the remake of Yagit, where she is set to play a lead role. "It's still tentative because I am required to rest for a month after the operation so let's see what will happen. Of course, I need to think positive that everything will turn out fine. I know there were many who recovered after the removal of the cyst so I'll do everything to re- cover."