All of Heart's 19 paintings sold out on opening day
FUNFARE
-
Ricky Lo
(The Philippine Star) - May 14, 2014 - 12:00am
Up to now, Heart Evangelista is made the subject of intrigue simply because she invited Marian Rivera (with whom she has been having a quiet "cold war") and boyfriend Dingdong Dantes to the opening of her first solo exhibit (I am love Marie, the Art and Works of love marie ongpauco) last Thursday, May 8, at ArtistSpace, G/F of the Ayala Museum Annex, Greenbelt Park, Makati City — but the couple was a no-show.
"I didn't really expect them to attend because I knew how busy they were," Heart told Funfare. "I invited almost everybody, so I was being polite and I also invited them." She sent the invitation to Dingdong for him and Marian, added Heart, "and I even included a note, 'Pass by if you can.' I understand why they did not."
The good news is that all of Heart's 19 paintings were sold out even before the opening amenities were over, with the most expensive going for P300,000 and the least one for P30,000. But Heart refused to reveal who got which. Even the one titled Three Sisters, the favorite of Heart's boyfriend Sen. Chiz Escudero (who was punong-abala during the event graced by, among others, former Sen. Manny Villar and his wife Sen. Cynthia Villar, Sen. Loren Legarda, Susan Roces and daughter Sen. Grace Poe-Llamanzares) was sold.
"Actually," clarified Heart, "that painting has been hanging on one wall of Chiz's home. I just borrowed it for the exhibit. When somebody bought it, he told me, 'It's okay. Kahit mapunta sa iba, sa'yo pa rin naman 'yon. At least, it will be appreciated by other people and not just the two of us.' Kaya okey lang."
Asked if she wanted to have Chiz pose for another painting…maybe in the nude?...Heart said, "Huwag naman in the nude; if ever, I would prefer that he be in formal attire in keeping with his stature. But you know, I paint at my leisure, whenever I feel it and feel like it, so I can't do a 'commissioned' work."
At the ArtistSpace event (the exhibit is until May 22), invited movie reporters asked Heart about the persistent report that they have set a date for their wedding. Chiz jokingly said that he would propose to Heart in Paris. Why Paris?
Laughed Heart, "Because Paris is the one city that I'd love to visit. It would be nice to do a proposal beneath the Eiffel Tower, di ba? But then, although we do discuss marriage, wala pang proposal. Baka next year on my birthday (Feb. 14, she being a Valentine Baby)?" Then she laughed and laughed.
Incidentally, Startalk followers were touched when in last Sunday's edition Heart choked near tears when she (initially reluctantly) greeted her estranged mom "Happy Mother's Day," right after watching Claudine Barretto and her mom Inday's moving interview. You see, up to now, Heart and her mom have yet to kiss and make up. But I think they will in due time.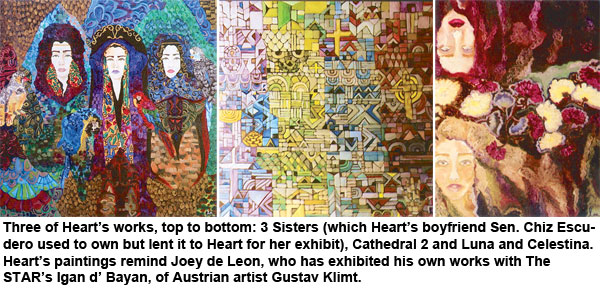 ***
When she wakes up in the morning sans make-up and faces the mirror, Marian Rivera rests assured that all is right with her and the world.
"I'm happy with what I see in the mirror," she told the movie press during her recent launch as the endorser for The Belo Medical Clinic's summer campaign, specifically for the Laser Hair Removal and Venus Freeze treatments, the former done on the underarms, legs and bikini area (highly recommended this summer); and the latter, to firm up and keep the body well-toned.
Every part of Marian's body is original as Dr. Vicki Belo can attest.
"I've seen her naked during a treatment in the clinic," revealed Vicki, "at walang naretoke sa kanya."
Said Marian, "I take good care of my body just as, I think, every woman should."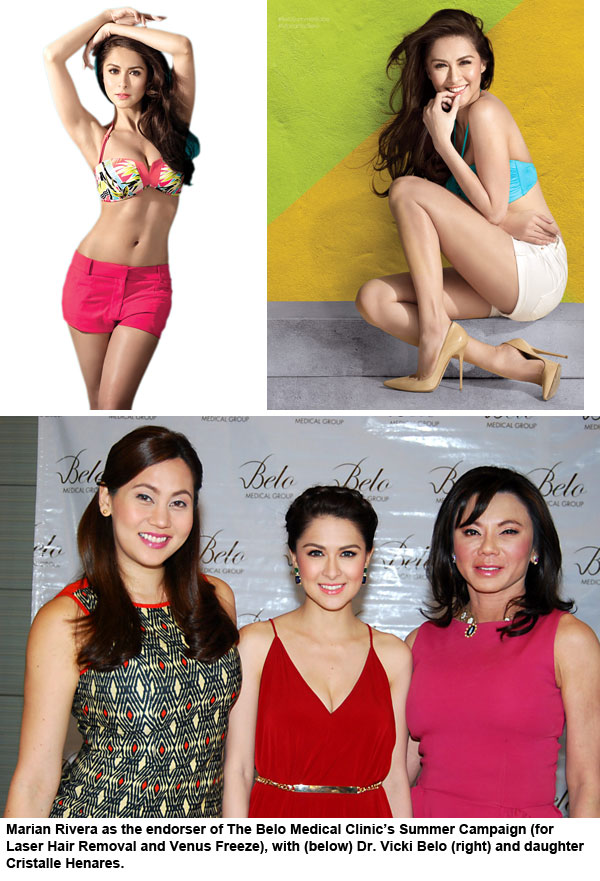 Marian untouched by science
Which part of that body is the favorite of Marian's boyfriend Dingdong Dantes?
"My butt," said Marian, laughing. Dingdong just loves touching that butt.
And what part of Dingdong's body is Marian's favorite?
"His shoulders." No elaboration. Obvious, isn't it?
Not many people know that Marian is a voracious eater but she doesn't gain weight. How come?
"My metabolism is fast," said Marian, "kaya hindi ako tumataba."
Yes, the Marian Rivera that you see in the Belo billboards around the metropolis is all-original. Walang "salamat po, duktor."
(E-mail reactions at entphilstar@yahoo.com. You may also send your questions to askrickylo@gmail.com.)