Why Amy left TV5
September 25, 2013 | 12:00am
Curtain-raisers:
Because Jojo Alejar (below) was spotted recently at GMA, there's speculation that he was there to talk business. True or false? Asked about it, Jojo wasn't shy, "Hmmmm, yes," he admitted, "I might surface in GMA soon." He's talking about his Medyo Late Night Show With Jojo A which he's hosting and producing, currently airing, well, medyo late night on TV5 which was its home after it moved from another channel. Jojo A is fun, well-rounded and highly-articulate (which talk show hosts should be). What he can't say verbally he sometimes does with his eloquent body language.
Nonoy Tan (left) and friends are putting up a fund-raising show called Yugyugan Para Ke Norman (with the 70s Superband) next Thursday, Oct. 3, 8 p.m. at Hard Rock Café in Makati City. Beneficiary is Norman Caraan, the composer of such hits as Sumayaw, Sumunod (for the Boyfriends) and Mr. Disco (for Ella del Rosario), who is scheduled to undergo colon-cancer surgery. Ticket price is only P750 (with one drink). Okay, let's yugyug for the speedy recovery of Norman.
Is a certain talent manager still nurturing a grudge against his alaga who dumped him for another manager? The talent manager was initially willing to let two of his male talents perform at an event. But when the talent manager that the actress (who dropped him like a hot potato?) was also performing in the same event, he promptly pulled out his talents. What did they say again? Hell hath no fury like….
***
I just got the following official statement from TV5:
TV5 Management and Ms. Amy Perez have mutually agreed to part ways. TV5 respects the decision of Ms. Perez to leave the Network due to personal reasons. She had been a valuable talent of TV5. We wish her well and the best of luck in all her endeavors.
The statement is right, straight to the point, no ifs or buts.
The parting happened at a time when Amy's well-loved show Face To Face was being reformatted, with Amy suddenly out of the picture, replaced by Tintin Bersola as co-host of Gelli de Belen who moonlighted for Amy when Amy went on a maternity leave. Soon, Amy will surely also fade out from the Good Morning Club of the Kapatid early-morning news program.
Sad, isn't it? A lot of people (this one included) will miss Amy who is the perfect host for a show like Face To Face where a cool and composed "referee" is required to stop the protagonists from actually killing each other. Amy would have been a perfect foil to Gelli who, I should add, has amply lived up to her new image as Ate Gelli. It remains to be seen how Tintin will fare on the show.
It's unfair for Amy to be subjected to nasty rumors that she's hard to work with, hard to deal with, so on and so forth.
"First," an Amy defender told Funfare in a phone interview yesterday, "I must tell you that the TV5 management and Amy parted ways amicably, naghiwalay sila ng maayos. Amy has nothing but respect for Ma'am Wilma (Galvante) and MVP. I have to correct the impression that there was a misunderstanding between management and Amy dahil daw nag-i-inarte si Amy. Hindi po ganoon si Amy."
Funfare learned that Amy and her manager Boy Abunda were negotiating with management for the renewal of her three-year contract which expired last May. Unfortunately, the negotiation got caught in the changes of department heads, until the unsavory items against Amy started cropping up initially as blind items in the tabs.
Did Amy really demand that a certain Face To Face staffer be kicked out?
"Amy is not the type of person who would want anybody to lose her job," explained Amy's defender. "Hindi siya ganoong klaseng tao; hindi siya pinalaki ng mga magulang siya na mang-api ng ibang tao. Look, 43 na si Amy, nanay na at hindi na bagay sa kanya ang high-school kind of away."
According to Amy's defender, it was a case of misunderstanding, miscommunication.
"Amy has just given birth and she was going through a post-partum period. They were asking Amy to finish four episodes in a one-day taping at hindi niya kaya 'yon. Obviously, hindi nila naintindihan si Amy and the next thing she knew, pinalalabas na na mahirap si Amy katrabaho at kung anu-ano pa.
"So Amy and Boy (Abunda) talked about it and in the end they chose peace of mind over security."
Does Amy have anything against Gelli and/or Tintin?
"No," stressed Amy's defender. "They are okay. Lahat sila Backroom artists."
Oh well, as they say, when a door closes, somehow windows spring open.
Time to move on, Amy…to hopefully bigger and better things.
Newcomer beats Nora in CineFilipino filmfest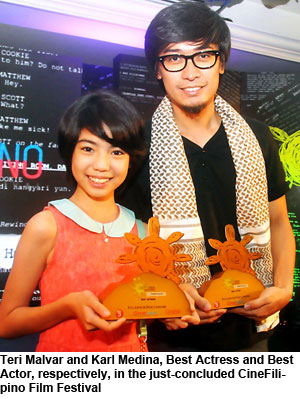 It could be the biggest upset of the year — a 13-year-old acting neophyte beating a seasoned actress for Best Actress in the just-concluded first CineFilipino Film Festival.
Take a big bow, Teri Malvar.
Malvar's performance as a girl with having early intimations of her being a lesbian in Ang Huling Cha-Cha ni Anita got the judges' nod over that of Nora Aunor in Ang Kwento ni Mabuti and those of the other actresses vying in the same category. However, Cha-Cha and Mabuti shared the Best Picture Award, each pocketing P500,000 cash. Mabuti director Mes de Guzman won Best Director and Best Screenplay. Cha-Cha, directed by Sigrid Andrea Bernardo, also won Best Supporting Actress for Angel Aquino.
Best Actor was Karl Medina, brother of Ping and Alex Vincent Medina. Both are sons of character actor Pen Medina. Ping is the lead actor of Transit, the country's entry in the Best Foreign Language Film in next year's Oscars.
Spearheaded by PLDT-Smart Foundation, MediaQuest, Studio 5 and Unitel Entertainment, CineFilipino Film Festival opened its doors to interested filmmakers in August 2012 and attracted almost 150 entries from across the country.
(For a comprehensive report on CineFilipino, watch for Peachy Guioguio's Kapatid Day column.)
Terrence Romeo is UAAP MVP

Terrence Romeo is a hardcourt star but he also figures prominently in the showbiz gossip mill because of his alleged (romantic?) involvement with a star.
So showbiz-sport fans must be interested in the following report by Nap Gutierrez:
Next week, FEU's spitfirish top pointguard Terrence Romeo is set to be awarded as the UAAP 76th season's Most Valuable Player (MVP).
Terrence, who hails from Cavite and who's now on his fourth year as a Tamaraw for the Far Eastern University, registered an impressive two round elimination average of 22. 21 points per game coupled with a 6.29 rebounds, 3.93 assists and a league best 1.37 steals, numbers enough to give him the most prestigious individual award in the UAAP.
Terrence thus joins the elite list of King Tamaraws who have won UAAP MVP titles for FEU — (Johnny Abarrientos in 1991, Glenn Capacio in 1983, Arwind Santos in 2004 and 2005, and RR Garcia in 2010). He narrowly beat two-time MVP Rayray Parks of National University, and prevented the King Bulldog from scoring an unprecedented three MVP titles for any UAAP player.
A few years back, when he was still a junior player, Terence scored a record-breaking 83 points in one game. Last year, he was included in the Mythical 5 of the UAAP 75th season, but this time, his sterling overall performance gave him the MVP plum.
Coaches of the opposing team have throughout the season assigned defensive strategies on Terrence, and most of the time, they failed. He scored season-highs 30, 32 and 33 points, in a mighty display of offensive prowess that proved to be a terrible headache for those assigned to guard him.
He also has become the leader of the FEU Tamaraws in their campaign to get back the UAAP seniors title.
Terrence plays for Big Chill in the D league and like any other college player, dreams of getting into the PBA very soon.
(E-mail reactions at [email protected].)