Heat abante sa East finals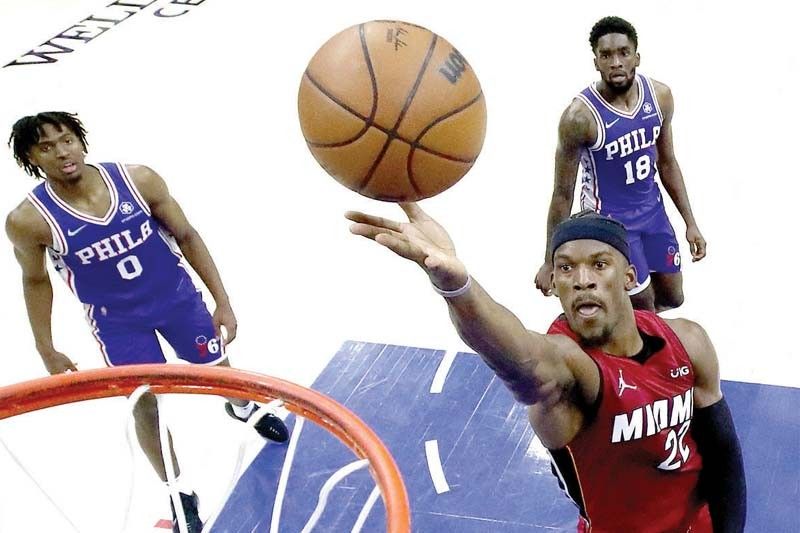 Mavs mipuwersa og Game 7 vs Suns
CEBU, Philippines — Ang Miami Heat mi-abante sa NBA Eastern Conference finals human gitagak ang Philadelphia 76ers, 99-90, sa Game 6 sa ilang best-of-seven series kagahapon didto sa Wells Fargo Center sa Philadalphia, Pennsylvania.
Si Jimmy Butler mipabuhagay og 32 puntos uban ang walo ka rebounds ug upat ka assists samtang si Max Strus mibomba og 20 puntos ug 11 ka rebounds alang sa Heat nga mihuman sa serye sa baraha nga 4-2. Ilang sangkaon alang sa kampiyonato sa East ang mopatigbabaw sa laing conference semis tali sa Milwaukee Bucks ug Boston Celtics.
"I think he's one of the ultimate competitors in this profession," matud pa ni Heat coach Erik Spoelstra agi'g pagdayeg ni Butler. "He was brilliant all series long. He saw there was an opportunity to end this tonight and he wasn't going to let this get to seven games."
Ang Sixers alkansi ra unta og usa ka lugas sa halftime, 48-49, apan si Butler mipabuto og 14 puntos sa ikatulong kuwarter diin ilang gilampaso ang Sixers, 25-15, aron hingpit nga kontrolahon ang duwa.
Bisan og dunay gihambin nga mga angol, si Joel Embiid nakamaneho pagpupo og 20 puntos ug 12 ka rebounds apan ang katumpang niya nga si James Harden nalimitahan ngadto lamang sa 11 puntos nga usa sa mga hinungdan sa sayong pagbakasyon sa Sixers.
Didto sa Dallas, ang Mavericks naka-angkon pa og laing kinabuhi human gipakaging ang Suns, 113-86, aron pagpuwersa og Game 7 sa ilang West semis.
Si Luka Doncic mibugha og 33 puntos, 11 ka rebounds ug walo ka assists alang sa Mavs, nga milusad og nagbagang 1-6 rally sa ikaduhang kuwarter aron pagrehistro og 15 puntos nga labaw sa halftime, 60-45.
Wala na molingi pa sukad niadto ang dominante nga Mavs nga sa usa ka higayon naglabaw og 27 puntos.
Si Deandre Ayton mihipos og 21 puntos, si Devin Booker mi-iskor og 19 apan si Chris Paul na-angklahan ngadto lamang sa 13 puntos sa nabugnaw nga Suns.