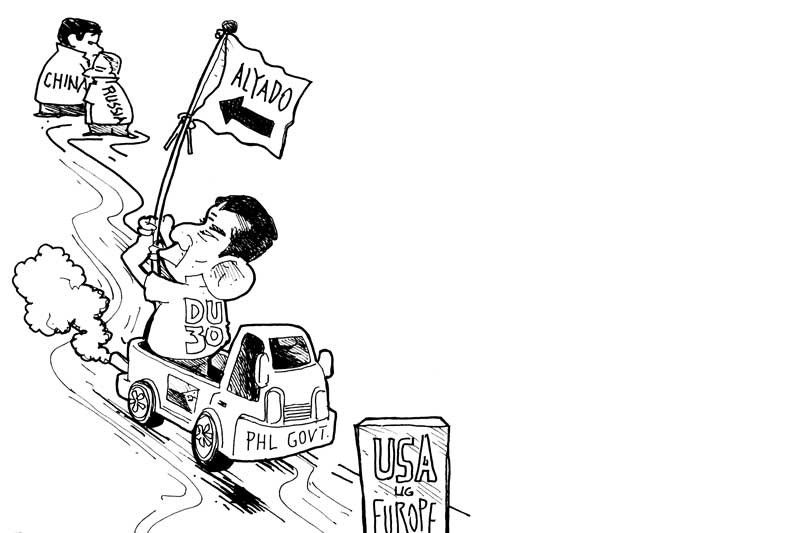 EDITORYAL - Dili tanan siya'y matuman
(Banat) - October 23, 2019 - 12:00am
Miisa gyud ang kilay sa mga kritiko ni Pres. Duterte dihang kini nangusog sa iyang pivot to China ug Russia ug gipadaplin ang tradisyonal nga kaalyado sa Pilipinas sama sa Amerika.
Apan samtang tuod saba kaayo si Duterte sa iyang pakigsuod sa China ug sa Russia dili tanan iyang pagbuot maoy masunod.
Bisan giunsa paghaylo sa Russia ang Pilipinas ug si Duterte bahin sa mga armas nga mahimo nilang ikabaligya dinhi sa ato, apan kutob ra pagpakita og interes ang mabuhat sa Department of National Defense.
Interesado kaayo ang Russia mobaligya sa ilang mga armas, gikan sa , kanyon, helicopter tangke de gera, barko, missiles, jet fighters, radar, submarino ug daghan pang uban,tungod kay nagkinahanglan sila og dolyares nga hard currency.
Samtang tuod daghang mga reklamo ang ubang mga nasud nga nakapalit niining mga matanga sa armas ug gamit gikan sa Russia tungod sa ilang walay ayong "after-sale services" kay pirmeng kuwang ang supply sa mga piyesa nga sa ilaha ra mapalit,; pabor gihapon kaayo sa Pilipinas ang maong offer.
Ang Pilipinas anaa karon tungatunga sa subsob nga modernisasyon sa Armed Forces of the Philippines, sagad sa mga gamit niini sukad pa kaniadto mga ginama sa Amerika ug mga nasud sa Uropa.
Mahimo ang gi-offer sa Russia ug China sa natad sa agrikultura, edukasyon, fisheries, teknolohiya, siyensiya, turismo apan dili sa DND.
Tungod kay dili dali nga sagulon ang Western-made ug Eastern bloc made nga mga gami tungod sa dakong problemang motumaw sa interoperability ug commonality sa mga gamit kay dili man parehas ang ilang mga sistemang gigamit, lahi og maintenance, lahi og mga piyesang gigamit.
Usa pa, dunay sanctions nga gipatuman ang US batok sa Russia ug sa mga kompanya niini nga nagbaligya og mga armas sa ubang nasud tungod sa isyu sa Crimean Peninsula sa Ukraine. Lisud og magkaproblema unya ang DND pagpangita og mga piyesa sa kasamtangan niining mga gamit kun hasta ang Pilipinas maigo sa maong sanctions.