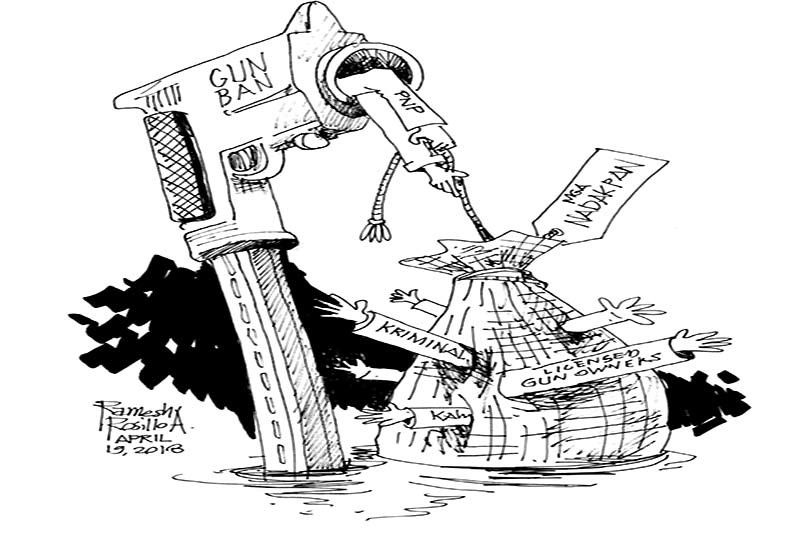 Editoryal - Gun ban palpak
Gipatuman na sa kapolisan ang kamandoan sa Commission on Elections nga magdili sa mga sibilyan sa pagdala og armas, bisan kon ang ilang mga armas duna pa'y lisensya gikan sa PNP Firearms and Explosives Office. Tinguha kuno sa pagpatuman og Gun Ban aron nga menos ang pinatyanay atol sa nagsingabot nga barangay election karong Mayo 14.
Hangtud karon wala gayud paminawa sa kadagkoan sa Comelec ang bagulbol sa mga licensed firearm holders nga dakong sayop ang ilang gihimo tungod kay samtang sila motuman sa balaod ug dili na magdala sa ilang mga lisensyadong armas, apan ang mga kriminal dili motuman. Pagmatuod niini, sagunson gihapon ang mga pagpamatay nga gigamitan og armas.
Bisan og mopahigayon pa ang kapolisan og kutay sa mga checkpoint operations, ang mga kriminal makamaneho gihapon nga magdala og armas aron gamiton pagpatay sa ilang patyonon. Maalkanse na hinoon ang mga law-abiding citizens nga nahatagan og pagtugot nga paghupot og armas human sa kuti kaayo nga sistema, kay wala na man sila'y ikapanalipod sa ilang kaugalingon.
Tinuod, adunay gimugna ang Comelec nga Firearms and Security Committee nga motuon sa mga aplikasyon gikan sa mga licensed gun holders kon angayan ba sila nga tugotan nga makadala og armas atol sa election period. Apan hilabihan kalisud ug sagad sa mga aplikasyon igo lang ibasura sa mga sakop sa komitiba.
Ang mga lisensyado nga tag-iya og armas, magmatngon gayud nga dili sila mohimo'g mga supak sa balaod tungod kay ang tumong nila sa pagtinil og armas mao ra gyud nga may magamit sila pagpanalipod sa ilang kaugalingon. Tinuod, ang paghupot og armas dili katungod sa usa ka tawo nga angay'ng ihatag gayud kaniya, usa lang kini ka pribileheyo.
Apan ang angay'ng himoon unta sa Comelec mao ang pag-awhag sa kapolisan nga paspasan ang pagpanakop sa mga tawo nga nagdala og armas bisan og wala sila'y pagtugot sa balaod.