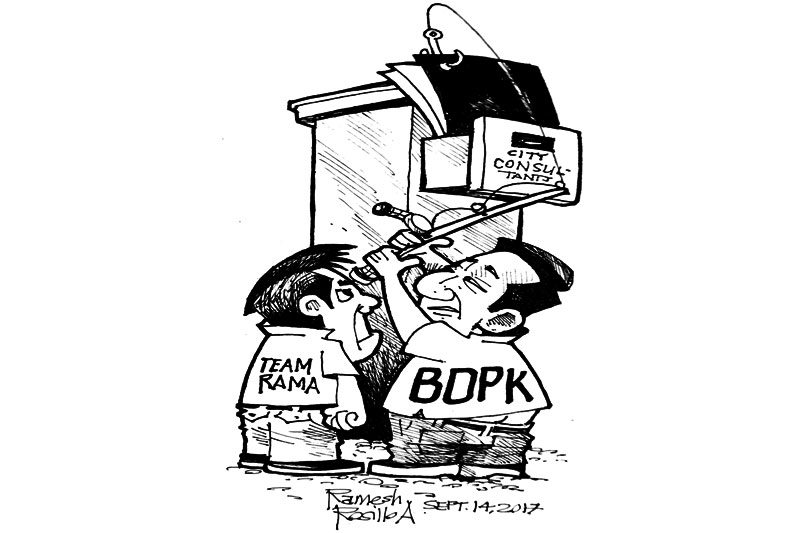 EDITORYAL - Naunay sa "Tari"
Pipila ka adlaw ang nakalabay, miulbo ang kontrobersiya diha sa Cebu City Council kabahin sa isyu nga pagtudlo og consultants sa mga konsehal sa dakbayan.
Si Mayor Tomas Osmeña gipasanginlan nga namolitika kay gibalibaran ang pagtudlo og mga consultants alang sa pipila ka konsehal nga alyado sa Team Rama.
Dili tinuod maayong tan-awon nga adunay pagpinig ang mayor sa pagtudlo og mga consultants. Kinahanglan nga kun gitugotan niya ang ubang konsehal nga makabaton og consultants, ingon usab niini ang iyang himoon sa ubang konsehal.
Sa walo ka konsehal diha sa City Council nga alyado sa Team Rama, tulo lang kanila ang gipahatagan og consultants sa mayor kay sila misuporta man sa pagpatuman sa Bus Rapid Transit (BRT), nga iyang proyekto.
Ang uban kay mga supakero man kuno sa proyekto sa mayor, wala aprobahi. Ang mga konsehal nga nabentahaan niining gihimo sa mayor mihulga nga sila mokiha kay gihulagway nila nga nakalapas sa balaod si Osmeña tungod sa dili patas niya nga pagtratar kanila.
Kaniadto, ang bise mayor nga maoy presiding officer sa City Council mao ra ang mopirma sa pagtudlo og mga consultants alang kaniya ug sa mga konsehal. Apan giusab ang maong sistema atol sa termino ni kanhi mayor Michael Rama kay ang budget nga alang sa pag-hire og consultant didto na man ipabutang direkta sa Office of the Mayor.
Kini maoy rason nga kaniadto, duna sa'y mga higayon nga ang mga consultants nga gustong i-hire sa mga konsehal nga alyado sa Bando Osmeña Pundok-Kauswagan (BOPK) dili usab dayon maaprobahan.
Ang sistema nga gipatuman ni Rama atol sa iyang administrasyon nga gibalhin niya ang budget nga alang sa pag-hire og mga consultants direkta ngadto sa opisina sa mayor, gipadayon ra ni Osmeña ug karon tabla ra nga ang mga alyado sa Team Rama naunay sa gihimo sa ilang lider kaniadto.