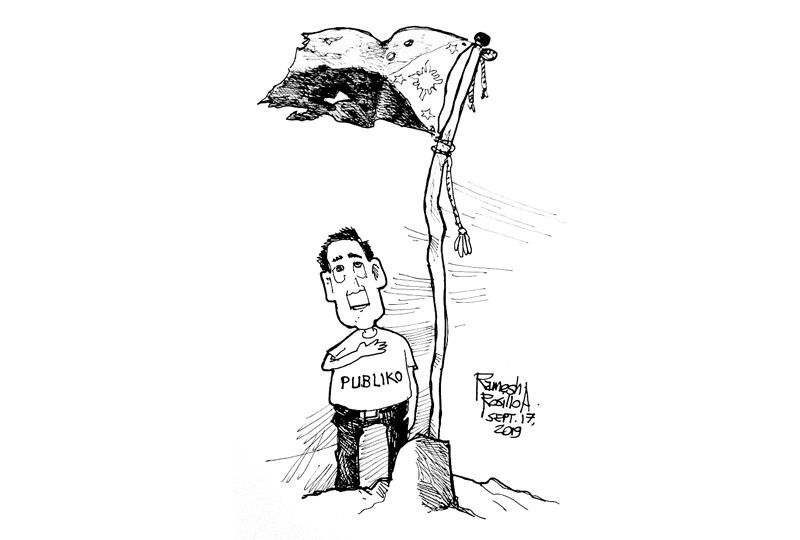 EDITORYAL - Pagtahod sa Bandila
(Banat) - September 17, 2019 - 12:00am
Ang Bandila sa Pilipinas dili lamang usa ka tinabas nga panapton. Ang bandila nagsimbolo ug nagrepresentar sa usa ka nasyon apil na ang ilang mga damgo ug sakripisyo, busa angay gyud kining respetuhon.
Didto sa Pozorrubio, Pangasinan usa ka Nino Malanum ang midala sa Bandila sa Pilipinas sa police station didto tungod kay nagtuo siyang "balaan" kini nga butang.
Si Malanum usa ka yanong Pilipino, usa siya ka mamunitay og basura. Sumala pa sa balita, napunitan niya ang Bandila sa tapok sa mga basura diin siya namunit og para sa iyang panginabuhian.
Bisan sa iyang kayano, nakahibalo siya sa kabililhon sa maong retasong panapton. Imbes nga pasagdang madugta, gibalik niya ang dungog sa Bandila kutob sa iyang makaya.
Subo pamalandungon nga bisan duna pa gihapoy mga nitahod ug nihatag og bili sa Bandila sa Nasud ug sa Nasudnong Awit nga Lupang Hinirang mas daghan ang nakalimot na niini.
Nakalimot na sila sa ilang tahas (duty) isip usa ka Pilipino, sa yutang ilang natawhan diin sila nagdako.
Makita kini matag adlaw nga Lunes diha sa mga dalan atubangan sa mga buhatan sa gobiyerno ug mga tunghaan.
Dunay mga motorista nga kinahanglang pugson pang pahunongon sa pagmaneho sa ilang sakyanan samtang ipasaka na ang Bandila sa Pilipinas nga giduyogan sa pag-awit sa Lupang Hinirang.
Ubos sa Republic Act 8491 o ang "Flag and Heraldic Code of the Philippines," kun ang bandila kuspaw na o ba kaha nagisi na , kinahanglan kining ilisan og bag-o.
Husto kini kay ngil-ad kaayong tan-awon nga ang nagsimbolo sa Pilipinas mura na og trapo.
Ang mga daan o nagisi na nga Bandila dili mahimong pasipad-an ug gamiton sa pagbugal-bugal. Ang maong balaod nagmando nga kinahanglan kining sunogon nga may dalang pagtahod sa nagsunog niini.
Angay hinumdoman nga ang pagtahod sa Bandila sa Pilipinas usa ka tahas sa tanang Pilipino mao nga gitudlo kini gikan sa pagkabata.