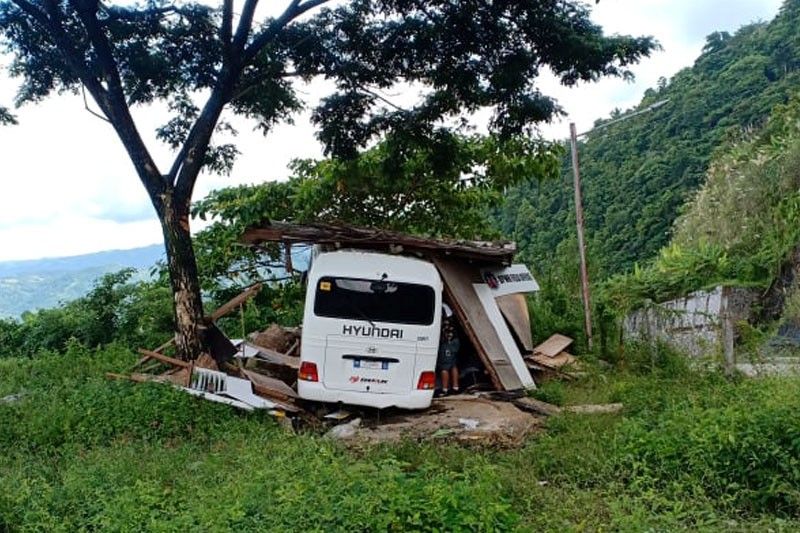 Disgrasya … nabangga aning abandonadong bunkhouse sa DPWH-7 diha sa Cansuymoroy, Balamban kining coaster nga giingong gisakyan sa 24 ka mga kawani sa Cebu City Hall nga padung mag Team Building sa Tuburan kagahapon sa buntag.
Hulagway gikan sa Balamban Police Station
Coaster nabangga sa bunkhouse duha angol
CEBU, Philippines — Duha ka mga tawo ang naangol human usa ka coaster bus nga gisakyan sa giingong mga sakop sa Department of Social Welfare and Services sa Dakbayan sa Sugbo nga mag Team Building unta sa Lungsod sa Tuburan ang nakasugat og disgrasya diha Transcentral Highway, Barangay Cansomoroy, Lungsod sa Balamban, Sabado sa buntag.
Nalandig sa tambalanan sila si Fidelito Montalban, 35, ug Oscar Vistal, 56, mga kawani sa siyudad.
Ang Hyundai County Deluxe Bus nga adunay plate number K'H601 nga gimaneho ni Delfin Dapiton, 47, taga Barangay Lahug.
Matud pa ni Police Staff Sergeant Excel Aguanta, Desk Officer sa Balamban Police Station, base sa ilang pasiunang imbestigasyon gikan sa Dakbayan sa Sugbo ang coaster nga dunay 23 ka mga sakay nga padung unta mag team building activity sa Tuburan.
Samtang nagdagan sa dulhogon nga bahin sa maong highway gikatahong nibasiyo ang brakes niini ug nadiretso kini og kasampak sa abandonado nga bunkhouse.
Sumala pa ni Aguanta, duha ang nadala sa ilang district hospital, human nakaangkon ug mga kadaut samtang ang uban mga minor injuries lang ang naangkon sa uban. Tungod walay tinguha ang mga pasahero nga mopasaka og kaso batok sa maong driver gibuhian ra sab kini. /IBM (BANATNEWS)