Ukraine needs $7 billion a month in aid, Zelensky says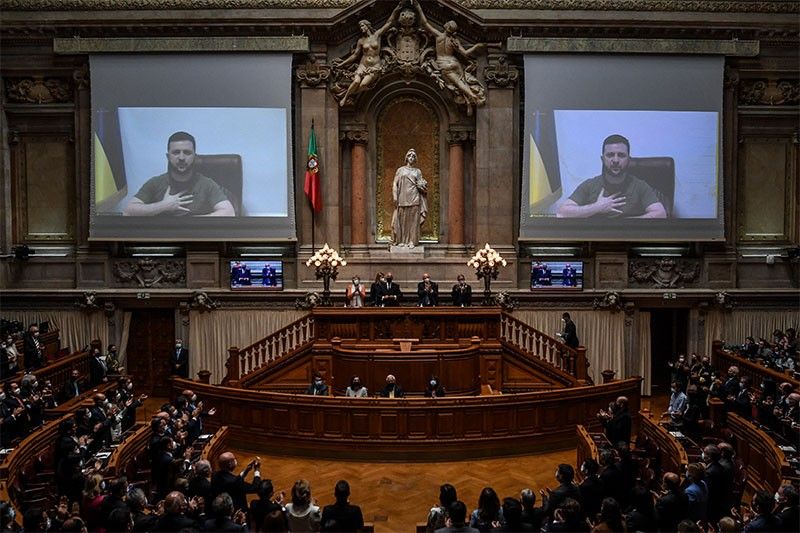 WASHINGTON, United States — Ukraine needs $7 billion in month to keep its economy afloat amid the "economic losses" inflicted by Russia, President Volodymyr Zelensky said Thursday, as the United States announced another infusion of financial aid for the country.
The "Russian military are aimed at destroying all objects in Ukraine that can serve as an economic base for life. That includes railroad stations, food warehouses, oil, refineries," Zelensky told leaders of the World Bank and IMF via video link at a meeting to discuss a financial lifeline for Kyiv.
Treasury Secretary Janet Yellen announced $500 million in aid to help Ukraine continue paying salaries, pensions and providing services.
She detailed the assistance following her meeting Wednesday with Ukrainian Prime Minister Denys Shmyhal and Finance Minister Sergiy Marchenko, saying it was necessary to help their government continue to function amid the ongoing Russian invasion.
"The needs of Ukraine are urgent, and we plan to deploy this direct aid to Ukraine as soon as possible to be used on most urgent needs," Yellen said.
"We know this is only the beginning of what Ukraine will need to rebuild. And I'm committed to working with Congress and with our international allies and partners to build on this support in the medium and long term."
The American aid follows another $500 million package of support Washington offered to Ukraine last month, and comes as Western nations along with the International Monetary and World Bank step up aid to Kyiv as fighting rages in the country's east and south.
In the forum hosted by World Bank President David Malpass, Shmyhal said the country needs a "financial bridge" of as much as $5 billion a month for the next five months.
And he called for "a recovery plan for Ukraine, similar to (the) Marshall Plan for Europe after the Second World War."
Zelensky has called for more weapons, saying Ukraine still does not have enough, despite billions in Western military aid that has forced Russia to re-focus its offensive away from Kyiv and towards the east.
He said the West should ramp up pressure on Moscow imposing more financial pain and cutting off relations with Vladimir Putin's government.
The IMF has warned of economic devastation both in Ukraine and abroad from the war.
The conflict will cause the country's economy to collapse 35 percent this year, the IMF said this week, while Russia's will drop 8.5 percent.
The "seismic" impacts of the war are spreading worldwide, lowering global growth to 3.6 percent, nearly a point lower than first estimated in January, the Washington-based crisis lender reported this week.
As It Happens
LATEST UPDATE: September 27, 2022 - 7:26pm
Follow this page for updates on the economic consequences of the Ukraine-Russia conflict. Photo courtesy of AFP/Stefani Reynolds
September 27, 2022 - 7:26pm
Russian President Vladimir Putin said Tuesday his country expected a record-high grain harvest in 2022 as Moscow blames Western sanctions over Ukraine for preventing its exports, especially to poor countries.
"The preliminary estimate (for 2022) already stands at 150 million tonnes, including around 100 million tonnes of wheat. This will be a record in the history of Russia," Putin said in televised meeting on agriculture.
According to Putin, "138.7 million tonnes of grain have already been harvested".
Russia has for several weeks accused Western countries of hindering its exports of agricultural products, insisting the situation creates a risk for global food security.
"The delivery of our grain and our fertiliser abroad unfortunately remains... difficult," Putin said.
"Sanctions against Russia risk leading to a further deterioration of the situation, to a global food crisis," he added. -- AFP
September 26, 2022 - 9:37am
The United States has warned Russia privately of "catastrophic" consequences if it uses nuclear weapons as part of the Ukraine invasion, top US officials say.
Russian President Vladimir Putin made a thinly veiled threat to use nuclear arms in a speech Wednesday in which he announced the mobilization of reservists following Ukrainian gains on the ground.
Secretary of State Antony Blinken, in an interview broadcast Sunday, confirmed reports that the United States has sent private warnings to Russia to steer clear of nuclear war.
"We have been very clear with the Russians publicly, and, as well as privately, to stop the loose talk about nuclear weapons," Blinken tells the CBS News program "60 Minutes" in New York on the sidelines of the UN General Assembly.
"It's very important that Moscow hear from us and know from us that the consequences would be horrific. And we've made that very clear," Blinken says. — AFP
September 22, 2022 - 11:04am
British Prime Minister Liz Truss vows before the United Nations to keep up military aid to war-ravaged Ukraine until it triumphs against Russia.
Truss became the latest Western leader at the UN General Assembly in New York to rail against Russian President Vladimir Putin, who hours earlier mobilized reservists in a clear sign he is in no rush to end the conflict.
Putin's move only highlights the "catastrophic failure" of Russia's invasion of its neighbor, and reinforced the resolve of Western allies to back Kyiv, she says.
"We will not rest until Ukraine prevails," Truss tells the UN General Assembly on her first trip since taking office, noting that "new UK weapons are arriving in Ukraine as I speak."
"At this crucial moment in the conflict, I pledge that we will sustain or increase our military support to Ukraine for as long as it takes." — AFP
September 21, 2022 - 11:34am
Global leaders call for urgent efforts to address global food insecurity amid fears of disastrous harvests next year, as Ukraine's president blames Russia for the crisis and sought the world's "toughest reaction" against Moscow.
On the sidelines of the United Nations General Assembly, ministers from the European Union, United States, African Union and Spain met on food shortages which are seen as a key factor in conflicts and instability.
Appearing by video link was Ukraine's Volodymyr Zelensky, who directly accused Moscow of willingly triggering a food crisis.
"Any state that provokes famine, that tries to make access to food a privilege, that tries to make the protection of nations from famine dependent on... the mercy of some dictator -- such a state must get the toughest reaction from the world," Zelensky says.
He blamed Russian blockades and other "immoral actions" for slashing exports from Ukraine, a major agricultural producer.
"Russia must bear responsibility for this," he says. — AFP
September 19, 2022 - 7:38am
US President Joe Biden says he warned his Chinese counterpart Xi Jinping of damage to the investment climate if Beijing violated sanctions imposed by a coalition of countries against Russia over its invasion of Ukraine.
In an excerpt of an interview with CBS due to air Sunday, Biden said he told Xi that violating the sanctions would be a "gigantic mistake," but said that so far there is no indication that China has actively supported the Russian war effort with weapons sales.
Biden said he delivered the warning in a phone call shortly after Xi met with Putin at the Beijing Winter Olympics on February 4 and expressed support for the Kremlin leader.
"I called President Xi -- not to threaten at all, just to say to him... that if you think Americans and others will continue to invest in China, based on your violating the sanctions that have been imposed on Russia, I think you're making a gigantic mistake," Biden said. — AFP
"Thus far, there's no indication they put forward weapons or other things that Russia has wanted," Biden said.