US to end travel bans for vaccinated passengers
September 21, 2021 | 7:42am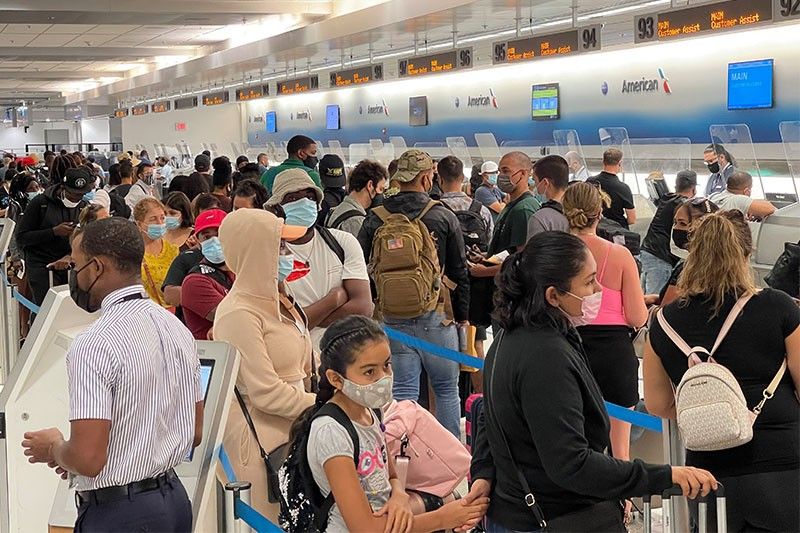 WASHINGTON, United States — The United States announced Monday it will lift Covid travel bans on all air passengers in November if they are fully vaccinated and undergo testing and contact tracing.
The unprecedented restrictions had kept relatives, friends and business travelers around the world separated for many months as the pandemic grinds on.
Jeffrey Zients, coronavirus response coordinator for President Joe Biden, told reporters the new "consistent approach" would take effect "early November."
The easing of travel restrictions, imposed by Donald Trump 18 months ago as the Covid-19 pandemic first erupted, marks a significant shift by Biden and answers a major demand from European allies at a time of strained diplomatic relations.
Numerous safeguards will remain in place to suppress spread of the virus, which has already killed more than 675,000 Americans and is resurgent after what many had hoped was a lasting dip earlier this year.
"Most importantly, foreign nationals flying to the US will be required to be fully vaccinated," Zients said.
It was not immediately clear if the new rule only applied to US-approved vaccines or if other brands, such as those produced in China or Russia, would also qualify. Zients said that would be determined by the US Centers for Disease Control.
Restrictions on vehicle movement from Canada and Mexico will remain in place.
Zients said passengers will need to show they were fully vaccinated before boarding planes bound for the United States, as well as providing proof of a negative Covid-19 test taken within three days.
Americans not fully vaccinated will still be able to enter, but only on testing negative within a day of travel.
Masks will be obligatory on US-bound flights, and airlines will provide the US health authorities with contact tracing information.
"This new international travel system follows the science to keep Americans' international air travel safe," Zients said.
'Great news'
The change means many families and friends can be reunited, sometimes after nearly two years apart.
Phil White, a British entrepreneur living near San Francisco, told AFP his daughter plans to finally visit from London in November.
"As a family we're going to be together for Thanksgiving, which is amazing," he said, adding that he had not seen his daughter for 18 or 19 months.
"That has been very, very, very difficult for us, as everyone can imagine," White said.
And British and German officials quickly welcomed the lifting of the near total ban. The German ambassador to the United States called it "great news."
"Hugely important to promote people-to-people contacts and transatlantic business," Ambassador Emily Haber tweeted.
The announcement was also hailed by airlines, which have taken a huge hit during the pandemic shutdown.
The trade group Airlines For Europe predicted "a much-needed boost to trans-Atlantic traffic & tourism and will reunite families and friends."
While it had been widely expected that Biden would reopen borders to the European Union and Britain, the announcement covers the globe.
"This applies to all international travel," Zients said.
Currently only US citizens, residents and foreigners with special visas are allowed to enter the United States from most European countries.
In an interview in Washington with AFP, Thierry Breton, European commissioner for internal market, said he was hopeful the policy will be extended to include the AstraZeneca shot used by many European nations, which has not been approved by US health authorities.
Breton said he spoke with Zients, who "sounded positive and optimistic."
The restriction has deeply irked EU and British authorities. On Monday, the European Union recommended that member states reimpose restrictions on American travelers who had earlier been free to enter if vaccinated.
Breton said the restrictions "no longer made any sense," given Europe's high vaccination rates.
Biden's move comes on the eve of his speech to the annual UN General Assembly in New York, where the pandemic is due to be the headline issue.
It also comes as Washington and Paris spar bitterly over Australia's sudden announcement that it will acquire US-built nuclear submarines as part of a new defense alliance, ditching a previous French contract for conventionally powered submarines.
"This is really driven by the science," a State Department official said, denying the travel decision was an attempt to smooth ruffled French feathers.
As It Happens
LATEST UPDATE: October 15, 2021 - 10:43am
Find the latest travel and tourism news from around the world amid the coronavirus pandemic. Main image by AFP/Romeo Gacad
October 15, 2021 - 10:43am
Sydney is scrapping mandatory quarantine for overseas travellers from next month, officials said Friday, signalling a faster-than-expected end to tough coronavirus restrictions.
New South Wales Premier Dominic Perrottet said that, from November 1, fully vaccinated travellers to the state will have to test negative before getting on the plane, but would not have to quarantine at all on arrival.
"For double vaccinated people around the world, Sydney, New South Wales, is open for business," he said. "Hotel quarantine will be a thing of the past. This is a significant day for our state." — AFP
October 13, 2021 - 6:03pm
The Ilocos Norte provincial government , through the Ilocos Norte Tourism Office (INTO), has been recording an increasing number of tourists and visitors in the province since it officially opened the province to tourism again on September 24.
As of Wednesday, a total of 229 tourists arrived in the province, recording its biggest single-day arrival in October 10, with 51 tourists, most from the National Capital Region, Cagayan, Baguio City, La Union, and Pampanga.
"We're happy to share that we have an increasing number of tourist arrivals in Ilocos Norte. I know that these are not impressive numbers especially before the pandemic, as we were welcoming thousands of tourists back then. With our current situation, this is not bad at all," Xavier Ruiz, INTO officer-in-charge said.
"We can see the trend that people from our neighboring provinces and regions are actually traveling just to visit our province. Most of them would stay in resorts in Pagudpud for staycations and some would go around the province as tourists," Ruiz added. — The STAR/Artemio Dumlao
October 13, 2021 - 11:45am
The United States will open its land borders with Mexico and Canada in "early November" to non-essential travelers who are fully vaccinated against COVID-19, a senior White House official announces.
The official said the administration would give the "precise date very soon" -- both for the land crossings as well as international trips by plane, which the official said would be timed to "go together."
The US already announced in September that it would lift bans in November on all vaccinated air passengers who undergo testing and contact tracing. — AFP
October 10, 2021 - 1:57pm
Fiji will ease COVID-19 restrictions and announce its reopening for international travel after the country hit a vaccination milestone.
Changes to the country's virus restrictions would be announced on Sunday afternoon after 80% of the adult population received both doses of a COVID-19 vaccine, Prime Minister Frank Bainimarama says.
"A full three weeks ahead of schedule! I'm grateful to everyone who's rolled up their sleeves to help make Fiji safe," Bainimarama says in a tweet. — AFP
October 6, 2021 - 1:01pm
The General Community Quarantine (GCQ) with heightened restrictions that limited movement in and out of Baguio City has prompted pleas from a tourism sector hardly making ends meet.
The Baguio Tourism Council is appealing to the city government to reopen the tourism industry.
BTC pleads for the reopening, even with certain restrictions, to sustain the livelihood of thousands of industry workers affected by the lockdowns caused by the Delta variant-driven surge of COVID-19.
Through Resolution No. 09-2021, BTC is asking the city to allow the entry of fully vaccinated and RT-PCR-tested visitors even on a limited capacity as allowed by the national Inter-Agency Task Force on the Management of Emerging Infectious Diseases.
It said that the economic sector has been reeling from the havoc wrought by the stringent lockdowns that caused business stoppages and lay-offs.
— The STAR/Artemio Dumlao