US to end travel bans for vaccinated passengers
September 21, 2021 | 7:42am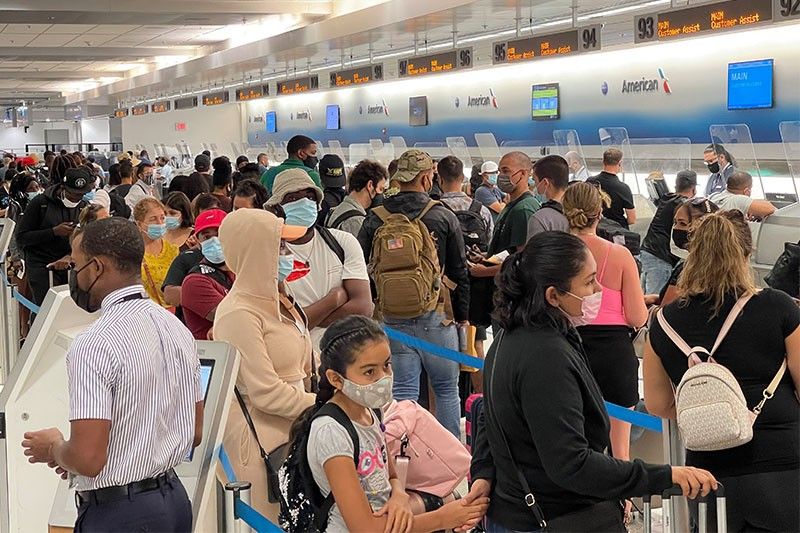 WASHINGTON, United States — The United States announced Monday it will lift Covid travel bans on all air passengers in November if they are fully vaccinated and undergo testing and contact tracing.
The unprecedented restrictions had kept relatives, friends and business travelers around the world separated for many months as the pandemic grinds on.
Jeffrey Zients, coronavirus response coordinator for President Joe Biden, told reporters the new "consistent approach" would take effect "early November."
The easing of travel restrictions, imposed by Donald Trump 18 months ago as the Covid-19 pandemic first erupted, marks a significant shift by Biden and answers a major demand from European allies at a time of strained diplomatic relations.
Numerous safeguards will remain in place to suppress spread of the virus, which has already killed more than 675,000 Americans and is resurgent after what many had hoped was a lasting dip earlier this year.
"Most importantly, foreign nationals flying to the US will be required to be fully vaccinated," Zients said.
It was not immediately clear if the new rule only applied to US-approved vaccines or if other brands, such as those produced in China or Russia, would also qualify. Zients said that would be determined by the US Centers for Disease Control.
Restrictions on vehicle movement from Canada and Mexico will remain in place.
Zients said passengers will need to show they were fully vaccinated before boarding planes bound for the United States, as well as providing proof of a negative Covid-19 test taken within three days.
Americans not fully vaccinated will still be able to enter, but only on testing negative within a day of travel.
Masks will be obligatory on US-bound flights, and airlines will provide the US health authorities with contact tracing information.
"This new international travel system follows the science to keep Americans' international air travel safe," Zients said.
'Great news'
The change means many families and friends can be reunited, sometimes after nearly two years apart.
Phil White, a British entrepreneur living near San Francisco, told AFP his daughter plans to finally visit from London in November.
"As a family we're going to be together for Thanksgiving, which is amazing," he said, adding that he had not seen his daughter for 18 or 19 months.
"That has been very, very, very difficult for us, as everyone can imagine," White said.
And British and German officials quickly welcomed the lifting of the near total ban. The German ambassador to the United States called it "great news."
"Hugely important to promote people-to-people contacts and transatlantic business," Ambassador Emily Haber tweeted.
The announcement was also hailed by airlines, which have taken a huge hit during the pandemic shutdown.
The trade group Airlines For Europe predicted "a much-needed boost to trans-Atlantic traffic & tourism and will reunite families and friends."
While it had been widely expected that Biden would reopen borders to the European Union and Britain, the announcement covers the globe.
"This applies to all international travel," Zients said.
Currently only US citizens, residents and foreigners with special visas are allowed to enter the United States from most European countries.
In an interview in Washington with AFP, Thierry Breton, European commissioner for internal market, said he was hopeful the policy will be extended to include the AstraZeneca shot used by many European nations, which has not been approved by US health authorities.
Breton said he spoke with Zients, who "sounded positive and optimistic."
The restriction has deeply irked EU and British authorities. On Monday, the European Union recommended that member states reimpose restrictions on American travelers who had earlier been free to enter if vaccinated.
Breton said the restrictions "no longer made any sense," given Europe's high vaccination rates.
Biden's move comes on the eve of his speech to the annual UN General Assembly in New York, where the pandemic is due to be the headline issue.
It also comes as Washington and Paris spar bitterly over Australia's sudden announcement that it will acquire US-built nuclear submarines as part of a new defense alliance, ditching a previous French contract for conventionally powered submarines.
"This is really driven by the science," a State Department official said, denying the travel decision was an attempt to smooth ruffled French feathers.
As It Happens
LATEST UPDATE: August 7, 2022 - 5:37pm
Find the latest travel and tourism news from around the world amid the coronavirus pandemic. Main image by AFP/Romeo Gacad
August 7, 2022 - 5:37pm
Over 80,000 tourists are stranded in a resort city popularly known as "China's Hawaii" after a Covid flare-up led authorities to impose strict travel restrictions.
Tourism hotspot Sanya is a city of more than a million people on the southern island of Hainan, where 483 Covid cases were reported Sunday.
All flights out of the city were cancelled over the weekend, with authorities also halting train ticket sales.
Tourists who want to leave must test negative in five PCR tests over seven days, health authorities said.
Hotels in the city have been asked to offer guests a 50 percent discount until the travel restrictions ease, an official said during a news briefing Saturday.
China is the only major economy still holding fast to a zero-Covid strategy with snap lockdowns and long quarantines, battering local tourism.
The country's borders have also remained largely closed since early 2020, halting international tourism. -- AFP
August 3, 2022 - 10:15am
Airbnb says revenue in the recently ended quarter topped $2 billion as people shook off pandemic worries and took part in a banner travel season.
The home rental platform logged a net income of $379 million in what it touted as the most profitable second quarter in its history.
As a sign of confidence in its future, the San Francisco-based company announces it will devote $2 billion to buying back shares. — AFP
July 11, 2022 - 3:46pm
Cebu Pacific, one of the Philippines' leading airlines, has restored 88% of its pre-pandemic systemwide capacity following the continuous ramp-up of its domestic and international routes. The airline now flies an average of 340 flights a day, covering 34 domestic and 18 international destinations. This is equivalent to roughly 64,000 seats offered in a day. CEB has restored 100% of its pre-pandemic domestic capacity in April this year. The airline has already surpassed its December 2019 level for domestic capacity as it marks 109% restoration in July 2022.
"We are pleased to see more people confidently flying again, not just within the Philippines but even abroad. This positive development has not only allowed us to carry more passengers, but also boosted our cargo service," said Xander Lao, Chief Commercial Officer at Cebu Pacific. "We remain committed to offering the lowest fares across our network and we are encouraged by past seat sale success rates so we will continue to stimulate travel through our promo fares."
To continue spurring travel CEB announces a special 7.7 sale from July 7 to 11, offering flights for as low as P188 one-way base fare for domestic routes on sale. Travel period is from September 1, 2022, until January 31, 2023. Apart from this, CEB also offers a simultaneous special international seat sale, on the same travel period above, to key destinations for as low as PHP 499 one-way base fare. This includes flights to South Korea, Singapore, Hong Kong, Taipei, Hanoi, Ho Chi Minh, Bangkok, among others. CEB has achieved a seven-star safety rating from airlineratings.com for its COVID-19 compliance. It continues to implement a multi-layered approach to safety, while it operates with a 100% fully vaccinated crew, 95% of whom have been boosted – all to ensure every Juan flies safely and conveniently on Cebu Pacific. For more information, visit www.cebupacificair.com.
July 7, 2022 - 3:30pm
Hong Kong's new government on Thursday suspended a longstanding flight route ban that penalised airlines for bringing in coronavirus cases and severely impeded travel into the city, saying it was "not very effective".
The financial hub has become increasingly isolated under harsh pandemic restrictions as it mirrors a lighter version of China's strict zero-Covid policy, with the once busy Hong Kong airport now a relative aviation graveyard.
On Thursday, new city leader John Lee's government said the "circuit breaker" rule was being suspended to "achieve the most in fighting the pandemic with the minimum cost on the society".
"At the current stage, continued implementation of the 'circuit breaker' mechanism is not very effective in preventing imported cases," the government said.
"Large number of passengers will have their itineraries disrupted due to the mechanism, and as the supply of seats on planes and quarantine hotel rooms fall short, the social costs generated will be remarkably high."
Travelling to Hong Kong will still pose a challenge as the city holds on to its mandatory seven-day hotel quarantine for all arrivals.
Rooms at the designated hotels are booked up for months in advance. -- AFP
July 5, 2022 - 1:58pm
"Business is back", exclaims Abdullah Mekhlafi at the shop where he sells prayer mats in Islam's holiest city, which is preparing for the biggest influx of hajj pilgrims since the coronavirus pandemic began.
Two years of drastic restrictions on the number of pilgrims who could perform the hajj emptied shops and hotels across the Saudi Arabian city of Mecca. But business owners are hoping for a quick recovery as hundreds of thousands of worshippers flock to the region this week.
"We had few customers (during the last two hajj seasons), but today business is back, thanks to God. It's the same as before, and even better," 30-year-old Mekhlafi told AFP.
One million people, including 850,000 from abroad, will be allowed at this year's hajj, one of five pillars of Islam which all able-bodied Muslims with the means are required to perform at least once in their lives.
In 2019, about 2.5 million people took part in the rituals, which include circling the Kaaba at the Grand Mosque in Mecca, gathering at Mount Arafat and "stoning the devil" in Mina.
The following year, after the pandemic took hold, foreigners were barred and the total number of worshippers was capped at 10,000 to stop the hajj from turning into a global super-spreader.
That figure rose to 60,000 fully vaccinated Saudi citizens and residents in 2021. -- AFP