North Korea says will ignore US while 'hostile policy' in place: Yonhap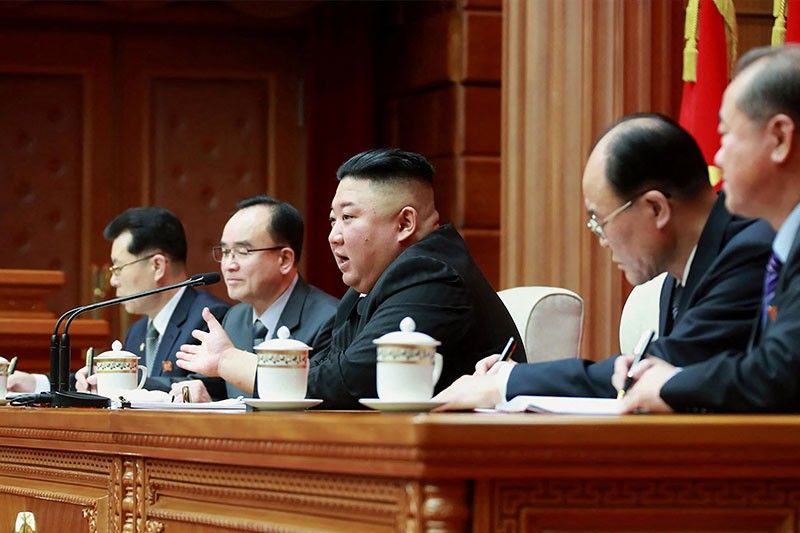 SEOUL, South Korea — North Korea said Thursday it will ignore attempts by the US to contact it, the South's Yonhap news agency reported, hours before President Joe Biden's top envoys were to hold talks in Seoul.
"No US-DPRK contact nor dialogue can take place until the US withdraws its hostile DPRK policy," Yonhap cited senior North Korean minister Choe Son Hui as saying in a statement carried by state media.
"Therefore, we will continue to ignore such attempts by the US in the future," she added.
The comments from Choe, who is the North's first vice foreign minister, come with the US Secretary of State Antony Blinken and Pentagon chief Lloyd Austin in Seoul for the second leg of an Asian trip to bolster a united front against the nuclear-armed North and an increasingly assertive China.
Seoul and Washington are security allies and kicked off joint military exercises last week, leading to North Korean leader Kim Jong Un's influential sister warning the new US administration against "causing a stink at its first step" if it wants to "sleep in peace for coming four years".
The statement by Kim Yo Jong, a key adviser to her brother, was the reclusive state's first explicit reference to the new leadership in Washington, more than four months after Biden was elected to replace Donald Trump — although she still did not mention the 78-year-old Democrat by name.
The US envoys will meet on Thursday with President Moon Jae-in, who brokered the talks process between Kim and Trump in 2018.
Trump's unorthodox approach to foreign policy saw him trade insults and threats of war with Kim Jong Un before an extraordinary diplomatic bromance that saw a series of headline-grabbing meetings.
But ultimately no progress was made towards Washington's declared aim of denuclearising North Korea, with a second summit in Hanoi in early 2019 breaking up without an agreement and Pyongyang still under multiple international sanctions for its banned weapons programmes.
And it has isolated itself more than ever by closing its borders for more than a year to protect itself against the coronavirus pandemic that first emerged in neighbouring China.
Blinken and Austin are consulting on a review of Washington's policy towards the North being carried out by the new administration.
As It Happens
LATEST UPDATE: August 10, 2021 - 9:27am
The United States formally concluded that North Korea ordered the murder of Kim Jong-Nam, a half-brother and potential rival to ruler Kim Jong-Un, with the VX nerve agent.
"This public display of contempt for universal norms against chemical weapons use further demonstrates the reckless nature of North Korea and underscores that we cannot afford to tolerate a North Korean WMD program of any kind," US State Department spokeswoman Heather Nauert said.
The finding triggered another layer of US economic sanctions against Pyongyang, just as South Korea reported that the regime is ready for talks to end a nuclear standoff.
August 10, 2021 - 9:27am
The influential sister of North Korean leader Kim Jong Un calls Seoul authorities "treacherous" Tuesday over the South's joint military exercises with the United States, warning the two allies would face greater security threats as a result.
Kim Yo Jong — a key adviser to her brother — says the South was "treacherous" for holding "dangerous" joint military drills with Washington this month, which the North has long considered rehearsals for invasion.
"I take this opportunity to express my strong regret for the treacherous treatment of the South Korean authorities," she says in a statement released by Pyongyang's official KCNA news agency. — AFP
June 22, 2021 - 2:21pm
The influential sister of North Korean leader Kim Jong Un says Tuesday that Washington had "wrong" expectations for dialogue with Pyongyang and was facing "greater disappointment", state media reports.
Kim Yo Jong — a key adviser to her brother — appears to dismiss the prospects for an early resumption of negotiations.
The US seemed to be seeking "comfort for itself", she says in a statement reported by Pyongyang's official KCNA news agency.
It harboured expectations "the wrong way", she adds, which would "plunge them into a greater disappointment". — AFP
June 21, 2021 - 2:25pm
The US special representative for North Korea on Monday offered to meet with Pyongyang "anywhere, anytime, without preconditions", with no public contact so far between the Biden administration and the nuclear-armed nation.
Sung Kim's remarks came after North Korean leader Kim Jong Un last week gave his first reaction to Washington's recent review of its approach to his isolated country, saying Pyongyang must prepare for both "dialogue and confrontation".
The Biden administration has previously promised a "practical, calibrated approach", including diplomatic efforts, to persuade the impoverished North to give up its banned nuclear weapons and ballistic missile programmes. — AFP
June 18, 2021 - 7:25am
North Korean leader Kim Jong Un has said his country needs to prepare for "both dialogue and confrontation" with the United States under President Joe Biden, state media reported Friday.
At a plenary meeting of the central committee of the ruling Workers' Party of Korea on Thursday, Kim outlined his strategy for relations with Washington, and the "policy tendency of the newly emerged US administration", the Korean Central News Agency said.
Kim "stressed the need to get prepared for both dialogue and confrontation, especially to get fully prepared for confrontation in order to protect the dignity of our state" and reliably guarantee a "peaceful environment", KCNA reported.
The North Korean leader "called for sharply and promptly reacting to and coping with the fast-changing situation and concentrating efforts on taking stable control of the situation on the Korean peninsula", the agency said. — AFP
May 4, 2021 - 7:15am
US Secretary of State Antony Blinken asks North Korea to embrace diplomacy as he briefed allies on a new US strategy that stresses low-key progress rather than Donald Trump's pageantry.
In London for the first in-person Group of Seven meetings in two years, Blinken consulted his counterparts from Japan and South Korea on President Joe Biden's fresh approach which has already been denounced by Pyongyang.
"I hope that North Korea will take the opportunity to engage diplomatically and to see if there are ways to move forward toward the objective of complete denuclearisation of the Korean peninsula," Blinken tells reporters. — AFP